Showroom Programs

Special Event | 11:00 AM to 4:00 PM
The Color Experience
ROMO, Suite 1703
Pick Your Color: Join Romo on October 11th from 11 AM to 4 PM for a day of pampering and color exploration. A beautiful medium of inspiration, color is everywhere and forms our perception of the world around us. An emotive subject, the symbolism of a color can conjure a memory or association that influences how we feel. A journey of discovery, our color choices define who we are, offering a playful form of self-expression. What better way to express yourself than through your nail color? Please RSVP to the showroom to secure a time slot for your Essie express manicure by The Glam Squad: Email Alison.Groarke@romousa.com or call 212-319-7666.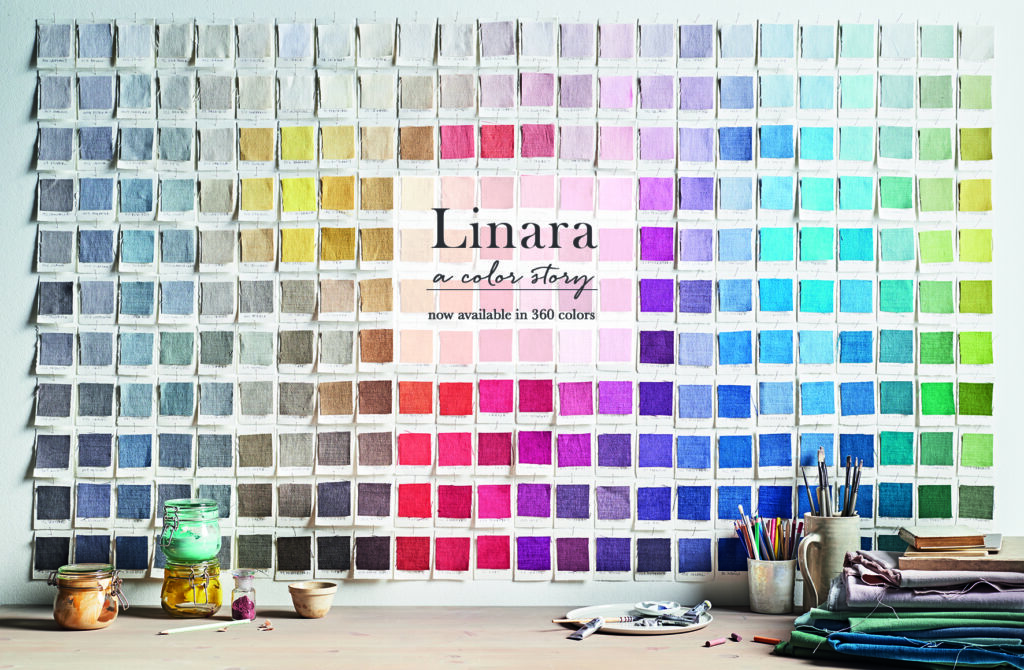 …
---
11:10 AM to 12:00 PM
Fireside Chat with Alexa Hampton, featuring mantels styled with accessories by The Mine
Chesney's, Suite 1119
Please join designer and Creative Director of The Mine, Alexa Hampton and Alistair McCowan, CEO of Chesney's, for a fireside chat. Alexa will be introducing a new collection of mantels for Chesney's, which will be shown with accessories from The Mine. Attendees can look forward to demonstrations by Alexa Hampton on how to dress a mantel for every season.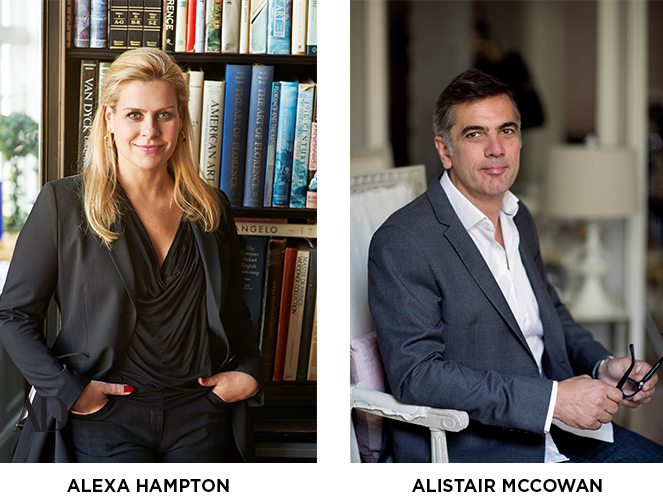 …
Benjamin Moore's Color of the Year 2018
Benjamin Moore, Suite 1803
Benjamin Moore will once again present its annual Color of the Year. One of the most highly anticipated announcements in our industry each year, Architectural Digest Senior Design Writer, Hannah Martin will moderate a panel featuring the Benjamin Moore Color Studio team discussing this year's selection, which takes cues from trends in fashion, textiles and the arts.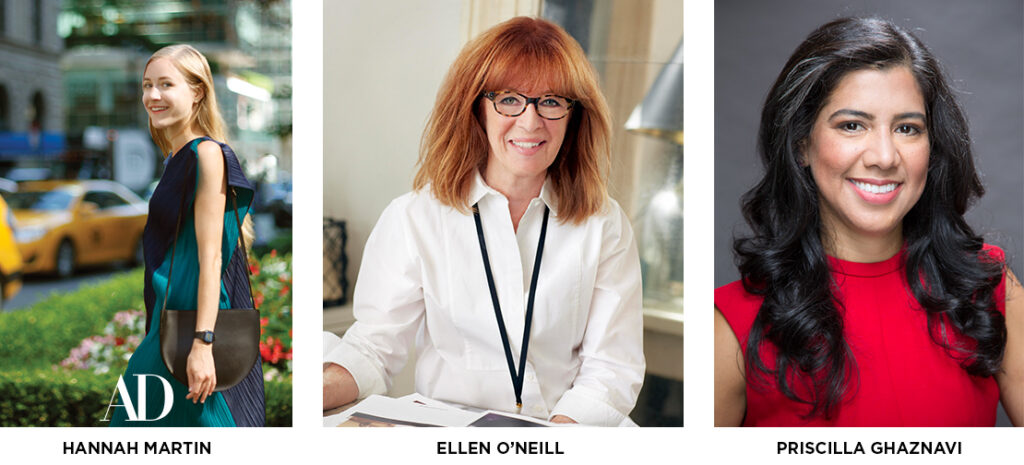 …
The Power of Inspirational Kitchens
Christopher Peacock, Annex 5th Floor
Join Pamela Jaccarino, Editor in Chief, Luxe Interiors + Design; kitchen design entrepreneur, Christopher Peacock; and interior designer, Michael Cox for an inspiring conversation on The Power of Inspirational Kitchens. The trio will discuss the impact that color, lighting, and materials have on how we live in our kitchens today.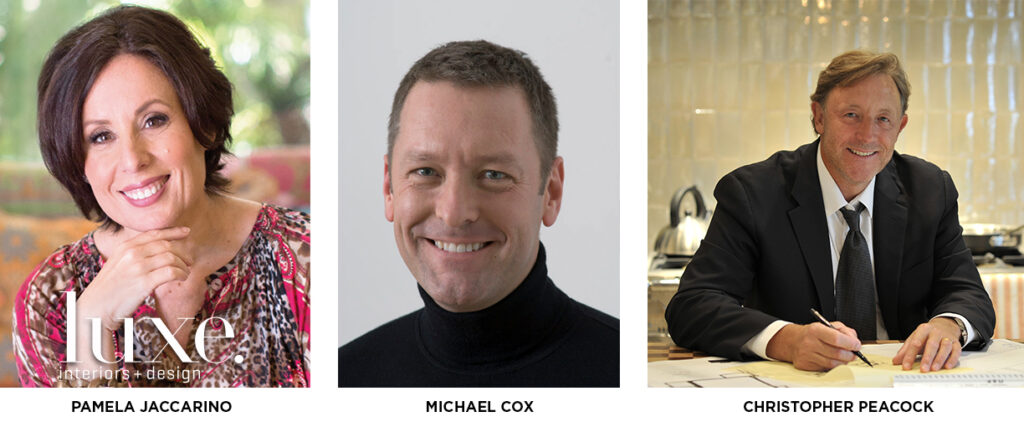 …
---
12:00 PM to 1:00 PM
Storytelling Through Instagram
Robert Allen, Suite 305
Join Beacon Hill and Domino magazine for an informative discussion on one of today's hottest topics—Instagram. Hear insider tips from Instagram stars Kate Rumson of @the_real_houses_of_ig and Will Taylor of @brightbazaar, along with @beaconhilldesign Creative Director Alexis Audette. Moderated by Jessica Romm Perez, Editor in Chief of @dominomag, learn how different approaches have led to increased followers and exposure through each panel member's unique Instagram account.

…
First You Dream…
Holland & Sherry, Suite 1402
In her newly released second book, "Dream Spaces", Victoria Hagan features an exquisite selection of great escapes that embody her iconic American aesthetic. Hagan is a master of juxtaposing old and new, creating luxury through simplicity, and designing homes that reflect their owners' lifestyles. These appealing, timeless projects – located in various locations throughout the country – share a generosity of spirit and an appreciation for the intricacies of design.  Join Victoria and writer, editor and artist David Colman as they discuss her philosophy on attaining pitch-perfect style and attitude, and the fun journey they had while creating the book.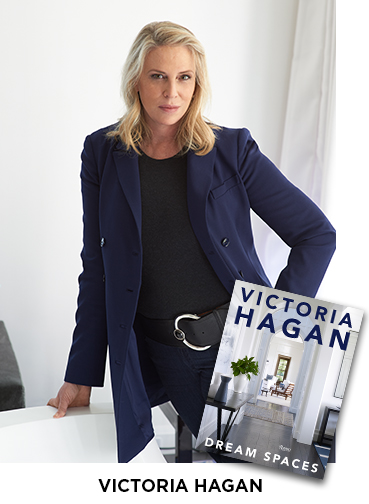 …
The Decorating Story
Zimmer + Rohde, Suite 932
Join Richard Keith Langham and Wendy Goodman as they discuss his first book, ABOUT DECORATING (Rizzoli), and how he is able to translate for his clients the story they want their homes to tell. With projects all over the country that celebrate all-American interiors, Keith's work is renowned for tradition, saturated color, elegance, and Southern flair—as you would expect from the Alabama native who was greatly influenced by Mark Hampton and Keith Irvine.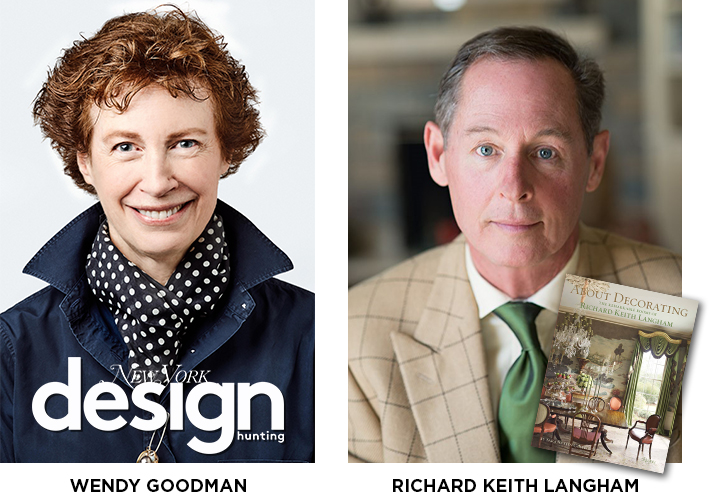 …
---
2:10 PM to 3:00 PM
Building a Fabric House: A Conversation with Jane Shelton
John Rosselli & Associates, Suite 1800
Jane Shelton got her start in the 1970's decorating friends' homes for fun. Eventually, Jane reserved the right to style fabrics to her own taste, and eventually, the Jane Shelton fabric house was born. Meet Jane who to this day, operates as a true individual, building upon her artistic vision season after season. We are honored to now represent Jane Shelton in our New York Showroom. Join us for an intimate conversation with Jane as she tells the story of her journey and provides insider tips to begin your own fabric collection.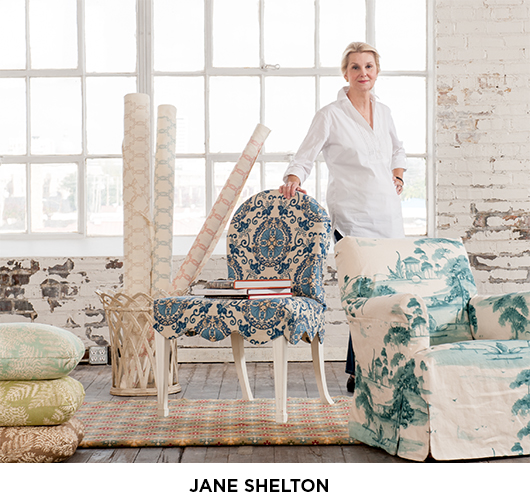 …
Laura Bohn: Ways of Seeing
Scott Group Studio, Suite 411
Join Cindy Allen, Editor in Chief of Interior Design – and Interior Design Homes – as she interviews kindred spirit Interior Design Hall of Famer Laura Bohn on the launch of her newest project, Laura Bohn: Ways of Seeing, published by Pointed Leaf Press. With her appetite for adventure, life experience, and design challenge, Laura's book is a treasure for the insatiable. Immediately followed by a book signing, drinks and bites.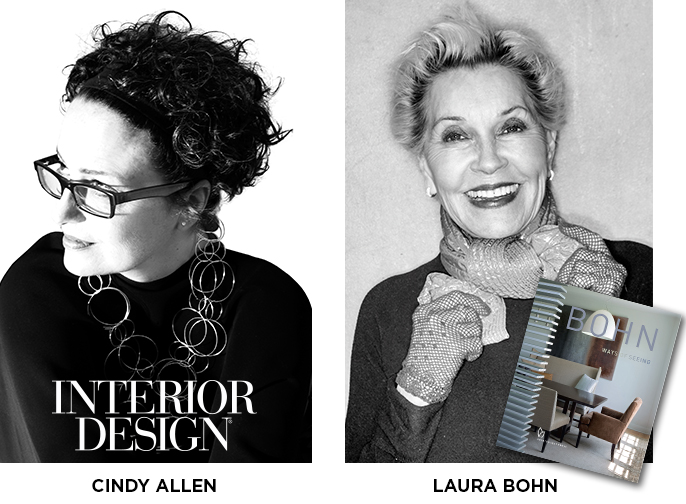 …
Treasures From the Scalamandré, Lelievre and Tassinari & Chatel Archives
Scalamandré, Suite 1002
Scalamandré invites you to join Interiors Editor in Chief Erika Heet, Scalamandré Creative Director Susan North, Lelievre Director Marie-Catherine De Masin and a special guest Designer for a lively discussion about the history of the legendary brands' archives. North will give an overview of the Scalamandré archives, with a showing of some of its most prestigious projects, from the White House to Hearst Castle, and discuss how the archives are used today. Representing iconic French houses Lelievre and Tassinari & Chatel, De Masin also will present some of the most important pieces from their archives and will discuss how archival designs are used in both historic and modern applications today.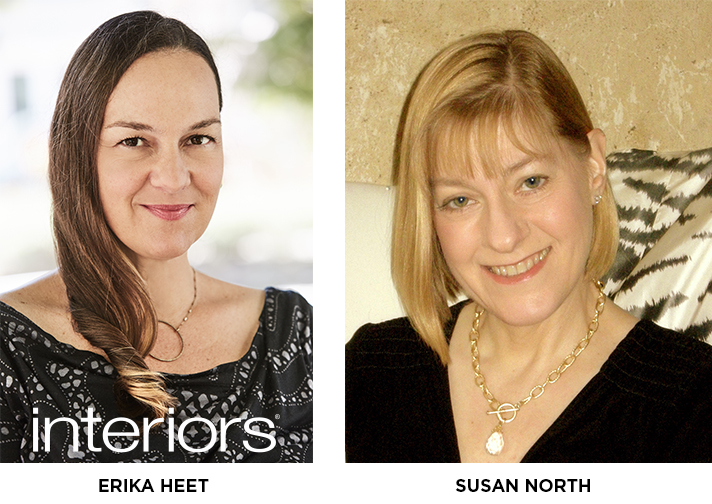 …
---
3:00 PM to 4:00 PM
Exploring the Story: Designing Meaningful Spaces
Maya Romanoff, hosted at Ferrell Mittman, Suite 903
Interior Design is more than wallcoverings, furniture, and lighting. Our industry works to create emotionally resonant spaces for living, working, and playing, and we make these connections through narrative. Maya Romanoff presents a panel discussion on the power of storytelling with the industry leaders whose vivid language brings the whole process to life. Featured panelists include Joyce Romanoff, Amy Lau, Marshall Watson and will be moderated by Business of Home's Katy Olsen. The discussion will take place in the Ferrell Mittman Showroom, Suite 903. Reception and live tie-dye demonstration to follow in the Maya Romanoff Showroom, Suite 922.

…
The Story You Tell Through Color and Design
JAB Anstoetz, Suite 102
You might think that the style you create comes from your great eye for design. What you might not know is that a space says just as much about what's in your client's heart and on their mind. Design choices speak volumes about a person and nowhere is that truer than in the colors they select for their home. It is more than just color meaning, it's the color characteristics and combination that does the talking. Internationally recognized color expert Kate Smith of Sensational Color will reveal what room designs tell the world about your clients. Bring a picture of a project you designed. Kate will pick a few to analyze during the presentation. You might just discover that you are a color clairvoyant.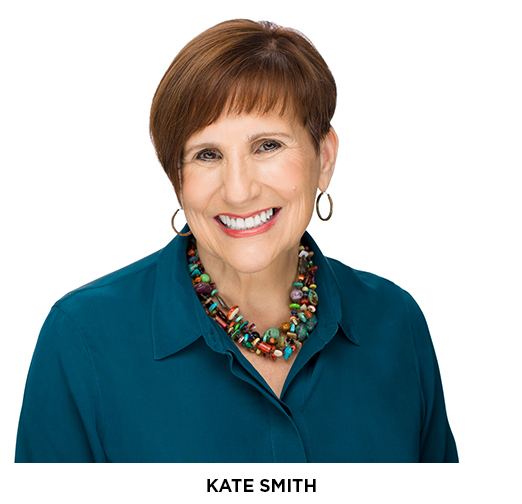 …
The Art of Outdoor Living: Curating Exterior Space as an Extension of Your Home
Walters, Suite 538
Join the Luxe Interiors + Design editorial team, along with landscape architect, Janice Parker and Steve Elton, HGTV personality and Chief Brand Curator for Brown Jordan for an engaging discussion on creating the perfect outdoor spaces. Parker and Elton will explore a selection of remarkable projects from start to finish and share their expertise and inspirations in creating magical outdoor spaces for their clients.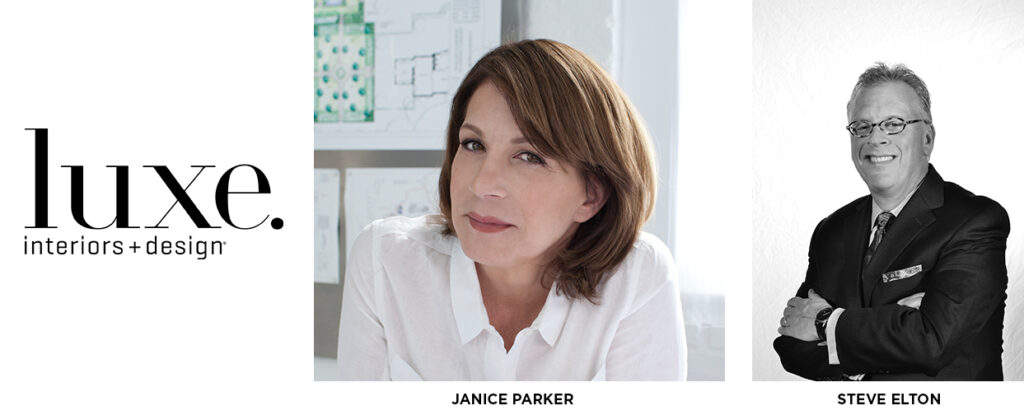 …
---
Cocktail Receptions | 5:30 PM to 7:00 PM
Light Up the Night with Lladró
Lladró, Suite 1507
Join Lladró for an evening of cocktails in celebration of its new lighting collection, Ivy & Seed. Inspired by an organic blend of nature with Art Deco influences, this customizable collection will complement any interior. Come and see the new introductions surrounded by luxury furniture from Brabbu and Vosay and enhanced with original wallpaper by Flavor Paper.

…
Gloster's Grand Opening Celebration
Gloster, Suite 1601
Join NYC&G's Kendell Cronstrom and Danish designer Henrik Pedersen to toast the opening of Gloster's first New York Studio, featuring the best in furniture innovation. Henrik, a lifestyle-based designer with a vast resume of collections for Gloster, is the creative force behind the company's latest studio design. In honor of this occasion, we invite you to relax, lounge and enjoy culinary delights from Scandinavia.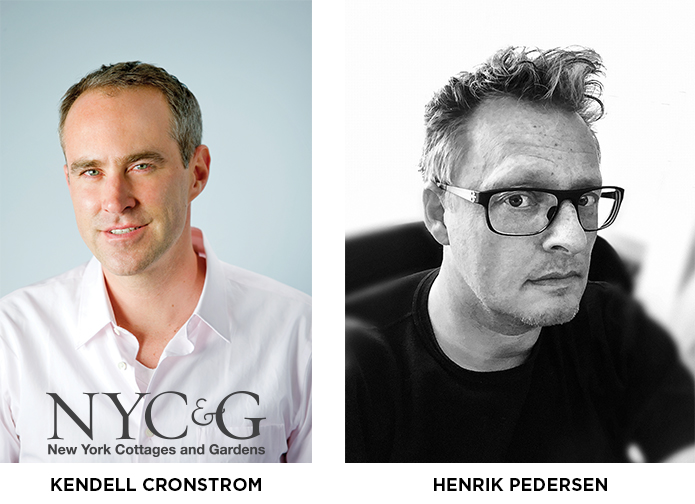 …
Fête Française
Élitis, Suite 611
Be transported to the French countryside for an evening of cocktails, hors-D'oeuvres, and festivities at Élitis. Join CEO Patrice Marraud des Grottes and the Élitis team for a presentation of their latest collection of textiles and wallcoverings featuring exotic coconut mosaics, Riviera-inspired panoramas, colorful raffia braids, and metallicized linens. Jonathan Weiss, owner of Oswalds Mill Audio joins the celebration with his unique, artfully designed loudspeakers. Tchin tchin!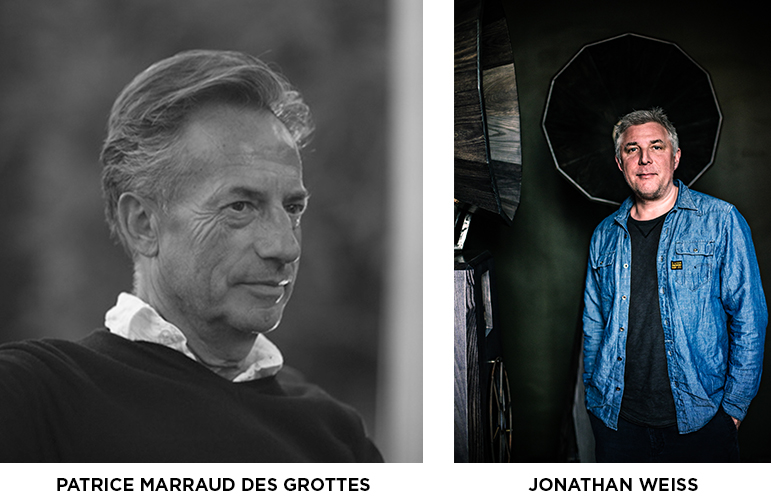 …

Special Event | 9:00 AM to 5:00 PM
Headshot Day
Benjamin Moore, Suite 1803
Cost: $125 per session. Regardless of how famous you are or plan to be, you're a professional for crying out loud and your headshot should reflect that. This means your Facebook profile pic just won't do, nor will that "headshot" that you're still using that was taken five, 10 or more years ago (yes, you looked smoking hot but like it or not, you've evolved). That's why we at Editor at Large are offering headshot sessions. The package includes a 15-minute session with a professional portrait photographer, a selection of proofs and one retouched image, delivered to you as both a high-resolution image file and web-ready version. RSVP directly to reserve your spot: https://ealheadshotday.eventbrite.com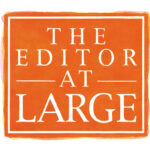 …
---
11:10 AM to 12:00 PM
If The Walls Could Talk
Bermingham & Co., Suite 421
Bermingham & Co. is proud to host Holly Alderman at our showroom to discuss her work in reproducing antique scenic wallpapers, including 19th-century classics by Dufour and others. These classically inspired landscapes will be available beginning this Fall at the Bermingham & Co. showroom. Christopher Maya, named by NY Spaces magazine as one of its' "Top 50 Designers" will be joining Holly to discuss how he integrates classically inspired art and antiques in his projects both traditional and modern.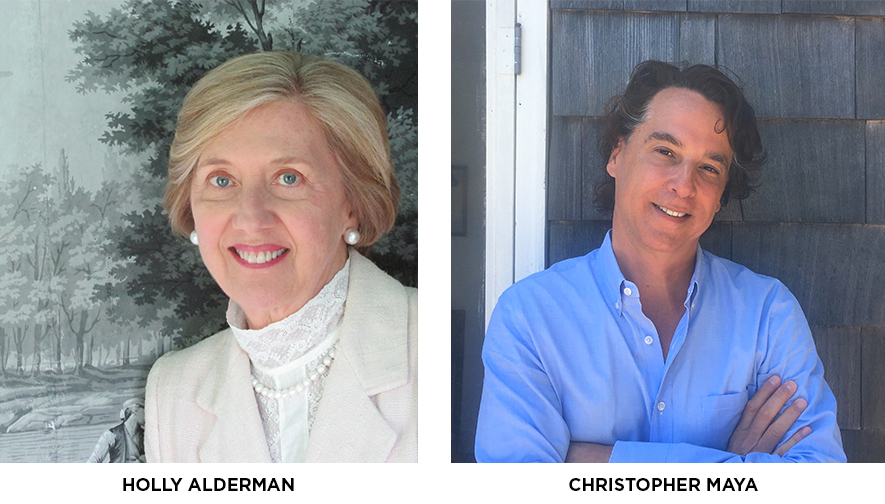 …
The Power of Smart Lighting
Lutron, Suite 138
55-years ago, Joel Spira invented the solid-state dimmer, changing the residential lighting landscape. Hear the Lutron story, and see how our smart solutions take the residential experience to the next level. Presenters: Melissa Andresko, Lutron Communications Director, Public Relations Karine Achkar, Sales Supervisor, NYC Metro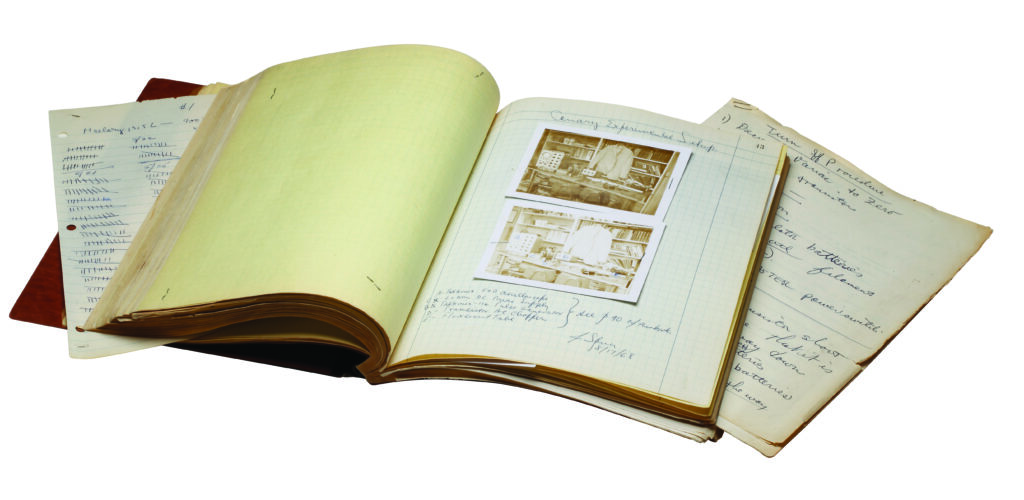 …
Grow Your Business: Residential Turnkey Collaboration and Custom Project Development
Rodolph, Suite 818
Panel Discussion with Bjorn Bjornsson, Design Principle and 2017-18 ASID President; Michele Rondelli, Architect Consultant and Creative Director of 4Spaces; and Cynthia Fulstone Nugent, Principal and Design Director for Rodolph, Inc. This esteemed group will share insight into high-end turnkey residential opportunities and the innovative, collaborative means by which custom design and product development insure successful transitions from residential to public space installations. Hands on success stories that will inspire and educate.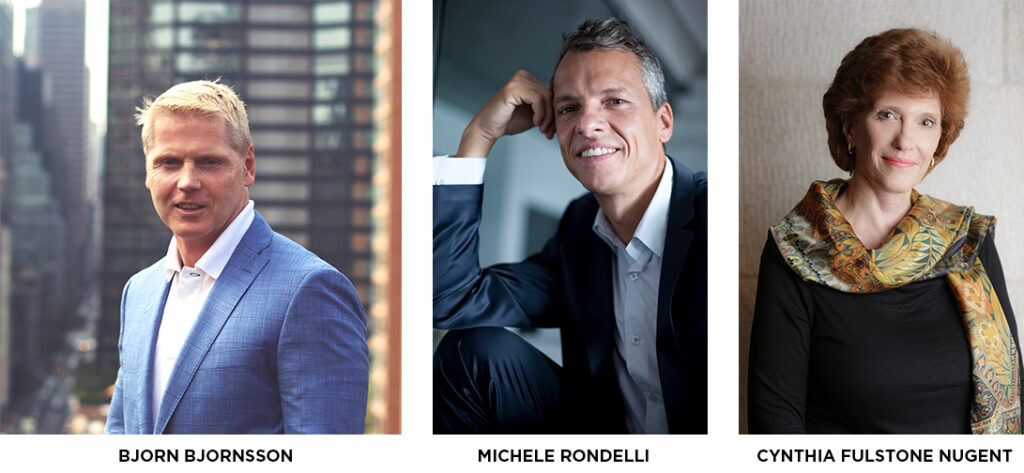 …
---
12:00 PM to 1:00 PM
Storytelling By Design
Lorin Marsh, Suite 720
How do you tell someone else's story? Designer Sara Story took a client's family porcelain collection and showcased in a dining room that she created inspired by the peacock room in the Smithsonian. Gideon Mendelson, another leading interior designer, carefully blended two different aesthetics – ethnic and traditional – in a client's Manhattan apartment in the hope that it would lead to a marriage proposal, These are only two of the stories that they and designer William McIntosh will share in a compelling conversation with Galerie magazine Design Editor, Jacqueline Terrebonne.

…
An Adventurous Life: Global Interiors by Tom Stringer
Holly Hunt, Suite 605
Please join us for a reception and book signing! For our special guest author Tom Stringer, design IS storytelling. His unique approach to custom design is informed by his life's passion: travel. Stringer's love of adventure resonates throughout his first monograph, filled with varied client projects and magical discoveries made on his global travels. He describes the design process as a voyage to discover the distinctive narrative of each client and home, beautifully illustrated by rich photography of both his interiors and his adventures. This inviting book also includes a forward by Holly Hunt, intriguing maps and much inspiration for every reader.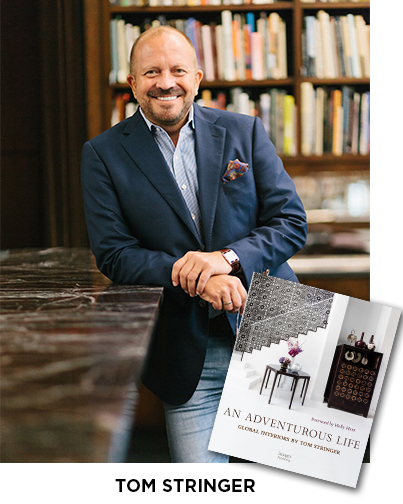 …
---
2:10 PM to 3:00 PM
Katharine Pooley and Bernie de Le Cuona Present Journey by Design
de Le Cuona, Suite 914
Join Bernie de Le Cuona and celebrated interior designer Katharine Pooley for the U.S. introduction of Pooley's new book Journey by Design. Pooley, an intrepid traveler, has visited more than 150 countries, summited many of the world's highest mountains, driven a team of dogs on a sled to the North Pole and crossed the Sahara on horseback. So, one begins to form a picture of a truly original and adventurous interior designer. A visually rich presentation will be followed by a book signing.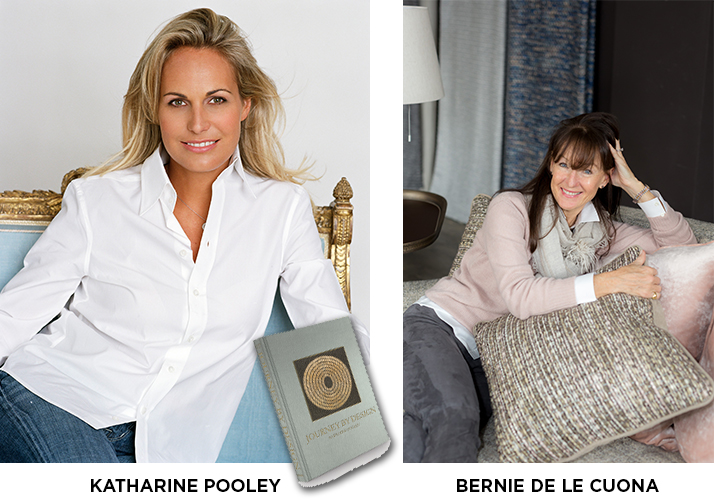 …
Holiday House; Ten Years In The Making
THG Paris, Suite 1206
Join Iris Dankner, Robert Passal, Eric Cohler and Rio Hamilton for a lively discussion about the newly released book, Holiday House: Ten years of Decorating for a Cure. The book highlights the best and brightest rooms by over 75 of the world's top interior designers. In this lavish tomb, the magic and skill of interior designers come to life as empty rooms are transformed into a variety of interpretations. Design Enthusiasts are encouraged to attend the colorful slideshow and avid discussion about designing for one of the premiere show houses in the country.

…
Family, Foundations and Fabric
Duralee, Suite 620
From their headquarters in a quaint former church in rural Cheshire, U.K., Clarke & Clarke has grown into a global business with deep family roots. Join us as House Beautiful's Kathleen Renda chats with brothers, Lee and Duncan Clarke about the foundations of their vibrant fabric and wallcoverings, the importance of family in the growth of their business and the U.S. introduction of their new line, Studio G.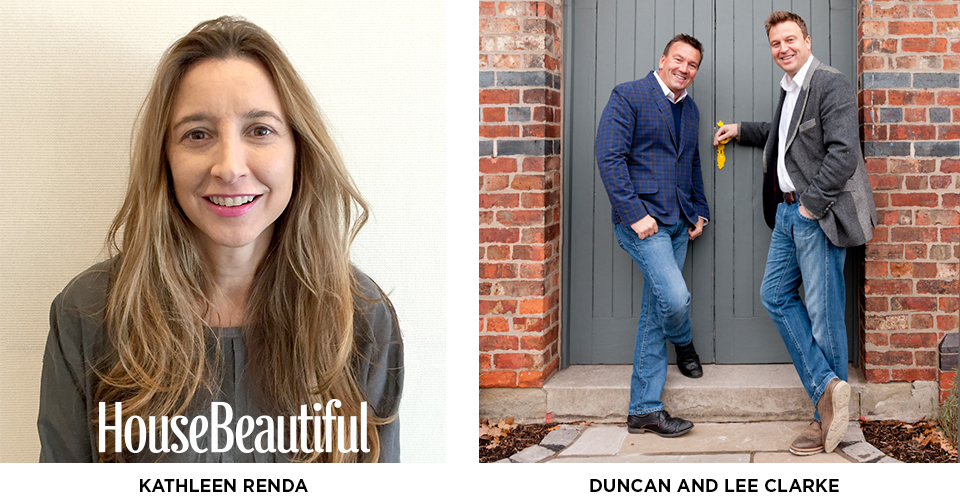 …
---
Special Program | 3:00 PM to 3:45 PM
The Art of the Story: Forging An Emotional Connection
Christopher Peacock, Annex 5th Floor
Christopher Peacock showroom hosts Galerie Editor at Large, Margaret Russell, designer Bunny Williams, her partner, Elizabeth Swartz, and Christopher Peacock himself for an inside look into crafting a brand story that rings true and builds trust. The panel will share how they communicate the emotional value of great design to clients, the ways in which their stories have evolved over the years, and how they keep it fresh.

…
---
Media Lounge | October 11 & 12 from 9:00 AM to 5:00 PM
Rest, Relax and Reconnect
COCO-MAT, Suite 417
COCO-MAT will open its doors to once again host the Media Lounge, providing all the accouterments to regroup. In addition to a photography exhibit by Nitza, you may also enjoy live music performed by New York musician, Zawadi from 2:00 to 4:00 PM on October 11. Come lounge, relax and reconnect.