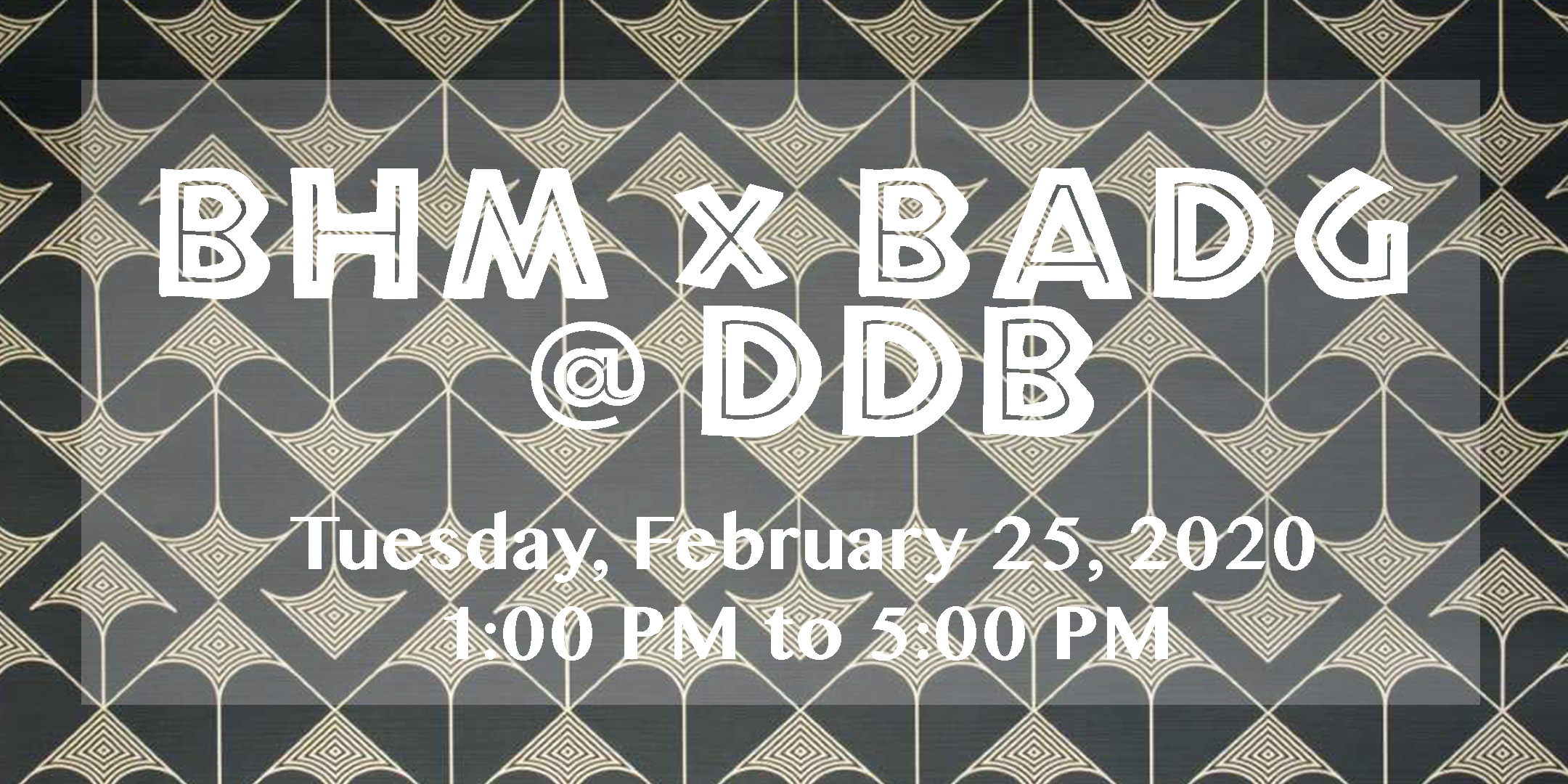 BHM x BADG @ DDB
February 25, 2020 | 1:00 PM to 5:00 PM

The DDB has partnered with the Black Artists & Designers Guild to celebrate Black History Month! Join us for panel discussions and immersive experiences with talents and leaders from across the design industry and beyond.
Tuesday, February 25, 2020
1:00 PM to 5:00 PM
1:00 PM | Pollack Weitzner, Suite 1722
Collections & Collaborations Editor in Chief of Luxe Interiors + Design, Pamela Jaccarino engages textile innovator Lori Weitzner and artist Lisa Hunt in conversation about their new collaboration for the Weitzner Spring 2020 collection.
1:45 PM | de Le Cuona, Suite 914
Hand-Block Printing Demo Artist and Designer Christine Llewellyn of Christine Joy Design demonstrates her traditional block printing techniques in a hands-on activity.
2:30 PM | Made Goods, Suite 325
Infusing African Diaspora Culture into Interiors Designers Beth Diana Smith, Leyden Lewis, Kiyonda Powell, and Joy Moyler talk culture and design with Associate Director of Public Programs & Exhibitions for Harlem's Schomburg Center for Research in Black Culture, Novella Ford. Enjoy the flavors of Haitian cuisine courtesy of Kafe L'Ouverture's Joanne Saget.
3:15 PM | Fabricut, Suite 915
Tastes of African Diaspora Cuisine Sample, discover, and enjoy African diaspora influenced cuisine with Celebrity Chef JJ Johnson in this master class of flavor.
4:00 PM | Vaughan Design, Suite 1511
Collecting African American Art Join House Beautiful Senior Editor Hadley Keller with designer and avid art collector Sheila Bridges, world-renowned artist Lorna Simpson, writer and curator Monique Long, and artist and Art Consultant Cheryl Riley as they discuss the world of African American art from sourcing and collecting to the emerging talents and trends.
RSVP by February 21, 2020
BHMxBADGatDDB.eventbrite.com