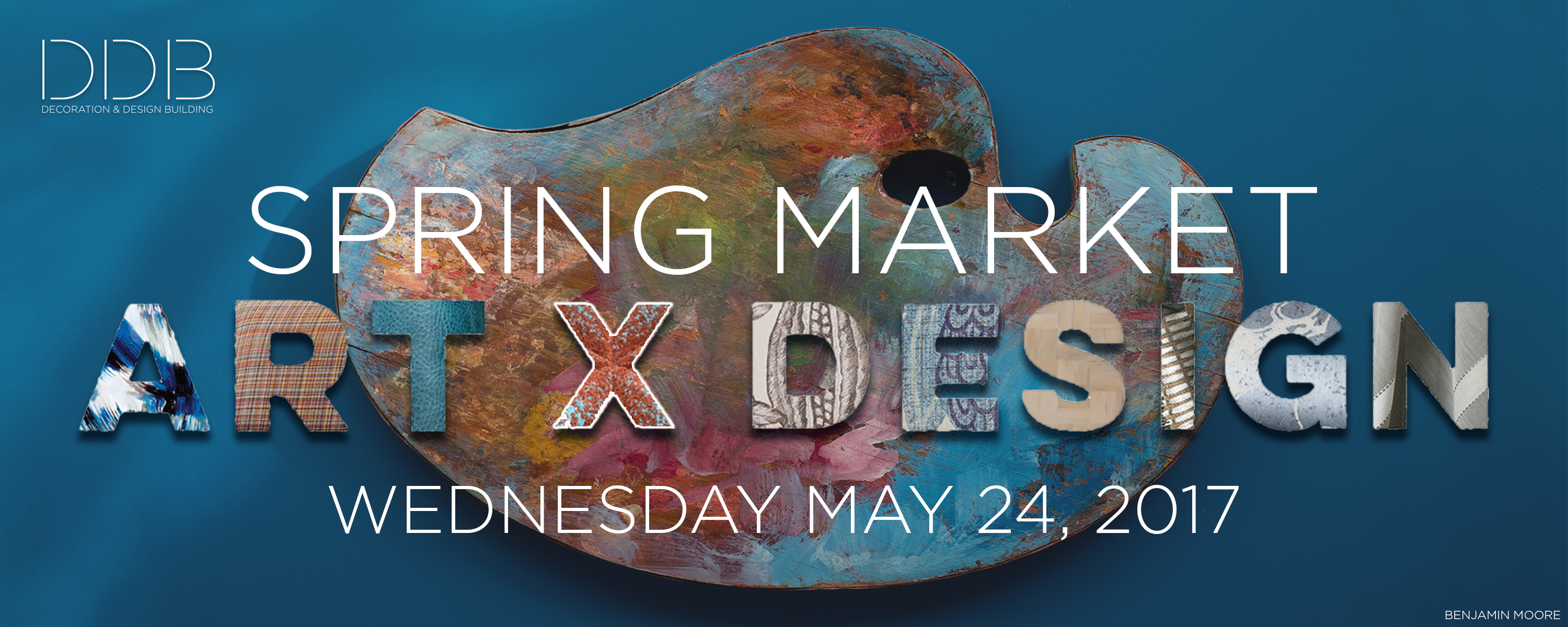 DDB SPRING MARKET 2017 | Art X Design
May 24, 2017 | 9 AM to 7 PM



WORLDS CONVERGE. Whether it's rare collectible masterpieces or accessible decorative works, the world of Art is intrinsically entwined with that of Design. We invite you to experience unprecedented access to experts and luminaries from the vast Art industry as explored by our theme, Art X Design. Enrich your art acumen through the curated selection of esteemed resources that comprise our comprehensive Market program; 3 Keynotes, 14 In-Showroom Programs, 4 Cocktail Receptions, 2 Special Events, and 58 Open Houses.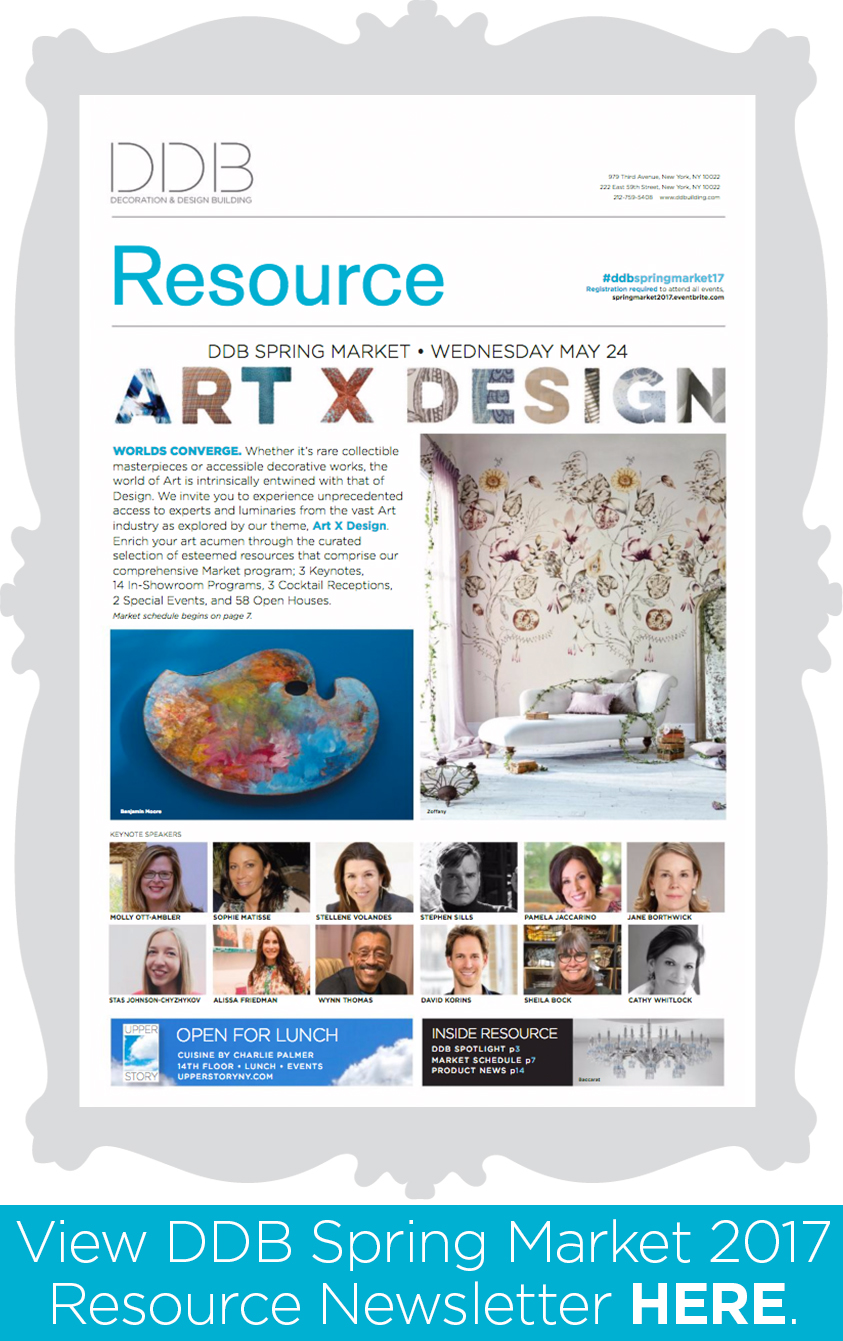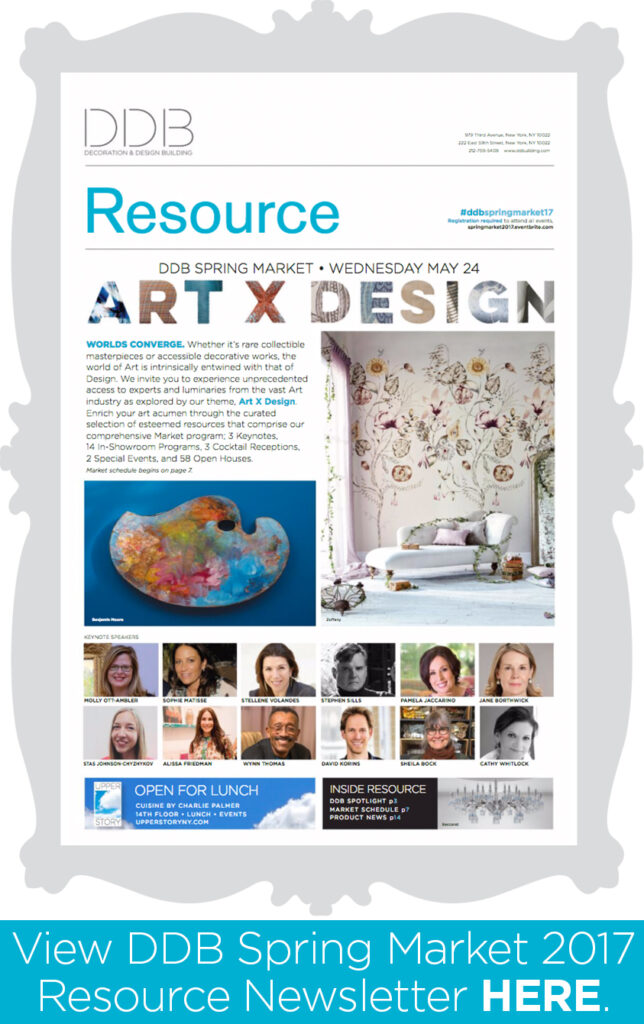 ---


Break from Tradition: How Art of the 20th Century Shapes Design
10:00 AM – 11:00 AM | Donghia, Suite 700
Artistic masterpieces – from the Old Masters to Impressionists and Modernists – are no longer solely the purview of the museum exhibition or gallery walls, but rather are cherished focal points in the homes of collectors. Designing a space that seamlessly incorporates an important work, while celebrating its significance and protecting its integrity, is no easy feat, but should be highly rewarding. Join Town & Country Editor in Chief Stellene Volandes at the Donghia showroom as she moderates a panel of art and design experts, including Molly Ott-Ambler, Senior Vice President, Senior Specialist of Impressionist and Modern Art at Sotheby's; Designer Stephen Sills, renowned for his skillful work with priceless works of art; and Sophie Matisse, artist in her own right and great-granddaughter to Henri Matisse, one of the most influential artists of all time, whose works continue to impact contemporary artists in their practice today. Each panelist will share valuable expertise and anecdotes to shed light upon how we can design with masterpieces in mind.


…
Collect Like An Expert
1:00 PM to 2:00 PM | Fabricut, Suite 915
Join Luxe Interiors + Design and Fabricut for an informed discussion led by Luxe Editor in Chief, Pamela Jaccarino with Stas Johnson-Chyzhykov of leading art experts, Artsy.com; Jane Borthwick, Art Advisor at Ronald Varney Partners; and Alissa Friedman, Partner at the esteemed gallery, Salon 94. Coming together from various perspectives within the art world, this group will examine the difference between a brick and mortar gallery and cutting edge online art resources, providing valuable insights into the collection process, helping designers further educate themselves and their clients on how to acquire and collect art.


…
The Art of Set Design: Creating Dramatic Interiors in Film, Theater and Television
4:00 PM to 5:15 PM | Zimmer + Rohde, Suite 932
Movies, theater and television have the ability to inspire, influence and entertain, transporting us to new worlds of luxury or evoke the realities of another place in time through the use of production design and set décor. Serving as a backdrop, set design develops the narrative, supports the characters and most importantly, provides the overall visual look and tone. Join Award winning Hamilton production designer David Korins, Hidden Figures production designer Wynn Thomas and Madam Secretary set decorator Sheila Bock and moderator Cathy Whitlock, Contributing Writer for The Hollywood Reporter and author of Designs on Film: A Century of Hollywood Art Direction as they go behind the scenes and lift the veil behind film, theater and television design.


…



With a spark of inspiration, ignited by our theme Art X Design, the Showrooms of the D&D Building present 14 unique In-Showroom Programs, three celebratory receptions and two interactive, art-infused Special Events. Throughout the day, audiences will experience an in-depth look at the role of Art in Design and the art of design. From tech-savvy solutions for protecting priceless pieces to navigating all levels of the art world and discovering the ins and outs of sourcing attainable art, the programs are carefully curated to provide invaluable information from the experts themselves. Top designers will join leading publications to explore topics such as how they've developed a design identity, the passing of knowledge and wisdom to the next generation of designers, and the importance of enduring design. Celebrate new collections, archival revivals, book releases, cutting edge design and more at the DDB's Spring Market 2017.

……
…


A. Rudin, Suite 1201 • Benjamin Moore, Suite 1803 • Bermingham & Co., Suite 421 • Bespoke by Luigi Gentile, Suite 1205 • Biasi & Co, Suite 813 • Bielecky Brothers Inc., Suite 911 • Brunschwig & Fils/Lee Jofa, Suite 234 • Chesney's, Suite 1119 • CL Sterling, Suite 400 • Cowtan & Tout, Suite 1022 • Création Baumann, Suite 1522 • Dani Leather, Suite 214 • de Le Cuona, Suite 914 • Donghia, Suite 700 • Doris Leslie Blau, Suite 625 • Edelman Leather, Suite 207 • Élitis, Suite 611 • Farrow & Ball, Suite 1519 • Garrett Leather, Suite 1107 • George Smith, Suite 1615 • German Design Center, Suite 923 • I.J. Peiser's Sons Fine Wood Floors, Concourse-1 • J. Robert Scott, Suite 220 • JAB Anstoetz, Suite 102 • Jerry Pair & Associates, Suite 502 • Knoll Luxe, Suite 1702 • Knoll, Suite 1523 • Kravet, Suite 324 • Léron, Suite 1521 • Liora Manné, Suite 1811 • Lladró, Suite 1507 • Lorin Marsh, Suite 720 • Lutron, Suite 138 • Made Goods, Suite 715 • Marc Phillips Decorative Rugs, Suite 211 • Maya Romanoff, Suite 922 • O'Lampia, Suite 300 • Ochre, Suite 1109 • Osborne & Little, Suite 520 • Patterson Flynn Martin, Suite 632 • Pierre Frey, Suite 1611 • Pindler, Suite 1536 • Robert Allen, Suite 305 • Rodolph, Suite 818 • Rug Art International, Suite 1518 • Savel Inc., Suite 1819 • Schumacher, Suite 832 • Scott Group | Hokanson, Suite 411 • Sherle Wagner, Suite 132 • Studio K New York/Koroseal, Suite 842 • Taffard Fabrics, Suite 800 • The Silver Peacock, Suite 1208 • Thibaut, Suite 615 • Vondom, Suite 1532 • Warp & Weft, Suite 1203 • Waterworks Kitchen, Suite 134 • Wolf-Gordon, Suite 413 • Zoffany, Suite 409


…