Posted on 02/23/21
"Mindfully designed lighting can be the heart and soul of a room, and evoke tremendously personal emotions," according to Lauren Wylonis, KingsHaven founder and author of design-centric book,
At Home with KingsHaven: Estates, Interiors and Landscapes
. With this thinking top of mind, customized lighting can play an important role in creating the perfect space. Lighting can be customized to include many different textures and materials, in a wide array of paint colors. The light source can also be customized to have different hues, which can be achieved by colored glass in fixtures, shades and exposed or unexposed light bulbs. KingsHaven's lighting designers routinely manipulate the characteristics of light fixtures to create in-stock and custom fixtures to work in every interior and exterior space. "It is important to take into account the functional aspects of lighting, lay them out thoughtfully as parameters, and then use different elements of a lighting plan. The plan should comprise lighting elements of various depths, ranging from wall sconces, central chandeliers, table lamp lighting, accent lighting, and more, to create a layered effect," said Wylonis. "However, a step beyond that is considering the pallet of motifs and style that one wants to have in a room. KingsHaven offers many handcrafted in-stock, ready-to-ship light fixtures for projects with quick-turnaround needs. Though, customization is the brand's norm, and the KingsHaven Workroom is a popular choice for designers and architects with discerning clientele. KingsHaven is often known for doing very fast lead times on custom fixtures when necessary. All of this is offered at exclusive trade pricing and discounts. But, one of the most valuable aspects of KingsHaven's trade program is the combined knowledge and creativity of the company's lighting designers and artisans who guide the customization process from start to finish. If you feel at a loss for a space, the KingsHaven team can design a custom light fixture to meet your exact needs. "Through our KingsHaven Workroom trade program, we work with countless architects and interior designers in relationships forged by collaboration to bring their design visions to life. Our trade clients tell us they return to the KingsHaven Workroom largely because of our quality craftsmanship, design and materials, and our expansive ability to customize products," said Wylonis. "This allows designers to not only participate in the creation of lighting art, but it gives them the chance to add unique touches to the pieces we design and create with them for their clients. This also gives KingsHaven clients a way to provide their own clients with added value." The KingsHaven team is committed to working with its customers, clients and design/architecture trade professionals to develop and create exceptional lighting to meet any lighting-related project need. The concept of KingsHaven's lighting customization became a reality many years ago when Lauren could not find and source the types of light fixtures she desired for various interior design and home restoration projects on which she was working.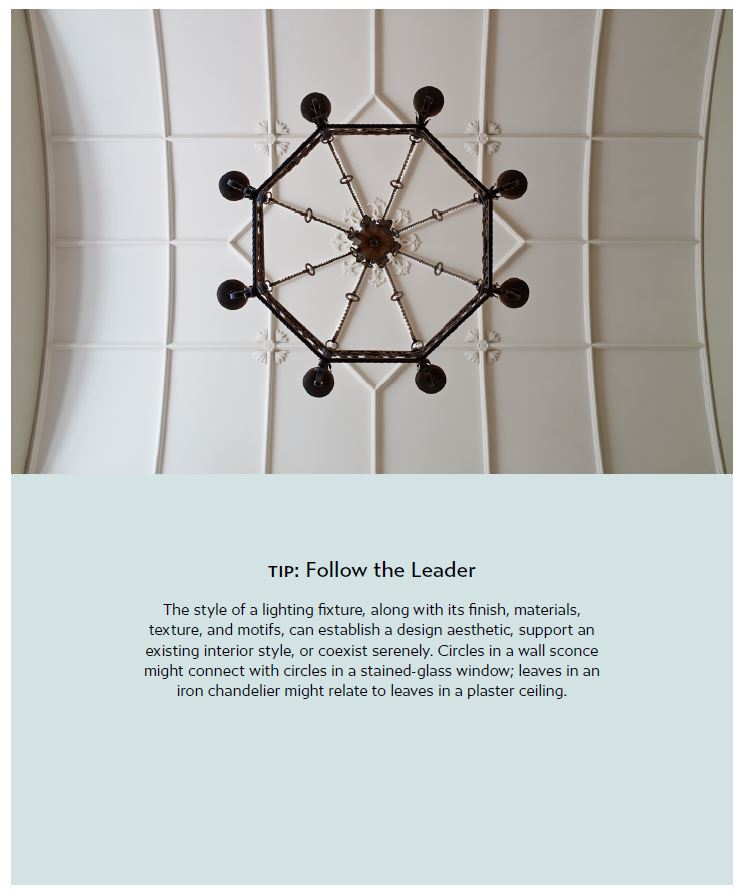 The first light she designed unearthed what would become an inspired journey of creating one-of-a-kind lighting as well as launching the national KingsHaven brand. For a specific residential project, she set out to design customized light styles that were interesting and unique, but that also complimented another incredible, unique antique lantern she had discovered and was using for the project. When several clients saw the lantern, they requested it for their home. Lauren was asked to create other custom light fixtures for a number of other design projects. This was the serendipitous inception of the KingsHaven brand and lighting. Whether you are a certified professional designer, architect, or just a weekend warrior renovating your home, you may find the three-step guide to customizing light fixtures with KingsHaven gives you a look at the company's highly specialized service and creative abilities. They look forward to working with you one-on-one on your next creative design job and lighting plan.
Step 1: Plan before choosing.
KingsHaven offers more than 100 artisan-made light fixtures, and every single one of them can be customized to meet a project's needs. Yet, one of KingsHaven's favorite kinds of lighting projects involves an innovative, first-of-its-kind light fixture- a pendant, sconce, chandelier, or other fixture that is entirely unique and begins from scratch. So, where does one begin? Each KingsHaven project begins with support for a client's lighting selections, whether from KingsHaven's in-stock and ready-to-ship options or the need to create one-of-a-kind light fixtures. With the
KingsHaven Workroom
, the sky is the limit with creative customization. For anyone customizing KingsHaven light fixtures, it is recommended to first review the company's lighting planner, which can be used to plan every room in a home. It is important to understand the amount of natural light a room receives, and how to maximize the light in coordination with preplanned light fixtures. After all, various home activities require a certain amount of light, and this can affect how you choose and/or customize a light based on a space's intended purpose.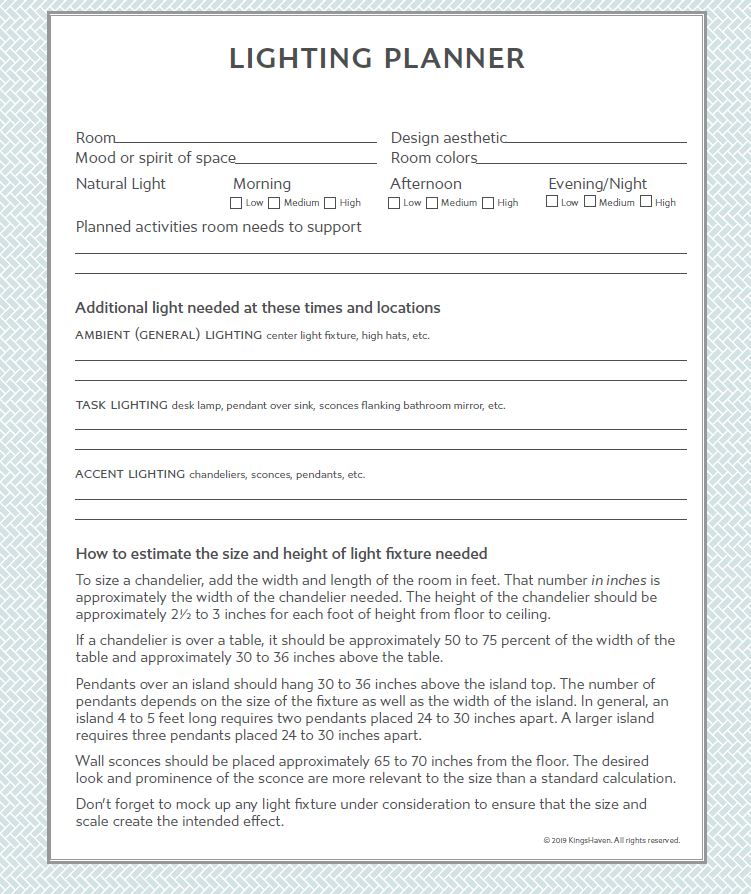 For example, you would not want the same amount of light over a dining room table in a naturally light-filled room as you would in a bathroom or kitchen, which are areas that require more lighting. There are also other elements to keep in mind when designing a custom light for a client's home, such as the interior colors, the mood or spirit of the space and the planned purpose of a room or outdoor area. Adding color to light fixtures is not only a popular design trend, but it allows you to add individuality and personality to a fixture. KingsHaven creates many light fixtures in two finishes, and it can customize light fixtures in virtually any color or finish, including mixed finishes and inspired paint options, to add a transitional touch to a more traditional fixture, or a glamorous feel to a contemporary light fixture. If you're designing custom lighting through the KingsHaven Workroom trade program, you will want to determine whether the light fixtures you are specifying will serve their purposes as ambient, general or task lighting. Ambient lighting often comes in the form of center light fixtures or high hats. Task lighting, such as desk lamps or a pendant over a sink, or accent lighting, such as chandeliers, sconces, pendants, or table lamps, are also applications of purpose-driven lighting. LED lighting has been historically the most energy efficient and cost effective, yet unattractive lighting. It now can be utilized through customization in both beautiful and effective ways. Customizing the color and brightness of an LED by diffuser or blown color glass can create a magnificent and yet highly energy efficient source of light. The KingsHaven team has worked on projects where the desired amount of lighting is achieved, but the fixture is customized so the light bulb is hidden or yields a specific wattage or hue of light.
Step 2: Visualize lighting with no limits.
Customization involves style, form, planning, size, and scope. Once you have a lighting design or goal in mind, whether a brand-new light fixture or your interpretation of a preexisting KingsHaven light, plan ahead for how the light fixture will be installed in the desired space. "To make certain a custom light fixture fits well within a space, it is recommended to create a mock-up in the actual size of the fixture, put it on cardboard and place it in the space for which you are planning the custom fixture," said Wylonis. "If you do not have the ability to create a mock-up on cardboard, you can use inanimate objects similar in size to the custom light fixture for scale. You can even use a beachball to determine if a similar-sized light will fit right in the same space." As an example, when working on pendants over a kitchen island or sconces flanking a bathroom vanity, dimensions are as important as color or style when it comes to customization. Customizing light fixtures can involve creating a very special new light based upon the desired hang length or distance from the ceiling. Or, the needed width of a mirror above a vanity might mean a custom light fixture would be best to suit the space. The dimensions of any space being fitted for a light can be an integral part of designing a bespoke fixture. If you need assistance in determining the shape, size and height of a custom light fixture for a space, there are a few ways to estimate measurements when mocking up a room with your planned light fixtures. The KingsHaven design team is always available for assistance when determining custom measurements and concepts.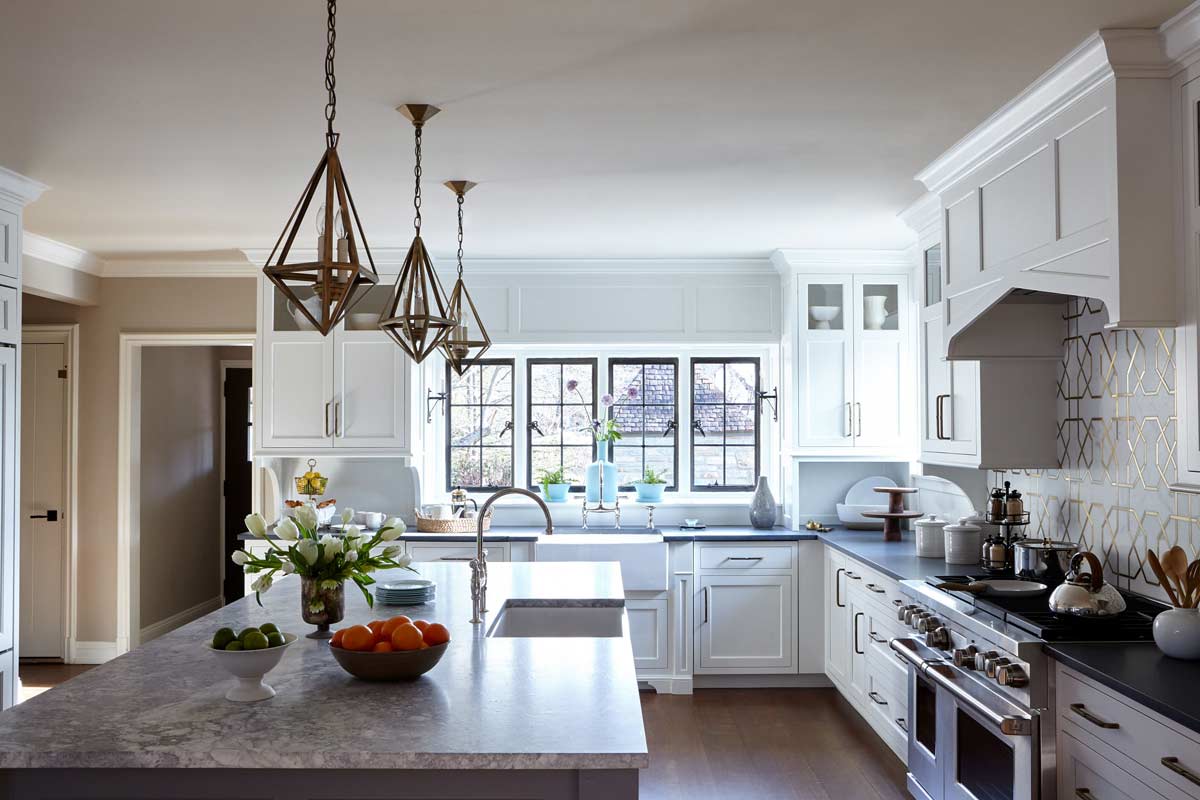 With wall sconces, KingsHaven finds customization to be a much-loved option by designers due to the fact they are usually installed in spaces where they compete with art or architectural elements. Sometimes, it is difficult to find the right sconces for an interior. KingsHaven has created sconces for just about any type of design plan a designer can imagine, which can involve everything from custom sizes and finishes to hand-forged iron and exotic wood, with or without shades, and more.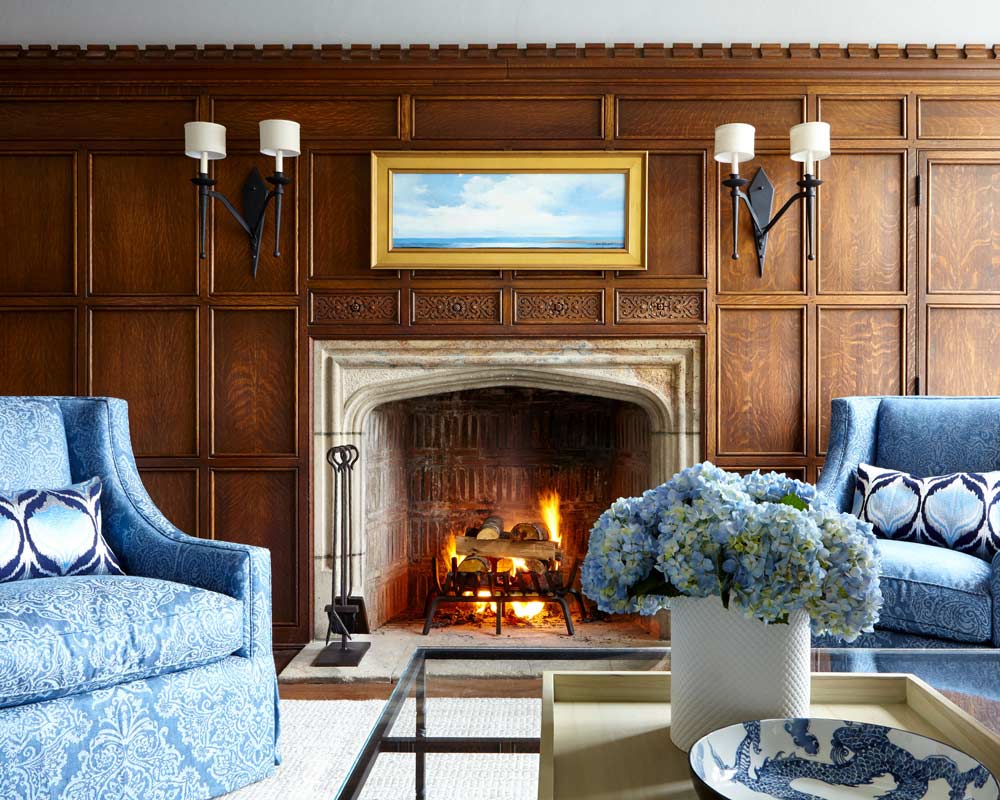 The KingsHaven design team also understands that every home is different. Many times, custom light fixtures can act as solutions to address physical limitations or difficult architectural elements within indoor or even outdoor rooms. For example, if you have a project with a lower-than-average ceiling height, the KingsHaven
Hive
can be customized to be only 2 ½ inches deep, beautifully solving some tough design problems. The Hive is one of KingsHaven's most customizable lights. It can be semi-customized to be four to eight inches deep, and it is often used in a multitude of settings. KingsHaven's hospitality and design clients have found this light fixture to be invaluable in hotels and commercial settings where ADA regulations prohibit a fixture depth greater than four inches. Let's say you have the opposite issue, and you are working with a view you wish to preserve with unusually high ceilings. The KingsHaven lighting design team can create the hexagonal pieces within the Hive to be varying depths or heights. The shapes, angles and sizes of customization with the Hive are boundless.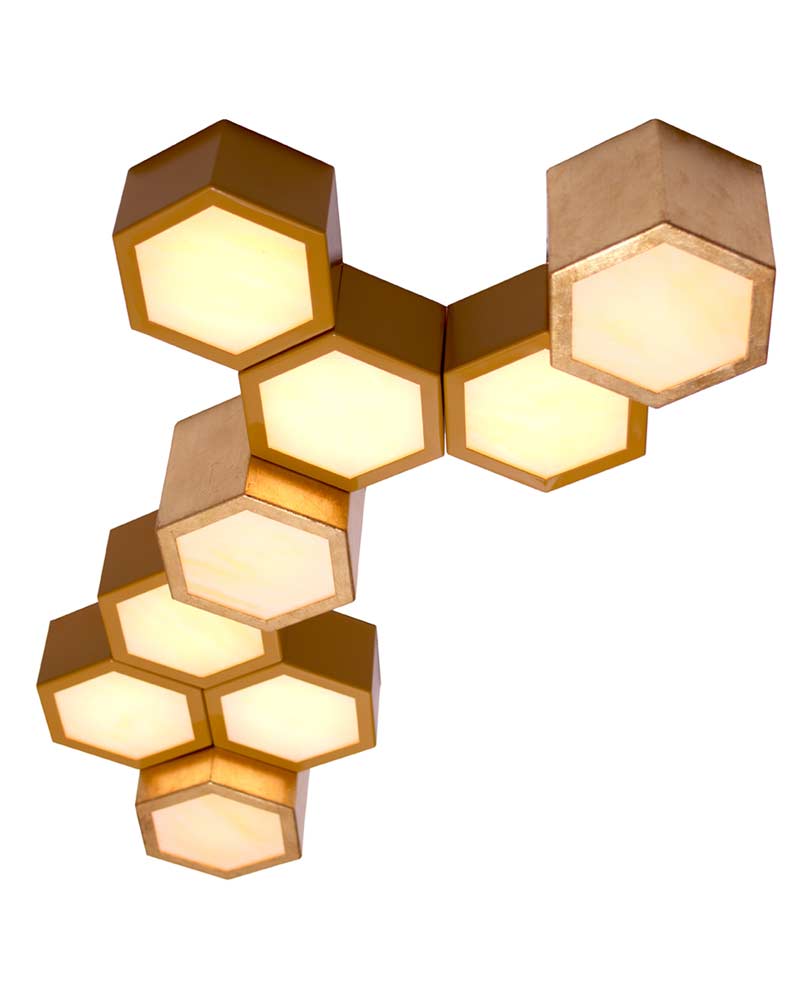 All of KingsHaven's hanging light fixtures can be customized with the addition of rods or chains to meet the challenges of soaring ceilings or foyers with multi-story ceiling heights. For example, in the recent
Virtual Design Challenge
, which KingsHaven co-founded and sponsored, interior designers from Dwayne Bergmann Interiors visualized the
KingsHaven Astral I
in a large space with high ceilings. In their rendering, they hung the fixture with a longer chain, so light was distributed at exactly the right height in the space. KingsHaven light fixtures can be sized up or down; light sources can be added or subtracted; or lengths may be adjusted to very short or very long. The KingsHaven lighting design team can create multiple hanging fixtures on custom canopies and adjust the scale to suit any design.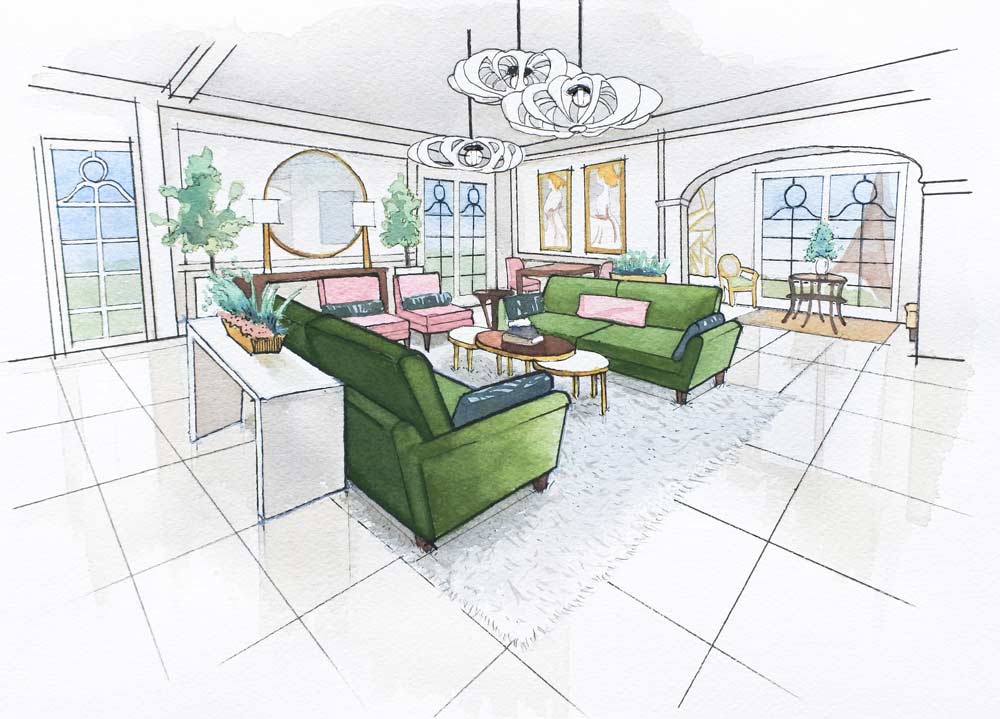 Step 3: Create from concept to completion.
Members of KingsHaven's design trade program can easily check quotes on custom orders and track their orders from start to finish. The KingsHaven team is always available for any questions, concerns or needed design or installation consultations. Additionally, KingsHaven can provide virtual lighting design plans and installation guidance through Teams, Zoom, email, and phone wherever and whenever needed. As Lauren Wylonis says, "Lighting should reflect the ways in which people enjoy living in their spaces, and it should add an element of beauty much like art or other accents, creating a sense of place and mindful design." To accomplish this, the KingsHaven staff is here to work closely with you through all stages of the design process from creative concepts, idea generation, lighting plans, and handcrafting your light fixtures, and then on to shipping and, finally, installation recommendations. We invite you to reach out to KingsHaven with your most challenging and creative custom lighting needs. Let the KingsHaven team help bring to life your most inspired lighting ideas. They can help create your best design and best product. Learn more:
www.KingsHaven.com
.
---