Crestron: Simplicity is the new perfection
Posted on February 11th, 2021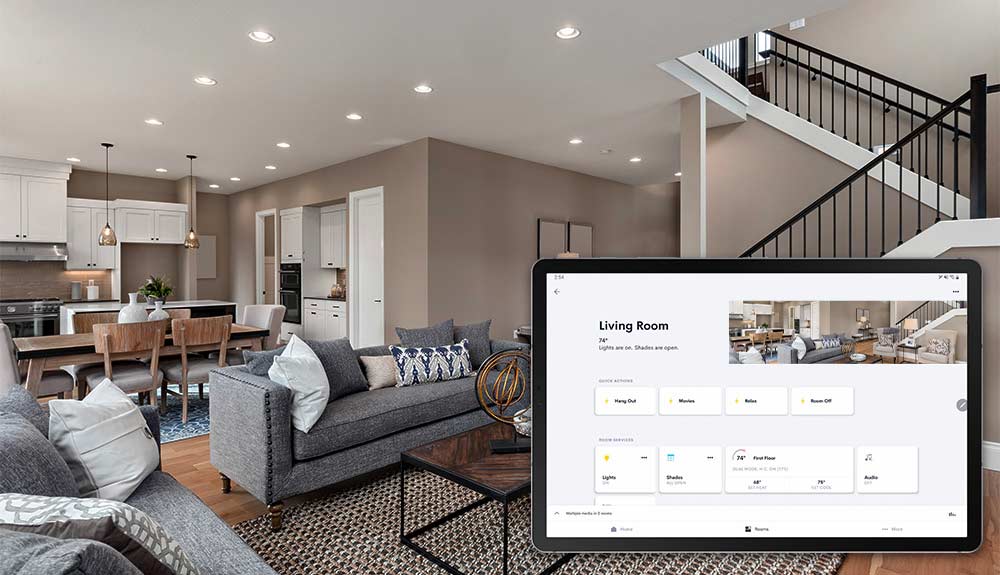 By Michelle Guss
I attended a recent symposium where one of the presentations was titled, Simplicity is the New Perfection. Whenever I meet with design build professionals, one concern they have with smart home systems, whether in single-family residences or MDUs, is how simple it is to use. Clearly, Crestron Home™ software represents this design perspective with an intuitive, straightforward user experience. So, I want to share with you how it can dramatically increase the value of MDU developments and single-family residences.
There's a growing demand for smart home technology, with 63M smart homes projected by 2022, which is nearly half of the market. Building and investing in smart properties significantly improves the value proposition to home buyers, and Crestron Home has become the gateway product developers are turning to.
Lighting, shading, and heating/cooling are the key systems developers focus on and that buyers care about most. Offering these smart home systems immediately gives developers a competitive edge. One of the key advantages of the Crestron Home platform is its scalability, regardless of what the future residents want to add to their environment, such as home entertainment, security, energy management, and voice control.
Crestron Home is so simple that developers can commission it without the type of investment our legacy products entailed. As a matter fact, 30% of our large-scale development projects are driven by developers.
So, it's become critically important for the design-build community and Crestron dealers to partner. Crestron is a member of several design-build associations, including CRAN, AIA, ASID, ICAA, and NKBA. Our business development team participates in events around the country, where we promote, train, and support the community. Please contact the Crestron business development team for support. They can educate and recommend Crestron technologies that should be considered at project inception and conceptualization.
Together with our dealers, we offer custom MDU brochures with project renderings, pre-wire specifications, and upgrade paths for prospective tenants and homeowners. At the end of the day, you are helping the realtor and developer communicate options to the buyers.
Crestron Home offers virtually every imaginable technology option, without having to re-invent the entire eco-system after the walls have been buttoned up. As a matter of fact, since it's cloud-based, the system evolves and improves over time. The design elements, such as dimmers, keypads, and touch screens can be added or replaced easily without touching any of the infrastructure.
Another asset we make available to you is our array of beautiful Crestron Showrooms and Experience Centers, where we also hold events throughout the year. I encourage you to visit a showroom virtually or in-person, so you can personally experience and demonstrate the simplicity and flexibility of Crestron Home. Whenever anyone experiences it for themselves and they see how easy it is to change lighting scenes or adjust environmental conditions, they are blown away!
The user experience has always been vital to the success of a system, but not every dealer had a "GUI ninja" who could wow the customer. But with Crestron Home, you can now stand proudly behind the product and show developers just how cool our ecosystem is compared to the competition.
Crestron Home practically sells itself. I know when I hand the app to an architect, interior designer, or developer, they immediately get excited. Crestron DBP Partners are entitled to a personal use discount on a demo system to install in their offices, where they can wow their clients. As I like to say, never underestimate the cool factor!
Final thoughts
Homes are increasingly built smart from the ground up. Smart home technology is now expected; even viewed as a necessity, rather than a luxury. Historically, the integrator was brought in long after key decisions were made. But this negatively impacted the interior design and proper technology deployment. Now, the integrator is viewed as an essential member of the design-build team.
My advice to you is to let us help you develop potential partnerships. Demonstrate the interface. And put the power of Crestron Home into the hands of your clients. Show them how simple and intuitive our interface is. Because simplicity is the new perfection.
Tags:
Home Automation