Crestron: Top Five Residential Automation Trends
Posted on June 7th, 2021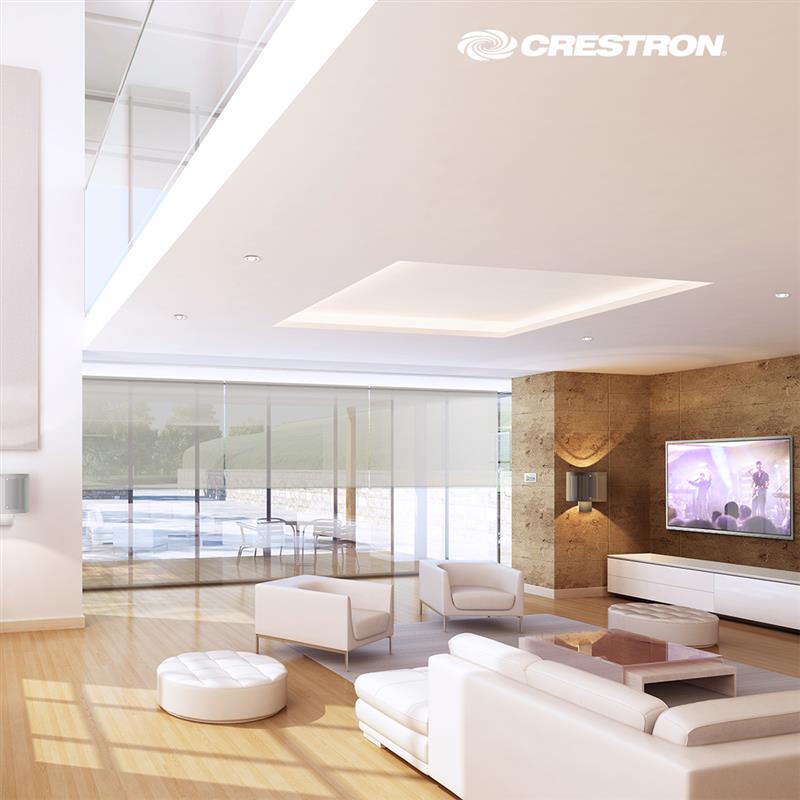 Author: Sonia Hernandez, Design Showroom Manager
In an everchanging world run by technology, the key to staying relevant is adapting to market conditions. According to ReportLinker, the residential automation system market is expected to grow significantly by 2025.
"The home automation system market is expected to grow from USD 40.8 billion in 2020 and is projected to reach USD 63.2 billion by 2025; it is expected to grow at a CAGR of 9.1% during the forecast period."
–  ReportLinker, Smart Home Market Trends Report, Published Nov. 2020
One of the factors contributing to this demand is the generation that grew up with technology at their fingertips, the Millennials. Millennials seek convenience and efficiency, which smart home technology provides. As this generation begins buying homes, we expect that smart home technology will be a desirable, and practically necessary, feature. Below are five residential automation trends that are expected to stay as this generation gains purchasing power and embraces the changes that the pandemic has brought to their home and work lives.
Home Office
Working from home will remain an option for most people. In fact, some of the world's largest companies have announced they plan to keep remote work as a long-term business strategy. Having said that, homeowners are more than ever strategizing for a home office space. Architects and developers are designing homes with more home office space and more flexible spaces to accommodate working and learning from home. While many are designing new build homes with this in mind, others are not holding back from retrofitting their homes to include designated spaces for remote learning and work.
Crestron's experience in enterprise audio video equips us with the ability to bring a professional-quality solution to any room in the home. Whether it's a stand-alone solution or part of a custom design, every solution is easy to integrate and easy to use. To learn more about our Home Conferencing solutions, please visit us here.
Video Conferencing in Living Rooms
There is no looking back. The virtual world is the new normal and it is here for the long run. According to 6Connex, a leading provider of virtual events, their business skyrocketed by 1,000%. Virtual baby showers, birthday parties, happy hours, family game nights, and so much more, have become a convenient option for many, including Millennials. To help put this shift in perspective, Zoom's total revenue for FY2021, was up 326% year-over-year.
Last summer, we introduced our new video conferencing solution, Crestron HomeTime™, which offers professional conferencing from the comfort of your couch. Crestron HomeTime seamlessly integrates with our Crestron smart home ecosystem and it is a great alternative to hovering over a small laptop screen all day. You can see people easier on your living room's A/V system, and the experience is far better than using the camera, speakers, and mic built into the laptop or tablet. The audio easily enables natural conversation, as you don't cut out and you can clearly hear everyone.
To see our HomeTime solution in action, please schedule a virtual tour at any of our showroom locations here.
Source(s): 6Connex, GlobeNewswire
Touchless Technology
Even before the pandemic, the world was moving towards touchless technology. It is evident that, now more than ever, better hygiene is an all-around expectation. Hence, a call-to-action for touchless solutions, especially in multifamily housing.
Vice President of Development, Michael Procopio, of The Procopio Companies, recently shared his thoughts regarding the evolution of multifamily housing amenities, "While at one time, smart homes were perceived to require extensive wiring, many screens, complex controls and the valid fears of rapid obsolescence, residents can now control the entire multifamily experience from the palm of their hand. From video entry systems and security, mobile and biometric access controls to lighting and heat controls to smart-enabled speaker systems and package tracking, renters can have confidence that the technology will scale and can keep up with the times."
To support this evolution, Crestron designs and creates an array of products that supports touchless technology. This includes occupancy sensors, door sensors, temperature sensors, humidity sensors, and the Crestron Home app, which delivers the intuitive control experience your clients demand, all from the palms of their hands.
Source: REBusinessOnline
Voice Control
People are relying on smart speakers for more than listening to their favorite playlist. In today's world, you can ask Alexa for the time, the weather, the news, and so much more. In a recent Forbes article, Marc Fisher, CEO and Co-Founder of Dogtown Media, shared his thoughts about the future of voice technology.
"Soon, our interactions with technology will involve less typing and button-clicking and more natural forms of expression, like speaking. Voice-activated tech will be found everywhere."
– Forbes, Marc Fischer, CEO of Dogtown Media LLC, Published April 2020
At Crestron, our goal is to continue improving the voice technology experience. Our voice control is designed to be conversational and can understand complex commands, such as "turn off the lights in the kitchen, turn on the TV in the living room, and lock the doors." To accomplish a seamless integration with other innovative technology leaders, and our Crestron ecosystem, we have formed strategic partnerships with industry leaders such as Josh.ai and Amazon Voice Service. For a closer look at this seamless voice integration, please schedule an in-person (or virtual) tour at one of our design showroom locations here.
Health and Wellness
Last but certainly not least, a residential home automation trend that is here to stay is health and wellness. Before the pandemic, health and wellness was already at the forefront of people's minds. Customers and end-users alike are becoming more educated and aware of products and services that support and promote their wellbeing.
In response to the demand for wellness during the pandemic, Crestron collaborated with Delos, a global wellness pioneer based in New York. Through this collaboration, Crestron and Delos will provide "…a seamless experience that transforms the home space through intelligent scenes designed to help support immune health and reduce the transmission of airborne illnesses." This means, our Crestron ecosystem natively integrates with the Delos DARWIN™ Home Wellness Intelligence Network to control lighting, shades, HVAC, and audio within the DARWIN platform. Additionally, DARWIN will provide critical information regarding air quality to display on a Crestron touchscreen or mobile device. If it detects a particular air quality event, DARWIN will communicate to the Crestron thermostat with visual and sonic alerts to trigger fan speed remediation to help move air through the system.
Source: Delos
The most important thing you could do as the residential automation market grows is adapt to the changes. There are many ways to stay on top of market trends and changes, but a few include:
Networking with technology experts.
Connecting with design-build professionals.
Attending relevant industry events.
Taking continuous learning courses.
As the leader in smart home control systems, we are listening closely to the needs of our technology partners, design-build community, and end-users. We are excited for what is to come in the next five or ten years at Crestron. In the meantime, if you would like to see the aforementioned residential automation trends in action, please schedule a showroom tour at any of our design showroom locations here. We are open by appointment only, whether in-person, or virtual, and we would be happy to accommodate you!
---
Tags:
Automation
,
Crestron