Designing with Trend Colors
As the beloved artist Georgia O'Keefe once said, "I could say things with color and shapes that I couldn't say any other way."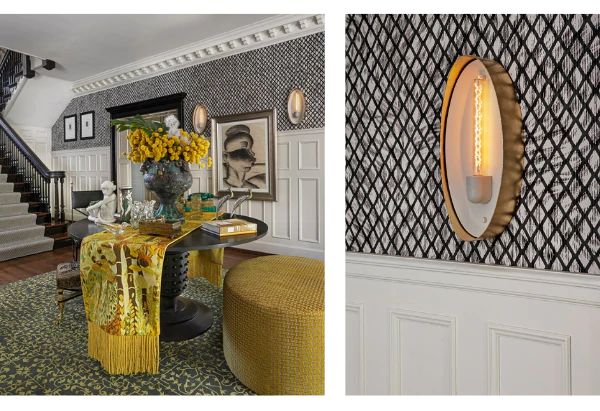 At KingsHaven, mindful design that harness the power of color is at the core of our ethos. Evoking a sense of wellness and tranquility in a thoughtfully designed space ensures the residential or commercial dwelling will provide a sense of emotional well-being, harmony and beauty.
This year's popular color trends for interior design and outdoor spaces fit perfectly into the idea of mindful design. Read our KingsHaven Founder and Lead Designer Lauren Wylonis' take on the early 2022 design color trends, and gain a new way of looking at lighting with KingsHaven.
Wonderfully White
With the challenging times most of us have faced during the last couple of years, many are proactively turning away from dark days to seek whiter, brighter outlooks on how life is lived.
For interior design projects, the sense of clean and crisp color minimalism is one popular trend making its way into spaces that are mindfully designed for both livability and tranquility.
"We love the way white light reflects all other colors in a room," says our KingsHaven founder and lead designer Lauren Wylonis. "The purity and integrity that white light fixtures give to a space is one of the most popular trends in interior design for 2022."
Shop the look: Napa Gate Chandelier, Painted; Rivet Pendant, Square; Astral I Chandelier, Painted; Lutyens Hanging Lantern, Square.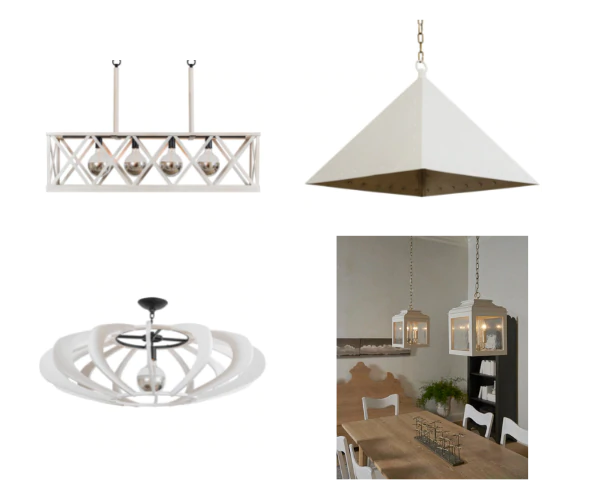 Aquatic Blues
The near-countless shades of blue are the cornerstone of this must-see trend in design. From bold and playful tones to calm and soothing hues of blue, the options are as versatile as they are complementary.
Whether moody dark blue colors for formal dining rooms or serene light blue accents in cozy bedrooms or kitchens, designers know that blue interiors harmonize with almost all possibilities on the color wheel. Adding light fixtures painted or stained in blue tones can be done in flamboyant royal blue, subtle understated sky blue, the trendy 2022 Santorini blue, and any blue a designer can dream.
Gain inspiration here: Lutyens Hanging Lantern; Geo Pendant with Colored Glass, Large; Chaumont Column Table Lamp;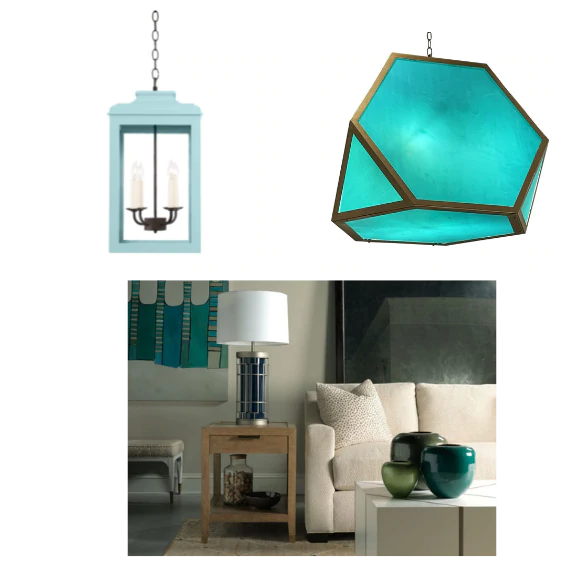 Gorgeous Greens
Indoor spaces that are thoughtfully designed conjure the charm of nature with a bucolic style punctuated by green. Taking inspiration from grassy lawns and leafy trees, gorgeous and gracious greens are showing up in interiors in fertile shades that harken the great outdoors.
The gamut runs zesty lime for punches of pizzazz, Kelly green for the Irish-inspired, green-blues that meld the best of both colors, Sherwin-Williams Evergreen Fog 2022 Color of the Year, and the list goes on…
Get the look: Marais Pendant; Geo Trio of Pendants; Metrique Pendant; Astral II Chandelier, Large, Painted; Lutyens Low Profile Lantern Sconce with Mirror, Estate, 3-Light (Painted).
Soothing Neutrals
With 2022 in full swing, neutral is the new black. Undoubtedly, the pandemic has led to soothing neutral colors becoming a chic and go-to design choice for wallcoverings, floors, furnishings, kitchens, baths, and, by all means, lighting. Known for their welcoming and warm undertones, neutrals are far more diverse than prior thinking.
"Spaces can be made to feel relaxing, comforting and luxurious at once, with neutral hues accented with hints of understated blush, soft-gold, light burnished brass, pale-almond, salted caramel, champaign tones, and many others," said Lauren. "A neutral color palette can be curated to accentuate a home's monochromatic essence, yet coordinate with carefully chosen pops of color."
Give a nod to these neutrals: Buoy Sconce in Burnished Brass; Chevron Table Lamp in Champaign with Muted Gold Column; Darlais Pendant in Bronze.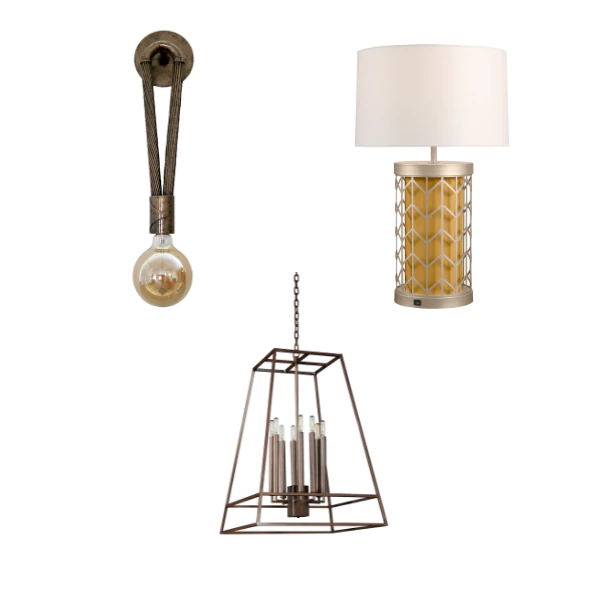 Joyful Jewel Tones
No trend speaks to luxury design like the splendor and sumptuousness of jewel tones. Yet, the trend goes beyond the look of glam. Designers of both indoor and outdoor rooms are inventing new ways to juxtapose spaces with jewel tones in maximalist elegance.
Design options with this jewel-inspired color trend often involve a backdrop of contrasting patterns or bold single-color statement pieces that satisfyingly saturate a space. The trendiest applications of this we have seen feature jewel tone colors of the Caribbean sea, essences of emerald and amethyst, marvelous mustard, lovely lilac gemstone, and even the intermingled union of blue precious stone with touches of silver.
Offered in these and any custom colors: Fleur Chandelier in lilac; Astral Chandelier in Caribbean Lagoon; and Avril Sconce in silver with a blue gemstone interior.
Blissful Beach
Basking in the sun and serenity of the seaside is top-of-list for many these days. The beach-color trend is bringing the essence of the coast to homes and even hotels, spas and restaurants everywhere. Comfortable and casual, the natural tints and tinges of the beach in design are all the rage for 2022.
Shades of sand, stone, nautical, beachy, coastal, frost, fog, and creamy white are often coordinated or contrasted with colors like coral, ocean blue, sea green, and others.
"Designing with beach hues this year is being revealed well beyond gossamer linen and woven rattan," said Lauren. "Lighting inspired by the beach is taking form in stylish shapes such as sails and buoys, and, of course, in the splendor and vibe of coastal colors."
Bring the beach to your design projects with these creative light fixtures from KingsHaven: Shift Sconce; Metrique Pendant, Small in natural; Sail Sconce; Buoy Sconce; Luna Globe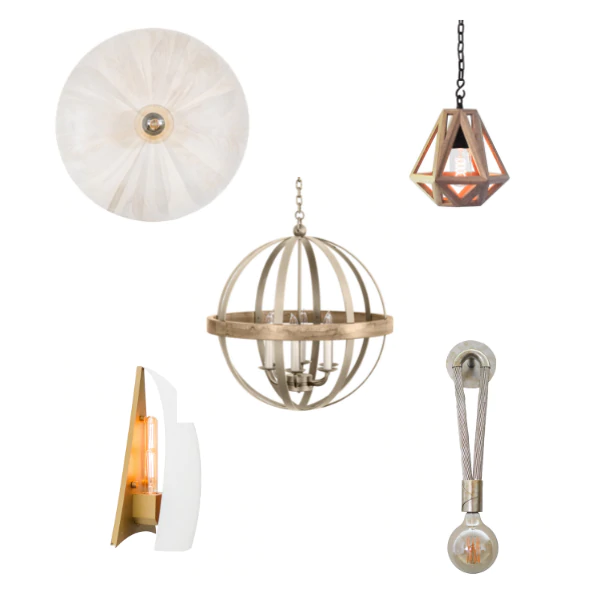 Scintillating Scarlet
Lockdowns have led to a general desire for refreshing and restorative design. The upbeat color of red is being seen in what many are calling microbursts, which are pops of red, crimson, cherry, scarlet, ruby, cardinal, and vermilion.
These mindfully planned touches of red literally celebrate colorful and aesthetic design. An orange-red accent table, a woven rug with a soft-red geometric pattern, and a light fixture pendant or sconce in bright red are all examples of how to embrace the passion and power of red.
Rejuvenate spaces and their inhabitants with red light fixtures: Marais Pendant, Small; Hyde Park Lantern Sconce; Buoy Sconce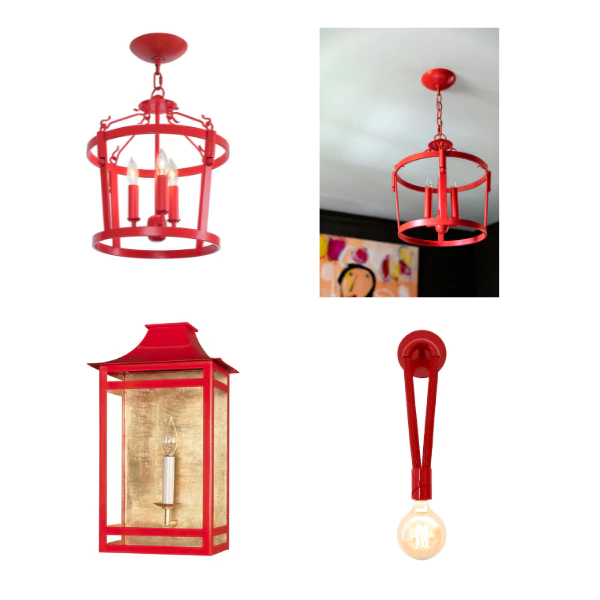 Contact KingsHaven for in-stock, quick-ship lighting options or for a fully customized lighting plan with creative and colorful sconces, pendants, chandeliers, table lamps, floor lamps, and more for your interior design and outdoor space projects in 2022.