Posted on June 11th, 2021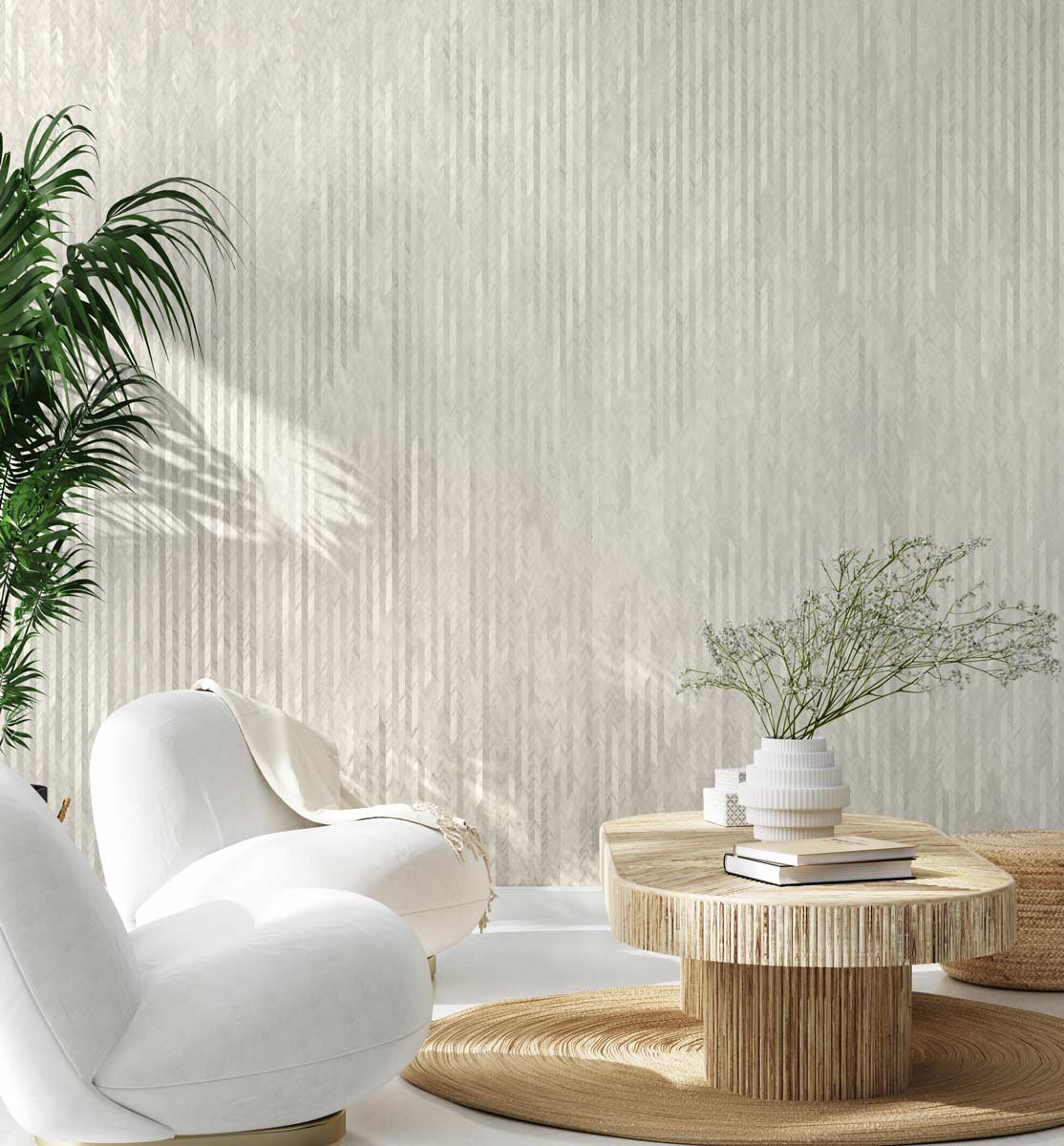 The Elemental collection takes inspiration from natural elements – bringing moments of mindfulness to our surroundings with calming colors and soft textures. The introduction of eight new wallcoverings along with fresh new colorways of our popular Tahiti and Edo Silk, work to cultivate a sense of tranquility and promote wellness within our interiors. Wallcoverings such as Luna, Oasis and Mantra draw inspiration from stylized grasses, water, and reflective beauty essential in Zen gardens. Embrace the elements of nature to create relaxing spaces that start with walls.
Oasis:
A translucent, airy textile is draped over a metallic paper ground in Oasis. The spaces between intricate layers of double-woven fabric produce pockets of material, creating the illusion of running water. A painted ground beneath peeks through the surface offering moments of stillness and reflection, complete with an elegant color palette.
Isla:
Fine stripes of cork veneers are pieced together to form a delicate pattern of horizontal pinstripes in Isla. The inherent beauty of this natural cork wallcovering is complemented by an underlayer of metallic foil, in unexpected hues that range from blush pink to electric blue, reflecting eye-catching glimmers of light, day or night.
Caprio:
Alternating vertical strips of sustainable Paulownia wood veneer are arranged to create a subtle chevron pattern. Caprio utilizes a rift cut technique adding multidimensional design for a tailored wallcovering. A sophisticated palette includes soft shades from cream to black.
Mantra:
Mantra plays with light and shadow, forming a pattern that emulates blades of grass. A laser-cutting technique applied to the polyester satin weave reveals a lustrous sheen and undeniable texture. This luxurious and durable textile wallcovering offers added depth with a bold palette ranging from warm neutrals to burgundy and beyond.
Shop the Elemental Collection >
---