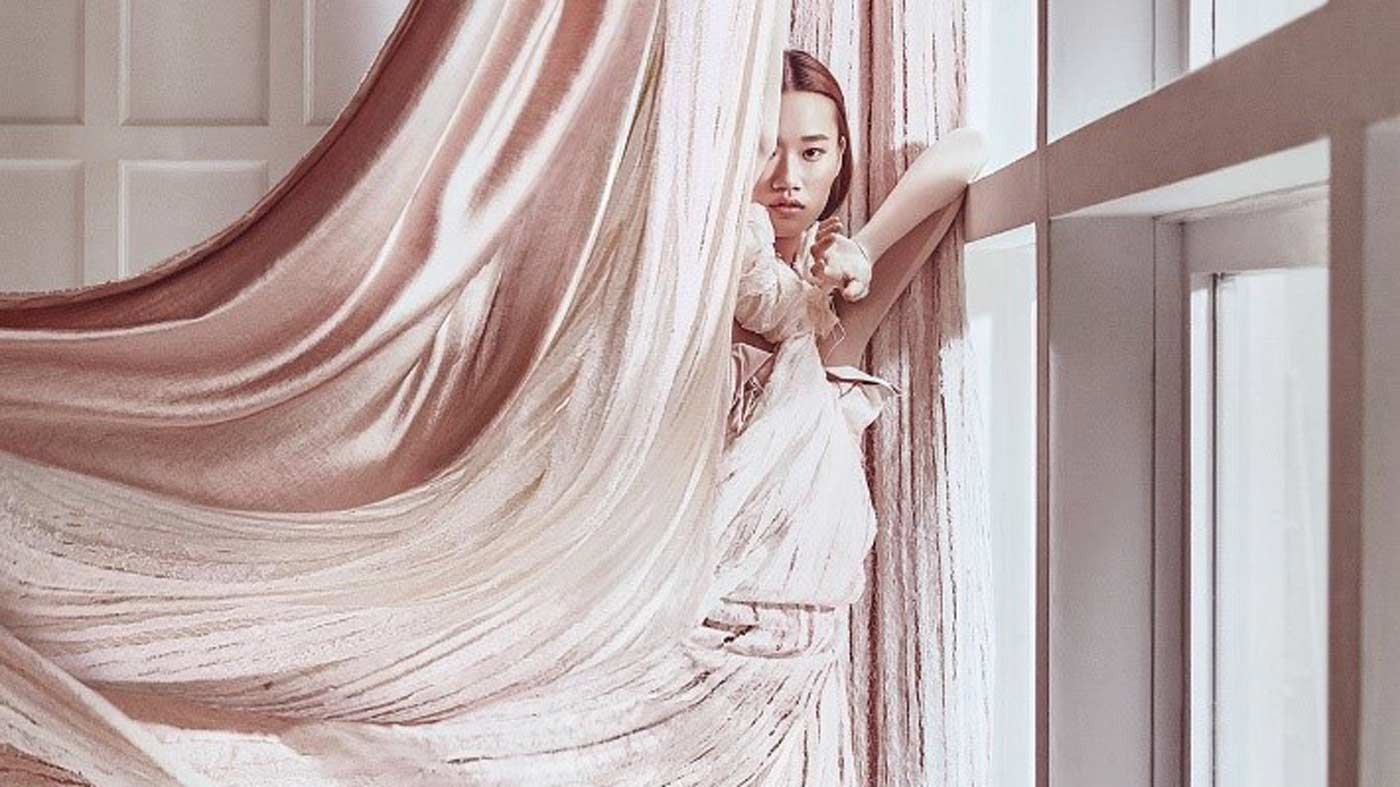 As the warm days of late summer give way to the cool nights of early fall, journey with us through the warmth and elegance of Overland, Bernie de la Cuona's newest and most favorite collection to date.
Bernie de Le Cuona embarks on a fabric journey that tracks the connections she's made with nature, people, and places along the way. de Le Cuona's epic Overland collection enlivens these experiences in ten designs over fifty colour stories. They're crafted using inventive techniques into the finest flax, wool, and cashmere that span heavy and light weights, pattern, and raw textures, bold and new neutral colours.
Overland lets creativity flow and imagination travel beyond traditional horizons. Fabrics off the beaten track are imbued with soul and a personal touch. Each of these fabrics and every colour was inspired by Bernie's own memories and experiences that she hopes will resonate with others.
"It is my favourite collection in terms of the new neutral palette and the craft that has gone into creating the structures of the cloths."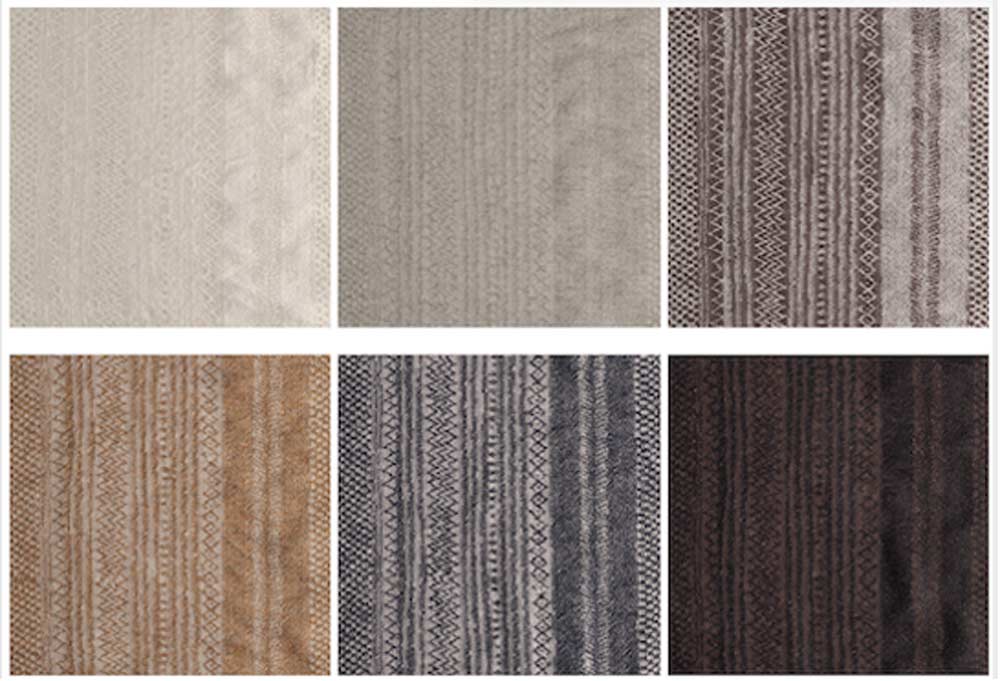 Kalahari
Kalahari is a jacquard linen and wool combining weave structures to create an intricate design with pattern inspired by African symbols. An example of the attention the weavers take when working with de Le Cuona. The numerous weaving structures used to achieve the surface results in a cloth that looks treasured and hand-loomed. It is unusually soft whilst dry to the touch. Colours range from tonal to deep espresso plus terracotta, indigo and slate. A fabric for curtaining and light upholstery.
From top left: Desert Lion, Elephant, Honey Badger, Impala, Wildebeest and Rhino.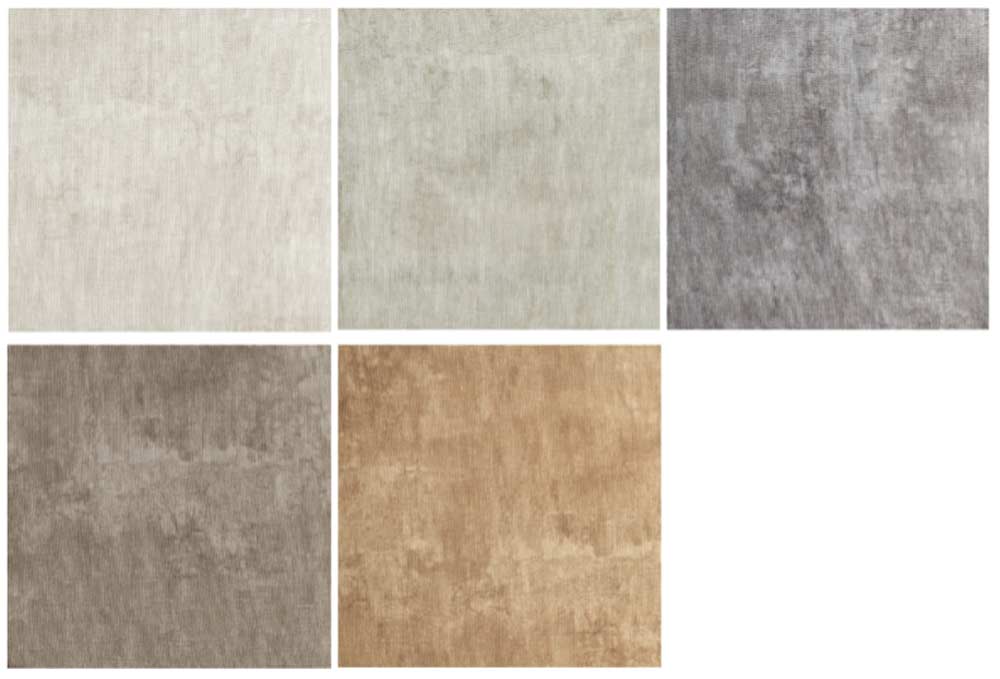 Dahna
Dahna is a tightly woven linen inspired by the moving sands of the Ad-Dahna. The colours are shades of the sand dunes as the sun, moon and the elements pass over them. The arid surface with its colour gradients is created with a unique craft technique devised by de Le Cuona and handled in the old-fashioned way using the hand and eye of experts. A double-width fabric with an elegant drape. 
From top left: Windstorm, Oasis, Desert Rose, Sand Dune and Scorched Earth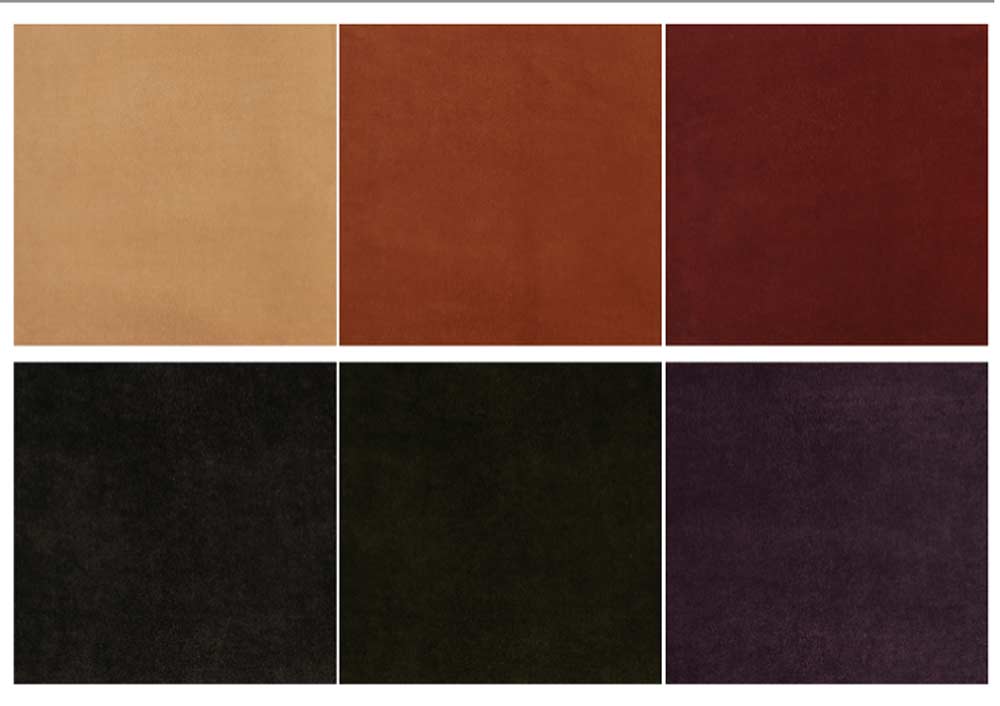 Cashmere Velvet
Cashmere Velvet is a sublime cloth that uses the finest, extra-long cashmere fibres. The delicate yarns are woven with meticulous care using an innovative setting loom, packing the fibres to create a luxurious compact pile. The pile is cut and brushed to separate and open the fibres, revealing an exquisitely soft handle and perfect lustre. Cashmere Velvet balances elegance and strength for both curtains and upholstery. The jewel hues capture the grandeur of the specialist fibres and techniques.
From top left: Topaz, Fire Opal, Ruby, Quartz, Onyx and Amethyst.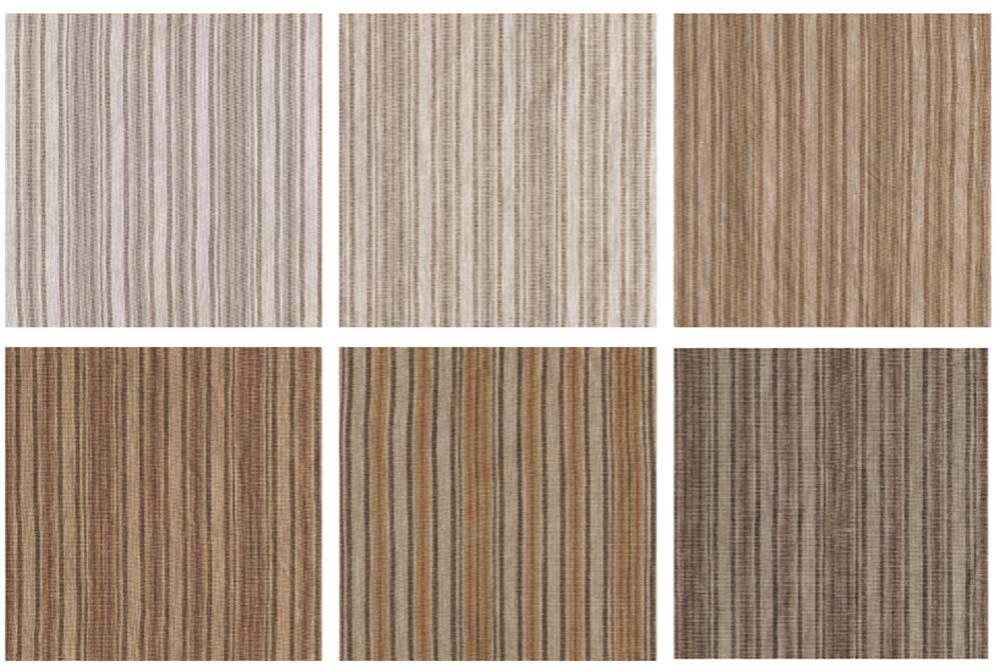 Tuli
Tuli is a characterful linen inspired by the Tuli Block in Botswana, a popular region for overland explorers. It's reminiscent of stripes used by tribal people and the warm and cool shades at home in any elegant environment where more than a plain is required, perhaps on an ottoman or armchair.
From top left: Aloe, Frog, Reed, Beetle, Nectar and Berry.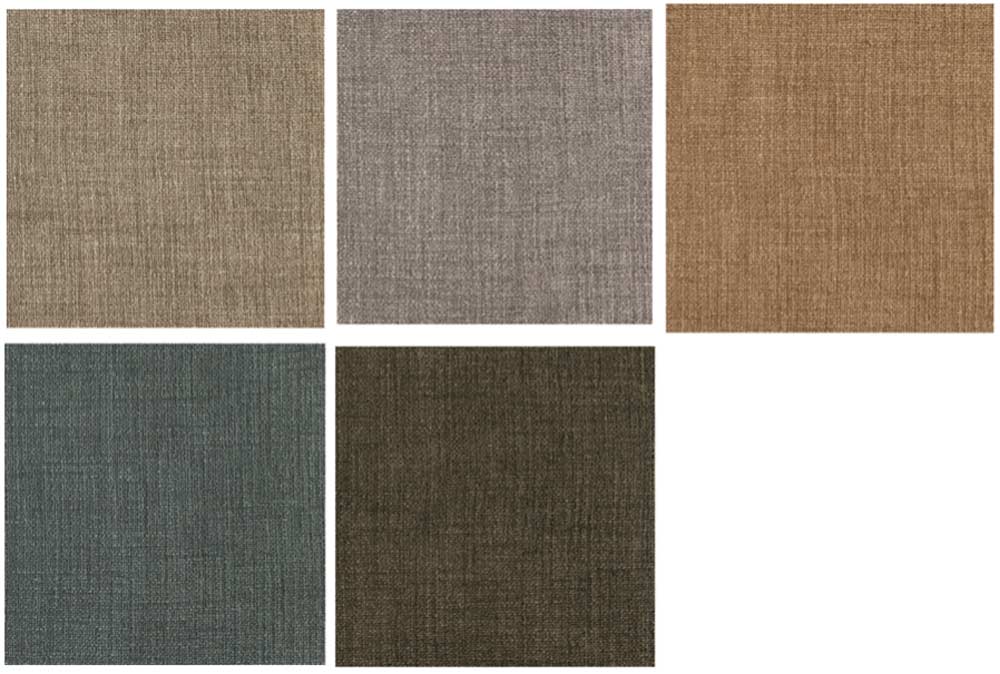 Warrior Cloth
Warrior Cloth the original gutsy linen is now in the overland palette of 'new' neutrals with splashes of teal and rich colours found in nature and Africa's diverse terrain. The combination of two colours creates a slight two-tone surface on this robust upholstery fabric.
From top left: Woodland, Lair, Horizon, Ravine and Forest.
Assegai
Assegai is inspired by the tribal engravings on traditional spears native to Africa. Each colourway bears an accent hue created by the craft of spear making. Being reversible it is perfect as unlined curtains, bedcovers, throws with slightly different colour options on each side.
From top left: Stone, Gold, Tan, Ash, Bronze, Hide and Charcoal.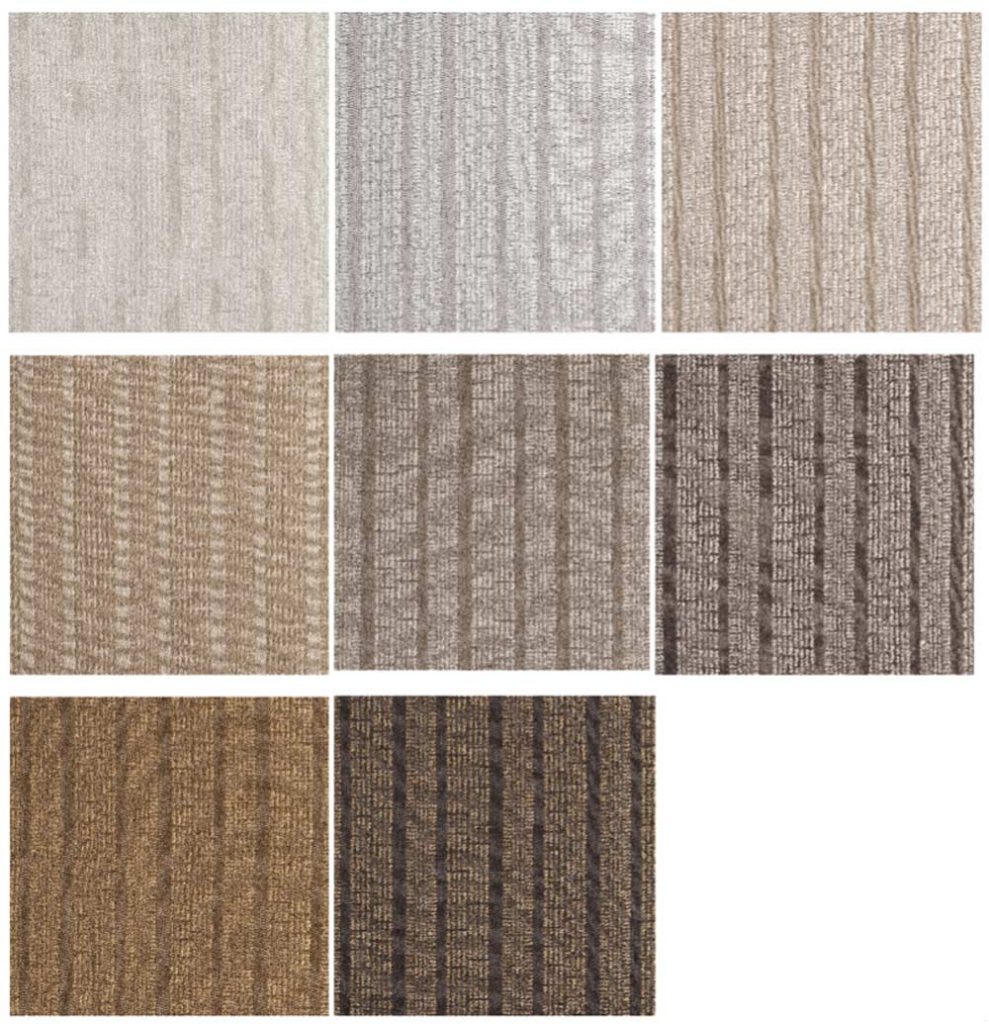 Stampede
Stampede is a rustic, earthy linen that mimics the myriad of animal tracks found in the sand. This linen comes in a range of sun-bleached neutrals that feel pure and unrefined. Totally reversible and beautiful on both sides giving colour options or allowing for use as unlined curtains and upholstery.
From top left: Bone, Fossil, Tusk, Claw, Horn, Thorn, Mane and Tigers Eye.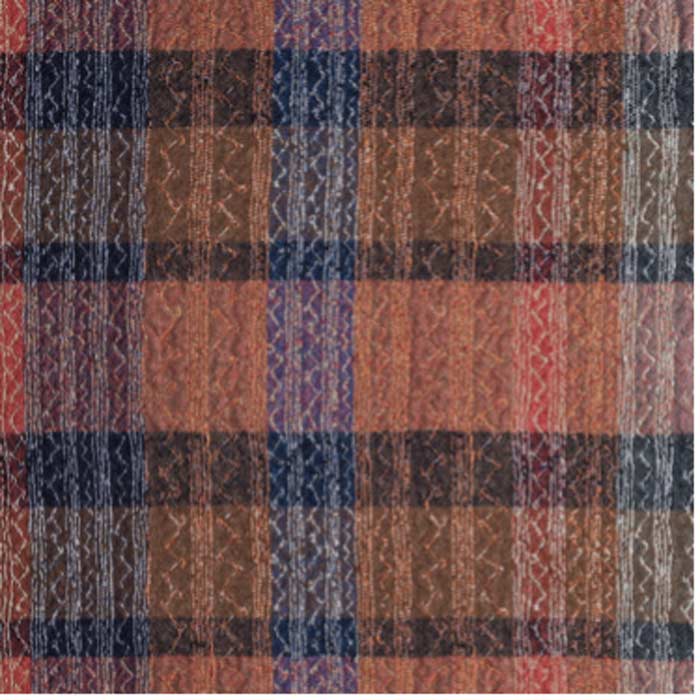 Shuka
Shuka is a dense cloth that combines several colours in both warp and weft to create a striking design. Reminiscent of the colourful garments of the Maasai tribe, which are called Shuka's this marriage of wool and linen is enriched by the story behind it, making it the talking point in any room. Reversible and slightly different colours on each side. It is a double cloth quality and will last for years.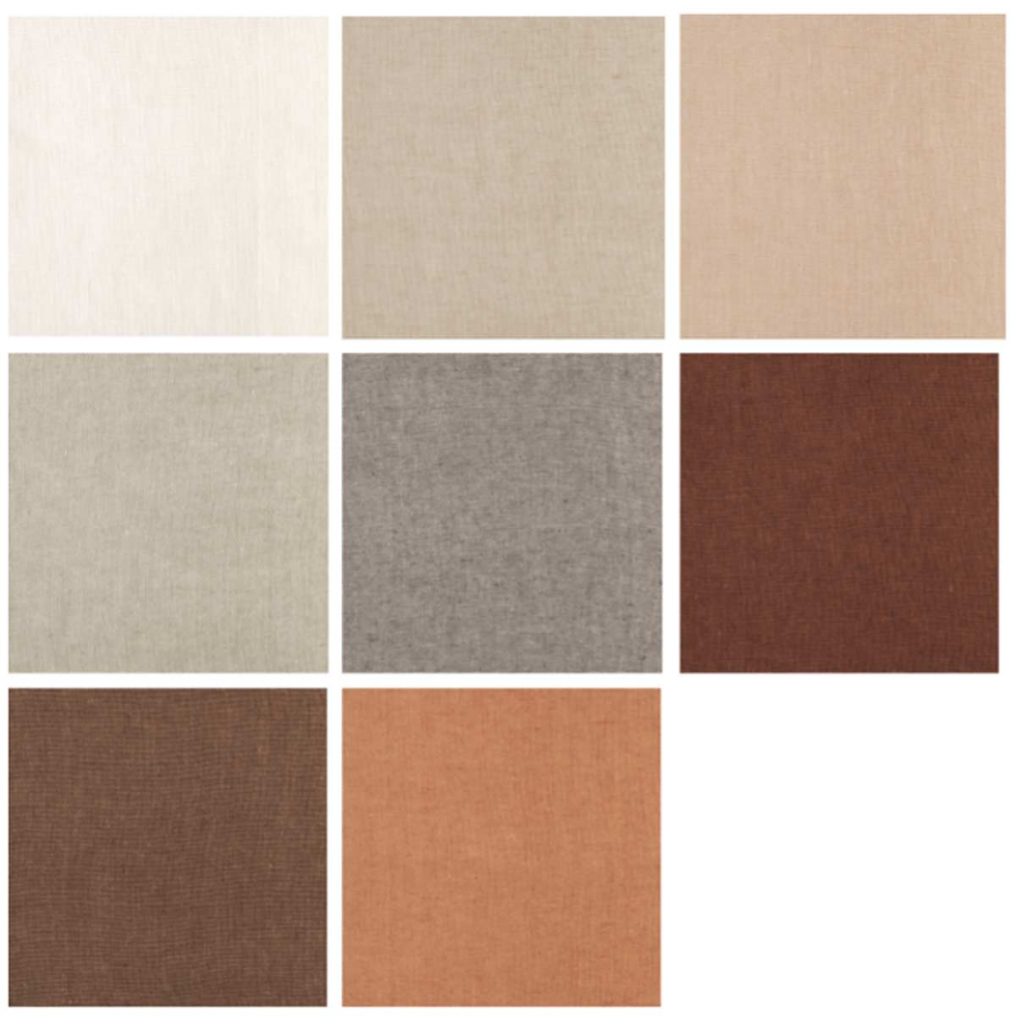 Autumn
Autumn is a staple linen for any interior and a cloth that will age beautifully. It has a graceful drape and buttery hand which is soft to the touch making it suitable for curtaining and upholstery.
From top left: Ivory, Tan, Honey, Tea, Ebony, Terracotta, Pecan and Ochre.