JAB ANSTOETZ and HARTMANN&FORBES
"Modern Americana" Book Signing with Max Humphrey
Wed. Oct. 6 @ 3PM EST – Suite 102
MODERN AMERICANA
Book Signing Event with Max Humphrey
Recognized as a design change-maker, Max Humphrey is a Portland-based interior designer, art director and product designer. His trademark lived-in, layered look has earned accolades, including being named a "Next Wave" designer by House Beautiful and one of Country Living's 100 most creative people.
AND LEARN ABOUT THE COLLABORATION WITH HARTMANN&FORBES
The Max Humphrey Collection by Hartmann&Forbes celebrates Modern Americana with a nod to nostalgia and a fresh take on classic prints and patterns — gingham, quilt and cable knit — rendered in Hartmann&Forbes' handwoven natural textiles.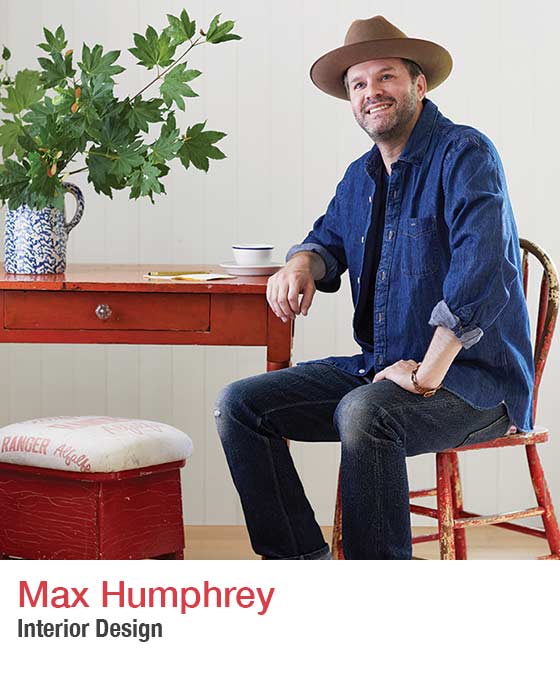 PRODUCT NEWS
HARTMANN&FORBES Introduces the Max Humphrey Collection – A Nod to
Nostalgia
HARTMANN&FORBES, maker of natural, handwoven window and wallcoverings, is proud to announce the launch of its first collection with Portland, Oregon based interior designer Max Humphrey. Adding to Hartmann&Forbes vast and diverse line of handwoven designs for the window, the Max Humphrey Collection reveals the artisanal quality of Hartmann&Forbes combined with Humphrey's trademark lived-in layered look.
"For me, design is nostalgia. I'm inspired by things from my New England childhood like gingham, plaids, vintage quilts, cable knit sweaters, and old grain sacks," explains Humphrey. "Collaborating with Hartmann&Forbes, allowed me the freedom to reinterpret these designs in a modern, natural way."
Featuring five Woven-to-Size Grassweave windowcoverings, Humphrey celebrates modern Americana with a nod to nostalgia and a fresh take on classic prints and patterns —gingham, quilt and cable knit—rendered in Hartmann&Forbes' handwoven natural textiles.
The WINDOWCOVERING Collection includes:
Gingham – Humphrey reimagines this traditional gingham check as a versatile neutral in his collection. Its simple, medium-scale motif is loomed of natural ramie fibers, creating subtle variations in each square that soften the geometric grid and highlight its handcrafted quality. The weft fibers are dyed to match the warp, infusing the two-tone pattern with graphic impact and visual dimension.
Grain Sack – Inspired by vintage grain sacks, this series elevates the humble carryall to a nostalgic, handcrafted design. The sturdy ramie weave is accented with slender stripes of red, white or blue against a denim or natural ground, evoking a quintessential Americana mood in a fresh format.
Cableknit – Reminiscent of iconic New England sweaters, this series is distinguished by its rich dimension rendered on a jacquard loom. A dense weave of refined ramie features alternating cable ribs framed in columns. They twist down planes of fabric, imparting visual depth and subtly raised texture in a design at once classic and contemporary.
Cross – An age-old symbol in nature and iconography, the venerable cross is reinterpreted in jacquard-loomed ramie. The crosses, formed of an intricate check pattern, float in a textural landscape delineated by horizontal lines, its tonal black and-white palette producing a primitive, understated design.
Quilt – A modern take on traditional quilts, this series nods to the nostalgia of handmade crafts with its classic chain motif. The geometric pattern and two tonal colors provide a contemporary twist, while jacquard-loomed ramie creates subtle variations in the weave for rich texture and visual dimension.
ABOUT HARTMANN&FORBES
HARTMANN&FORBES is the world's leader in ethically crafted, handwoven natural shades. Offered exclusively to Interior Designers worldwide, the company's sustainable products are distributed through a network of U.S. and international trade showrooms.
For each of the last nine years, the company has been selected as one of Oregon Business Magazine's Top 100 Green Companies.