KINGSHAVEN
Open House: Custom Lighting Collabs with Champs
October 6 & 7, 9:00 a.m. – 6:00 p.m. – SUITE 402
Visit the KingsHaven showroom (Suite 402) during the Decoration & Design Building's Fall Market Days for complimentary lighting design consultations, collaborations, book giveaways, and champagne with KingsHaven's lighting design team! An "open house" concept, the KingsHaven showroom will be open to Fall Market attendees during the hours of 9:00 a.m. – 6:00 p.m. No registration or appointment needed.
Designers and architects are invited to experience "A New Way to Look at Lighting" by collaborating with the KingsHaven lighting design team to discover new and popular KingsHaven light fixtures, gain insight into the company's creative and innovative lighting customization capabilities, and ask questions about challenging lighting needs for residential and commercial settings.
To learn more about KingsHaven, visit www.KingsHaven.com.
Inspired by life at sea, the KingsHaven Buoy Sconce features a beautifully textured, twisted metal rope design that flows to an exposed Edison bulb. It can be mounted individually, in pairs or as a trio to create a beautiful and functional wall accent. With seven color and finish selections, customization options and the ability to hang with the bulb up or down, this clever light fixture can enhance the mood and personality of any space.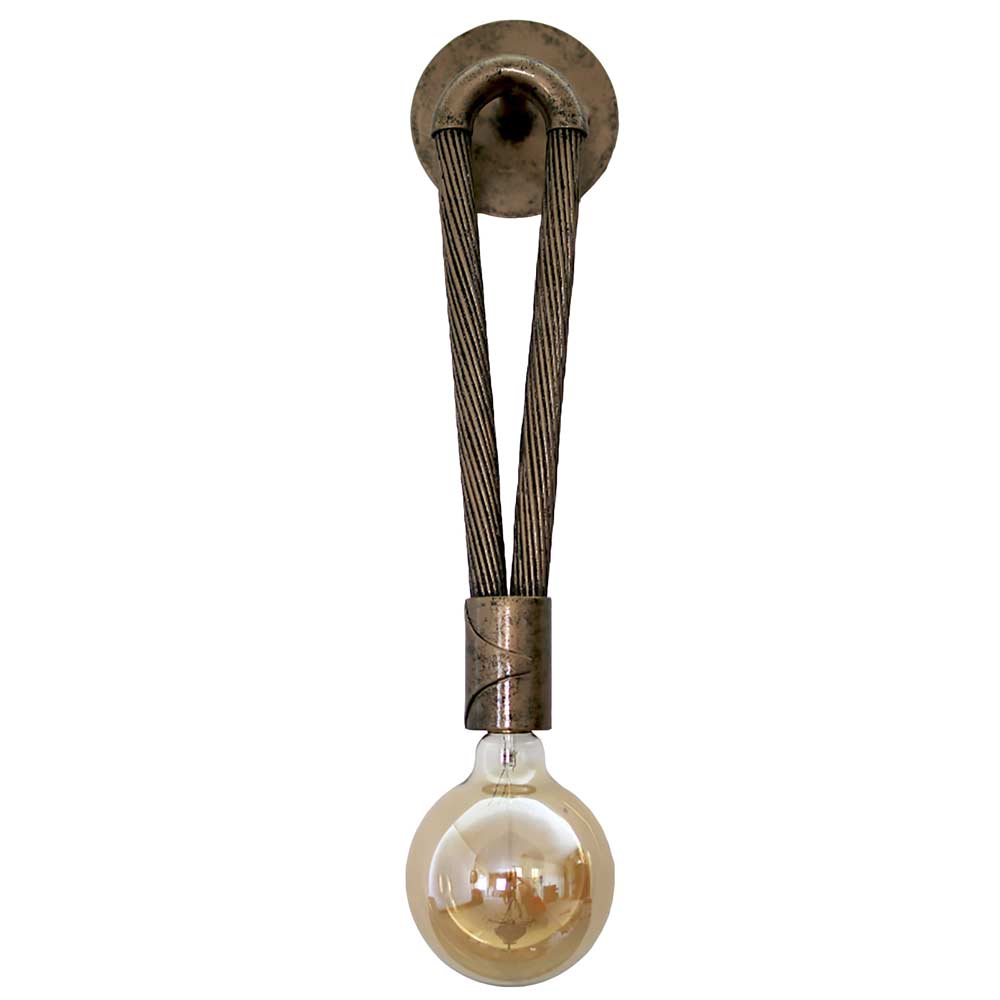 Inspired by nature and designed with touches of contemporary amber and gold, the KingsHaven Fleur Chandelier can be customized for any lighting plan your client's project requires. KingsHaven's Workroom Trade Program offers the opportunity for designers to custom order the Fleur Chandelier by choosing from over 100 finishes and a variety of sizes. Available with a textured, hand-hammered finish (as shown here), or with a smooth finish, this breathtaking fixture is a stunning addition to any interior and can breathe fresh life into your client's home.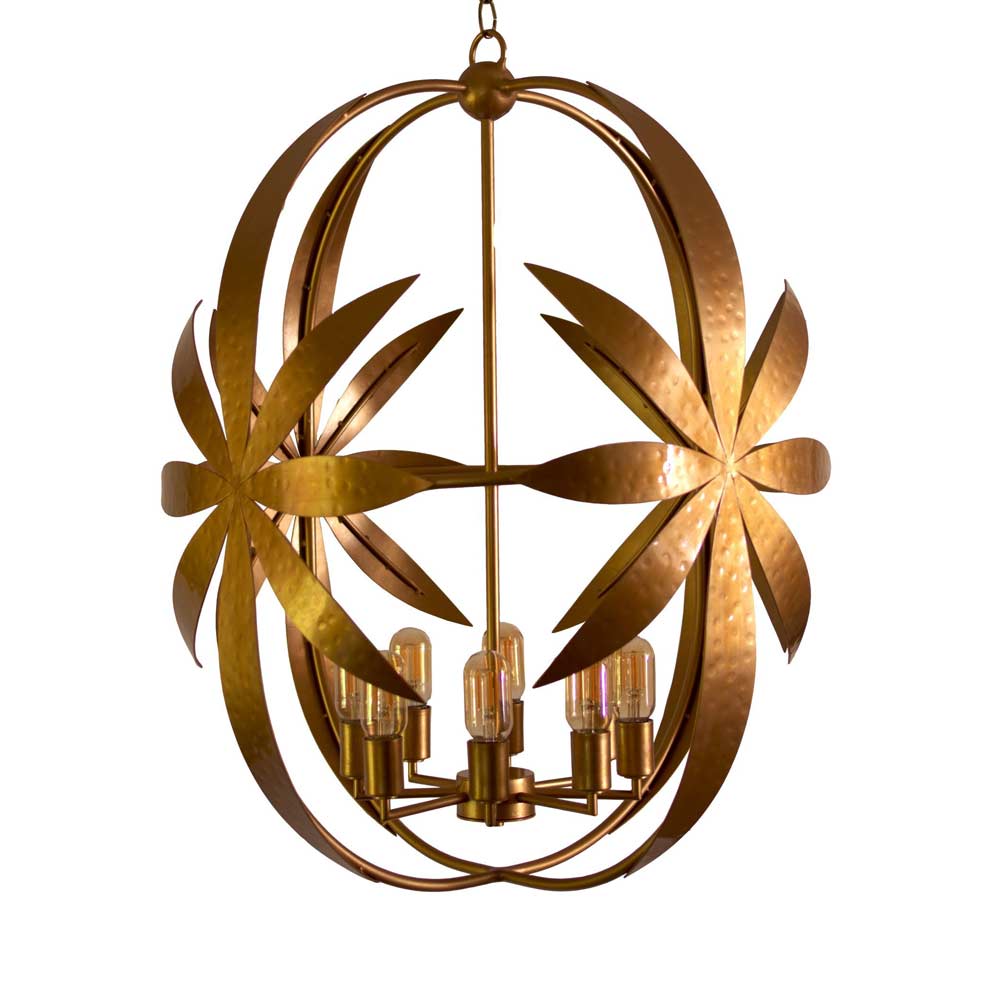 Inspired by one of Leonardo da Vinci's mathematical sketches, the Geo Pendant from KingsHaven features a geometric design with an exterior iron frame and optional glass panels that can be customized in a vast array of colors or finishes. With limitless custom options, such as multiple colored glass options, this handcrafted pendant is a versatile addition to any industrial, contemporary or transitional space. Ideal for a modern farmhouse or an arts and crafts style home, this fixture makes a statement when creatively hung over a kitchen island, above a dining table, or suspended over a staircase.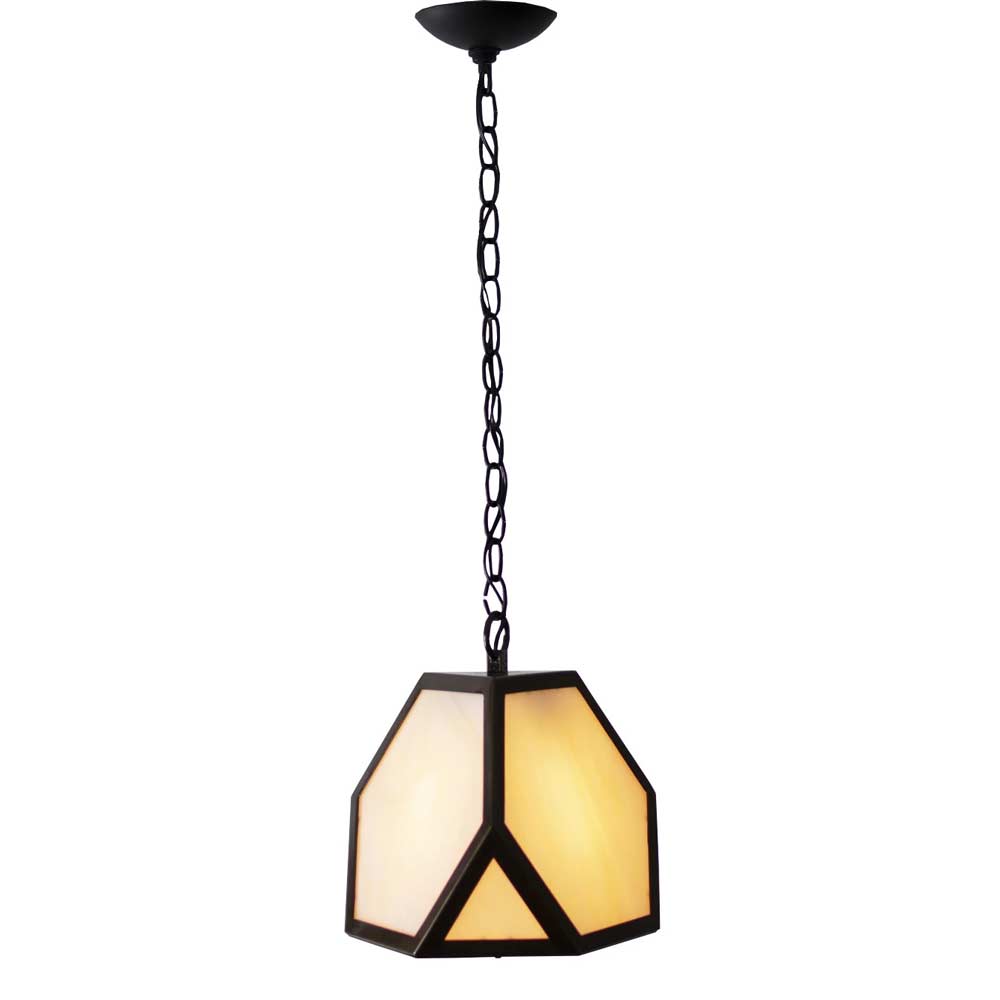 One of KingsHaven's most customizable light fixtures, the Hive offers designers nearly endless opportunities for creativity. Members of KingsHaven's Workroom Trade Program can custom order the Hive in any number, color or shape configuration their project calls for, with extensive blown glass options and virtually unlimited finish choices. This luxuriously textured light fixture can be created and used in many ways throughout the home or in commercial settings, whether as a semi-flush, flush mount, pendant, chandelier, table lamp, or in its default setting as a wall sconce. With the KingsHaven Hive, the design and customization possibilities are boundless.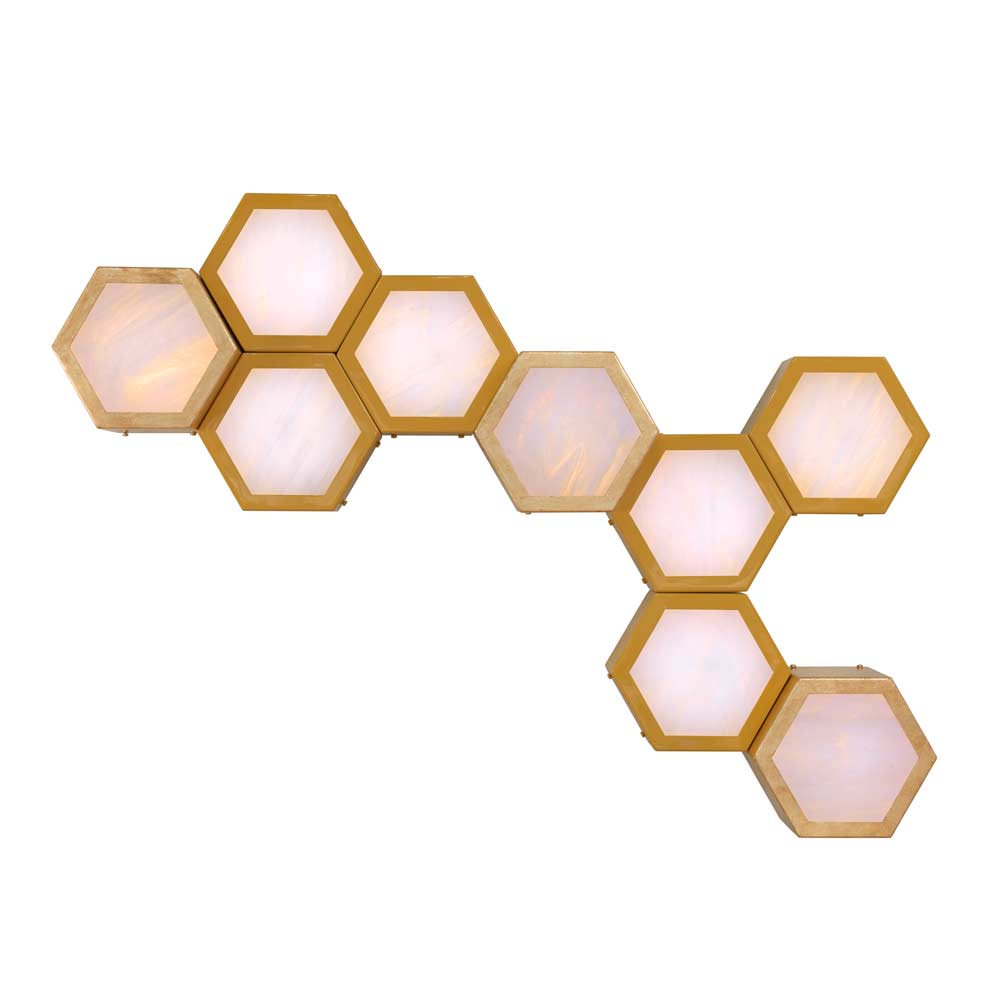 Inspired by minimalism in architecture, the KingsHaven Shift Sconce is the ultimate celebration of form and texture. This unique and artful light fixture is offered in three sizes and four iron finishes, making it highly versatile for any space. The Shift Sconce features hand-forged iron, an exotic wood shade and an exposed LED bulb. A half-mirrored bulb or an Edison bulb can be used to add a contemporary look and feel, while also creating a warm and inviting glow that is totally unique. This fixture's stained wood elements, contrasting with its finished iron elements, create stylish juxtaposition. With nearly infinite potential, the Shift Sconce brings to life the most inspired lighting ideas for a home or commercial space.