STARK CARPET
The Collaborative Process Between Art Advisors and Interior Designers
Wed. Oct. 6 @ 12PM EST – Suite 1102
STARK and Garrett Leather will co-host a discussion at STARK's showroom moderated by Ashley Stark Kenner, with designers Steven Gambrel and Nicole Fuller, and art advisor, Erica Samuels on "the collaborative process between art advisors and interior designers.
Immediately following the discussion, attendees will be invited back to Garrett Leather's showroom for hors d'ourves and drinks.
****Please note proof of vaccination and masks will be required to enter****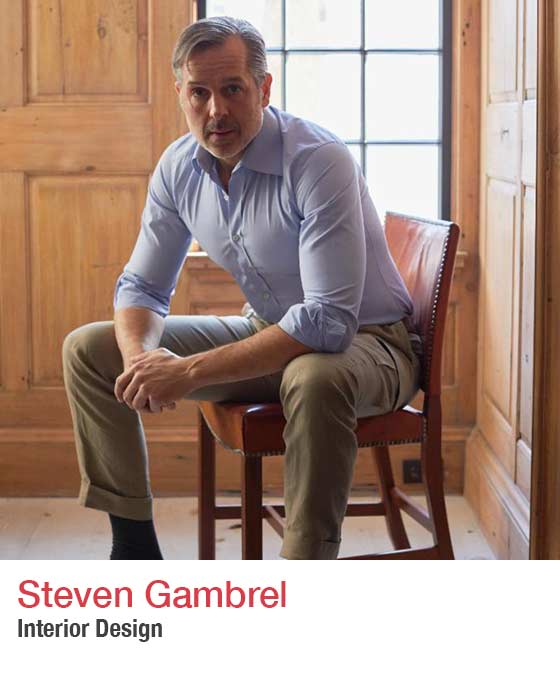 Steven Gambrel is the founder and president of S.R. Gambrel, Inc., an influential interior design firm specializing in both residential and commercial commissions, as well as custom product and furnishings.
Having founded S.R. Gambrel, Inc. in 1996, only three years after earning a degree in architecture from the University of Virginia, Steven has been recognized for his endless dedication to creating highly customized interiors and architectural details for each project. Whether he is designing a polished uptown duplex, a rambling country house, or a weekend beach retreat, Steven serves the needs of each client with his passion for timeless, comfortable homes that improve with age. He draws inspiration from vernacular architectural details of the particular region of each commission. Steven subscribes to the importance of properly proportioned structures and details, partnered always with a carefully curated collection of vintage, antique, and custom furniture designed by Steven himself.
S.R. Gambrel's work is featured consistently in the world's leading publications, including World of Interiors, Architectural Digest, Town and Country, House Beautiful, New York Magazine, the New York Times, and Elle Décor. S.R. Gambrel, Inc. was most recently honored as one of "today's greatest talents in Architecture and Design", in Architectural Digest's "AD 100."
Nicole Fuller, founder and principle of Nicole Fuller Interiors, is an internationally acclaimed interior designer renowned for her artfully appointed, one of a kind residential and commercial spaces. A member of ELLE Decor magazine's coveted A-List and Luxe magazine's Gold List, Nicole's work is synonymous with sophisticated, nuanced luxury, where attention to detail, savoir faire, and a cultivated eye culminate in spaces that are as singular as her clients.
"Personal relationships and complete creative oversight are at the heart of Nicole's work."
She believes in a holistic approach, and as such, her practice is a full service design firm, specializing in ground up building, interior architecture, and art advising. No detail is too small: Nicole is known for custom designing furniture, textiles, wall treatments — even scents– for spaces that are unequivocally bespoke. Moreover, she is nimble in her approach, conversant in a wide range of aesthetics and styles, and has an intuitive knack for discerning her client's visual needs. From serene neutrals and minimal silhouettes to bold patterns and ebullient color, Nicole has a chameleon like ability in creating distinctive, personal homes. Having grown up in a creative environment with an artist mother, Nicole finds sustenance in art; she has spent her career cultivating relationships with top tier artists, gallerists, and nascent talent. She has a keen understanding of the art market and exclusive access.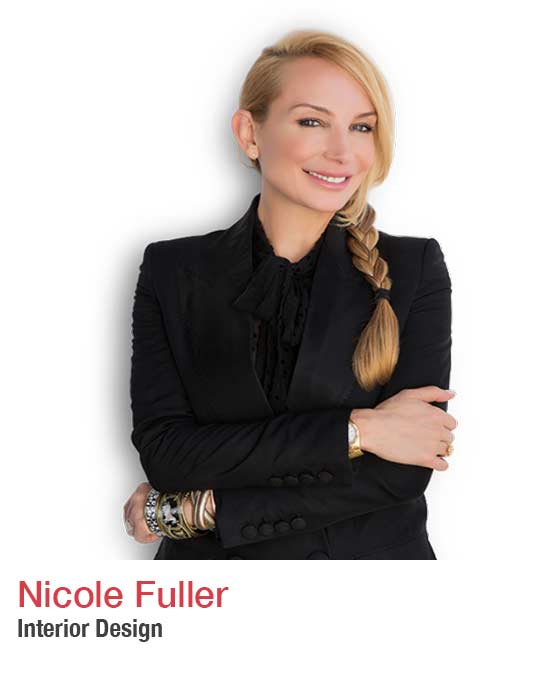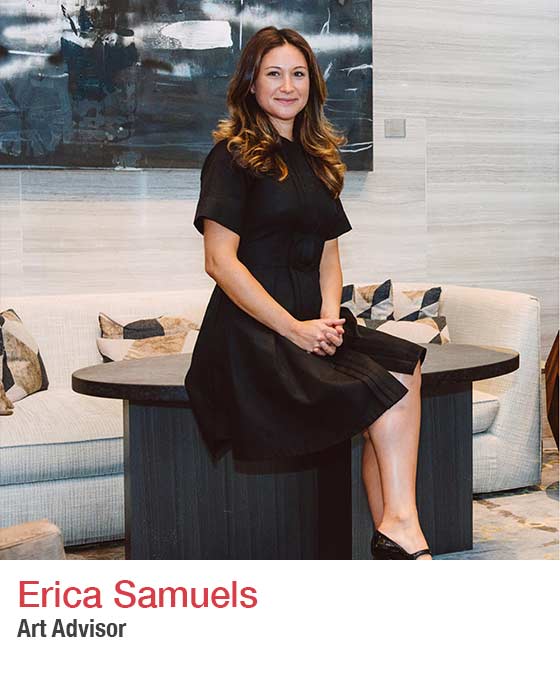 Erica Samuels began her art world career working at bluechip galleries, Mitchell Innes and Nash and Matthew Marks Gallery before becoming Director at Bellwether, a lauded art gallery that represented emerging artists.
In 2007, Samuels co-founded Art & Advisory LLC with Rachel Greene to work with individuals to build thoughtful, curated art collections. Projects included ONE57, the Dream Hotel, Gem Hotel in Manhattan, the Eliot Hotel in Boston, the St. Regis Hotel, Aspen and the Park Hyatt flagship hotel in New York City.
Besides curating collections, Samuels along with Art & Advisory published special limited editions for GILT Group, and commissioned installations with both emerging and well-known contemporary artists.
Erica graduated Emory University in 1997 with a double major in English and Art History and completed a Masters Degree in Modern Art, Connoisseurship and the history of the art market at Christie's Education in 2003.