WIRED CUSTOM LIGHTING Designing for Homes in Transition
Thur. Oct. 7 @ 11AM EST – Suite 105
Don't miss noted interior designers Danielle Colding and Kesha Franklin, along with lifestyle mavens Sabrina Fierman of New York's Little Elves and Lisa Jacobs of Imagine it Done Organizers in a personal and lively conversation on designing for people in transition. Whether transforming a summer retreat to a year round home, renovating for recent empty nesters, designing a home for growing families, or creatively carving out a home office, great design not only supports transitioning lifestyles, it makes them so much better. Join us to discuss the latest trends, tips and strategies that do just that. New York design writer and editor Julie Lasky will moderate the program.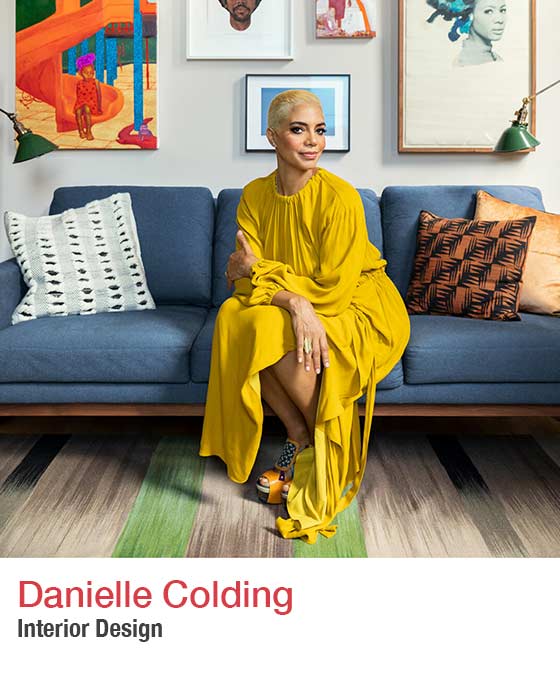 Danielle Colding Design, is a full-service interior design firm based in New York City. Since its inception in 2006, dcdny, has taken on a wide variety of projects from high-end residential to distinctive commercial design both in the United States and abroad. Danielle's work has been published both nationally and internationally, including her recent inclusion on Elle Decor's The A-List for 2020.
A frequent contributor to philanthropic efforts including the Ronald McDonald House and DIFFA, Danielle is committed to both the design community and giving back. She is also a regular contributor to New York's Housing Works "Design on a Dime" event and is a member of the Black Artists and Designers Guild (BADG).
Winner of HGTV's "Design Star" in 2012, Danielle enjoyed the amazing roller coaster experience of bringing her approach to design to the larger TV viewing public. Similarly, "Shop This Room," Danielle's show for winning "Design Star," focused on showing home owners how to build distinctive, personalized spaces around objects or heirlooms they already loved in their homes.
Designer, Kesha Franklin's intuitive sense of style, creativity and harmony goes back to her formative years, where she was introduced to the world of beauty and design through her father's vast collection of Architectural Digest and the renowned GQ magazine. The exposure to art, luxurious interiors and fine men's wear was what captivated her creativity. 
Kesha, explored that attraction and the artist in her was unlocked through various creative outlets, but it wasn't until she encountered a prominent New York City architect who praised and complemented her eye for interior design while they collaborated on a restaurant/lounge project that Kesha took the leap and founded The Beautiful Experience in 2006, a boutique design firm, specializing in residential and special events production design.
In addition, Kesha spent years immersed in the exclusive world of couture fashion as a backstage production manager and wardrobe stylist for the iconic Mercedes-Benz Fashion Week. Surrounded by the work of well-known designers such as Vera Wang, Jason Wu, Michael Kors, Donna Karen and Lanvin, sharpened her attention to detail, her eye for exquisite styling and sensibility for luxury.
And, it shows. The spaces she reinvents today are impeccable. But, Kesha's striking aesthetic as an interior designer is not only shaped by her ability to curate color palettes, balanced textures and distinct furnishings, it is also influenced by her natural ability to connect with people. Every single design project begins with a heart-to-heart.
To date, Kesha, a Goldman Sachs 10,000 Small Businesses alumna, has been named a "Rising Design Star" by NYC's Iconic Decoration & Design Building. A "Designer To Watch" by the Black Interior Designer's Network and featured by Elle D cor's House Tour, NBC Open House NYC, Essence Magazine, Business of Home and ARRAY Magazine to name a few, and counts celebrities and high-profile athletes among her clientele.
With her innate sense of style, Kesha is defined by a commitment to highly personalized service for luxury interiors. Interior Design is not just her career—it's her passion.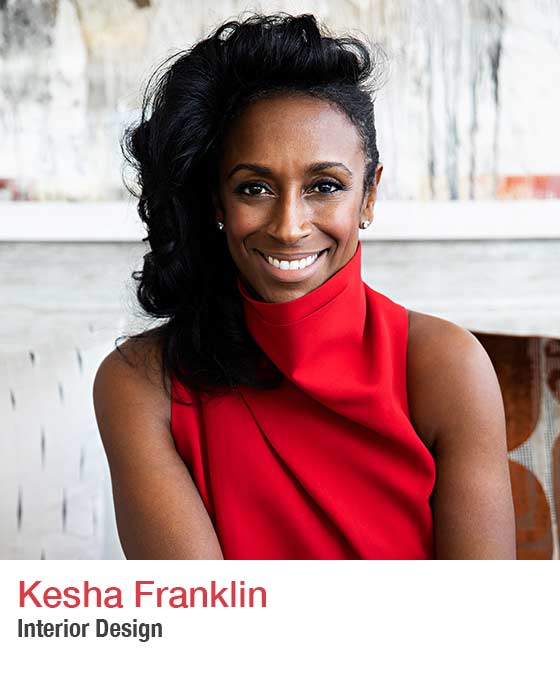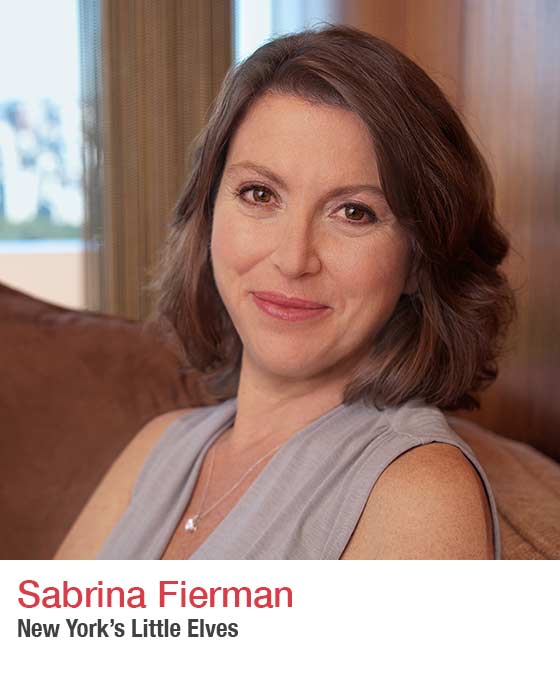 For the last ten years, lifestyle and cleaning guru Sabrina Fierman has been the hands-on director of New York's Little Elves, the premier luxury cleaning service in greater New York. Sabrina came to the Elves from a background in event planning and the arts, producing art and architecture tours for prominent NYC art institutions. Her background combined with a passion for clean living made joining the Elves almost two decades ago a natural fit. Learning the business from the floor up was her priority. Today she understands her clients' individual lifestyles, homes and goals – even the most specialized. Whether working with interior designers post construction or assisting homeowners in getting their households clean and running more efficiently, Sabrina is dedicated to making people's lives and homes better.
Lisa Jacobs, founder and CEO of Imagine it Done, created her business in 2004 after discovering her innate ability to organize whatever chaos came her way. The journey that led Lisa to this destination began at Boston University. As a 1977 Magna Cum Laude graduate in Spanish and French studies, Lisa landed her first job with Payot, the French beauty company. Several years later, moving on to the world of advertising and the model agency industry, Lisa worked in NY and Paris as the assistant to the chief creative director for fashion and beauty accounts; Chanel, L'oreal, and Garnier. Moving back to Manhattan, she worked for Ford Models before settling down to embrace phase 2 of her ongoing career. Soon married, 3 children and 7 homes later, she realized the task, process and moving projects were more than a hobby, rather a lifestyle. Deliberately, for the next several years she concentrated on establishing a business from this passion.
After more than a decade of taking many financial and personal risks, Imagine it Done has grown into a leading business in its category. With a trained team of 12, Imagine it Done provides home organization services to clients throughout the NY and Tristate area. Through our social media platforms, we educate our worldwide followers with videos, products, photos, and tips on how to get and stay organized. We believe "An organized space is an organized mind is an organized life."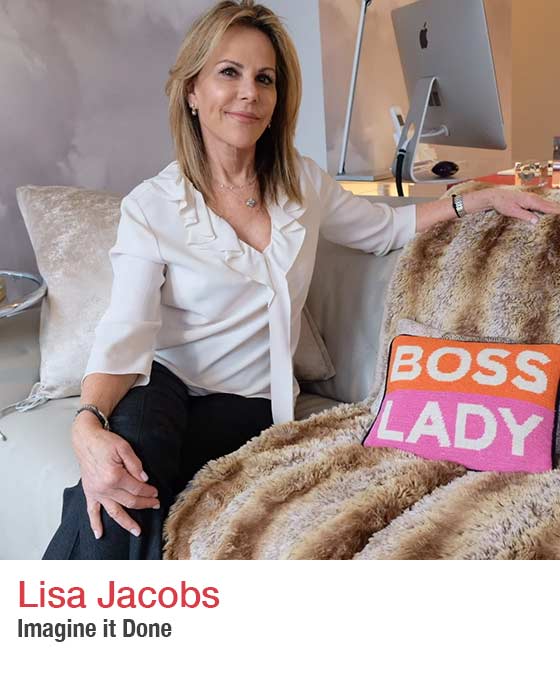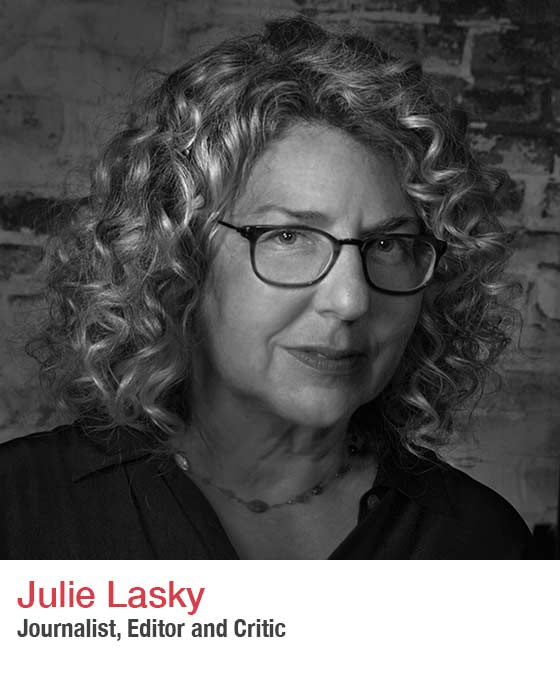 Julie Lasky is a journalist, editor and critic best known for her writings on design. She has been the deputy editor of the New York Times's weekly Home section, the editor-in-chief of I.D and Interiors magazines, and the managing editor of Print magazine. She contributes to The New York Times, Wall Street Journal, Architectural Digest, Elle Décor, Dwell, Departures, Travel & Leisure, House Beautiful, Landscape Architecture and other publications. She teaches in the graduate industrial design program at Parsons School of Design.