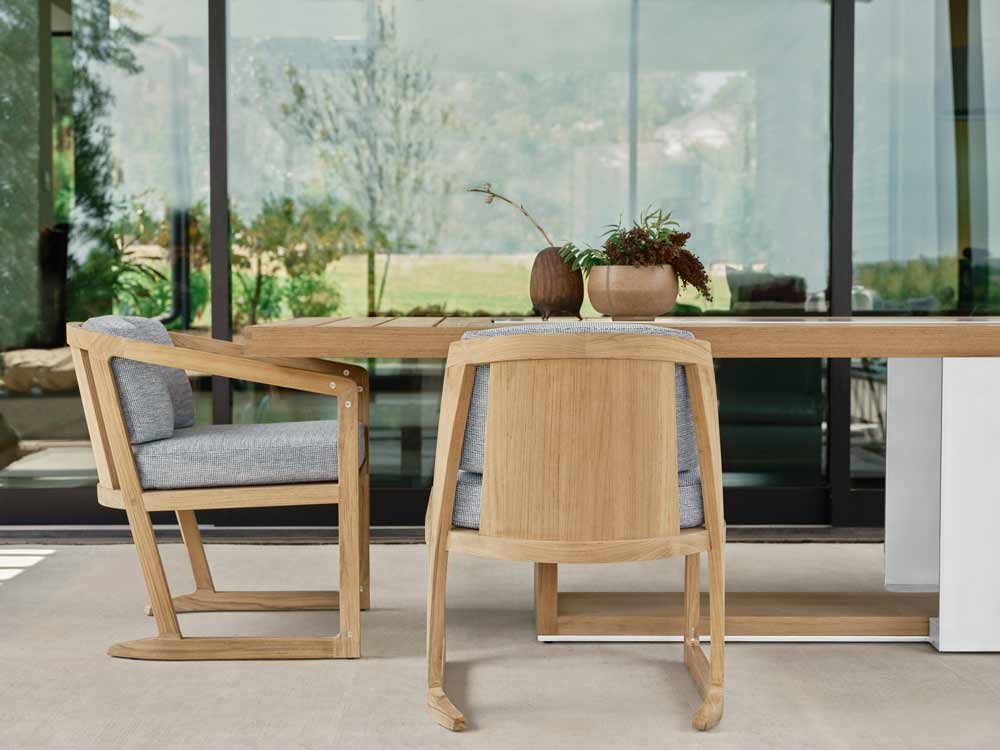 Perennials by Bannenberg & Rowell
UK superyacht design firm Bannenberg & Rowell created a small range of textures and patterns for Perennials inspired by life on the seas. With soft neutral and aquatic hues, Perennials by Bannenberg & Rowell debuts three new fabric qualities, including an elegant herringbone, a textural diamond grid pattern, and a cozy chenille.
Hi 'n Dri Collection
Perennials is thrilled to debut Hi 'n Dri, a collection of performance vegan leather fabric. The first Perennials collection outside the 100% solution-dyed acrylic category, Hi 'n Dri offers a soft durable leather quality in nine colorways. Inspired by the desire for leather upholstery on yachts, Hi 'n Dri is crafted with 100% polycarbonate polyurethane. The antimicrobial vegan leather features the buttery hand of natural leather, but it maintains color and texture after prolonged use. Hi 'n Dri also resists damage from water, sunlight, and bleach cleaning. Hi 'n Dri is debuting in hues influenced by the sea, from the deep navy Blue Jean to the crisp neutral Sea Salt.
Sutherland Furniture's Tucroma 316 Dining Chair
Designed in 1969 by postwar Italian architect Guido Faleschini, the original Tucroma chair debuted at the 1971 Salone Internazionale del Mobile, revolutionizing contemporary furniture design. Revered as the dining chair most coveted by designers around the globe, Tucroma's simple-yet-innovative design makes it a sought-after auction piece to this day. Sutherland is proud to collaborate with licensed Tucroma manufacturer, Italian family-owned furniture maker i4Mariani, to produce an outdoor version of the famed design. Made in superior Marine Grade 316 Stainless steel with reticulated foam and stainless steel hardware, Sutherland's Tucroma 316 Dining Chair will feel equally at home outdoors as it has indoors for over 50 years. The seat and back rest are connected by saddle leather straps, providing superior comfort.