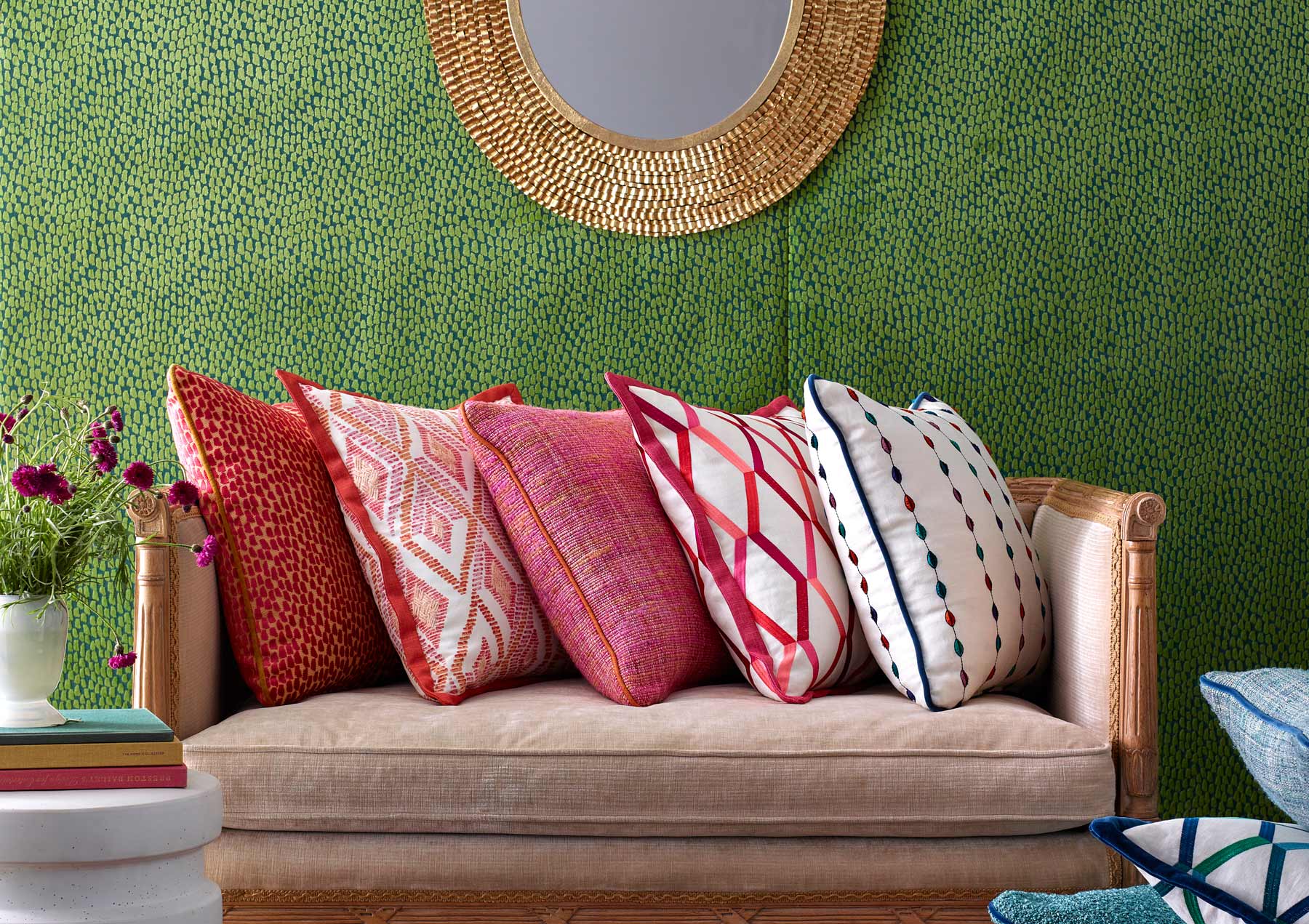 Slide
Image: Nadia Watts for Kravet
D&D Fall Market 2022:
nyc
The D&D Building's Fall Market NYC is where leading interior designers join leading brands in the luxury home furnishings industry for a few days of fun and networking to explore the latest collections!
Subscribe Now to receive all of the updates. We can't wait to see you!
Event Panels
Listen, learn, discuss, and ask questions!
D&D BUILDING KEYNOTE:
Interior Design from Castles to Cottages & Everything In Between
Wed. October 12 @ 11am EST - 14th Floor Event Space
Join star designers Holly Holden, Brian McCarthy, Greg Tankersley, and Robert Ventolo, as well as the Editor in Chief of Avenue Magazine, Peter Davis to moderate a discussion around elegant design that ranges from castles to cottages.
SCALAMANDRE:
Après Keynote Soirée at Scalamandré
Wed. October 12 @ 12pm EST - Suite 1002
Join us immediately following the Wednesday D&D Keynote in the Scalamandré showroom for cocktails & light snacks, and mingle with designer Holly Holden & Avenue Magazine Editor-in-Chief Peter Davis. Then settle in for a panel discussion with designer Holly Holden and Leliévre's Vincent Pennetier, followed by a grand finale book signing with Holden.
STARK CARPET:
BOLD: The Interiors of Jamie Drake and Caleb Anderson
Wed. October 12 @ 10am EST - Suite 1101
Jamie Drake and Caleb Anderson discuss their debut book, BOLD: The Interiors of Drake/Anderson, at the STARK showroom at 10:00 a.m. on Oct. 12th.
RUG ART:
Sasha Bikoff "Sneak Peek New Collection" Preview and Meet & Greet
Wed. October 12 @ 1:30pm EST - Suite 1518
RUG ART International is excited to set in motion a new Designer Series of rug collections for 2023. Our Autumn 2022 presentation will provide a sneak peek of the new rug creations and a casual conversation with designer Sasha Bikoff. Space is limited. RSVP recommended. Inspiration guaranteed.
VAUGHAN:
Embrace the LED Lighting Revolution with Charles Pavarini III and Randall Tarasuk
Wed. October 12 @ 2:30pm EST - Suite 1511
Join us at Vaughan with Charles Pavarini III and J. Randall Tarasuk, of Pavarini Design, to celebrate their new book, Lighting Beyond Edison: Brilliant Residential Lighting Techniques in the Age of LEDs.
Following the presentation, have the chance to meet and greet with Charles and Randall and pre-order your signed copy of their book at the event.
CASTEL:
Layering Decorative and Visual Arts in Design: Bringing Art into Interiors in Unexpected Ways
Wed. October 12 @ 3pm EST - Suite 715
Join CASTEL for a lively conversation exploring decorative and visual art in interior design. Panelists include gallerist Martha Campbell of the Berry Campbell Gallery, Elena Frampton of Frampton Co. Interior Design & Art Consultancy and Christophe Guillemot, founder of Paris-based artisanal rug collection Solstys. Wine and hors d'oeuvres will be served immediately following the discussion.
KRAVET:
Black Artists + Designers Guild (BADG) Meet and Greet
Wed. October 12 @ 4-6pm EST - Suite 1202
Join Kravet Inc and the Black Artists + Designers Guild (BADG) for a meet and greet and conversation with BADG hosts Beth Diana Smith, Kesha Franklin, Rayman Boozer, and Shari Francis.
PATTERSON FLYNN & SCHUMACHER:
Our Annual Book Signing Extravaganza!
Wed. October 12 @ 4-6pm EST - Suite 632
Please join Patterson Flynn and Schumacher to celebrate our favorite authors and get signed copies of their books.
BILLY COTTON, CARL DELLATORE, DAVID STARK, JANE SCHULAK, RUTHIE SOMMERS, STEPHEN SILLS, TOM KLIGERMAN.
D&D BUILDING KEYNOTE:
Rising Stars of Interior Design
Thur. October 13 @ 11am EST - 14th Floor Event Space
Join this year's Rising Star designers Courtney McLeod, Michelle Murphy and Keita Turner, as well as previous winner Tina Ramchandani, as they chat with Homes & Gardens Editor-at-Large Kaitlin Madden. They will discuss what it means to be a rising star in this industry, for them as designers and for their business. From getting projects placed in publications and using social media to grow their profile to knowing when to say yes and when to say no to opportunities, these award-winning designers will share their insight and experience in this lively discussion.
THIBAUT
D&D Building Keynote Reception
Thur. October 13 @ 12pm EST - Suite 909
Join us for a reception immediately following the Thursday D&D Keynote in the Thibaut showroom for a meet & greet with Kaitlin Madden, Editor at Large of Homes & Gardens, and the "Rising Star" interior designers from the keynote panel: Courtney McLeod, Tina Ramchandani, Michelle Murphy and Keita Turner.
There will be refreshments and lunch served!
PHILLIP JEFFRIES & HOUSE BEAUTIFUL:
Live Colorfully Book Preview & Signing with Joanna Saltz and Robert Rufino
Thur. October 13 @ 10am-12pm EST - Suite 1115
Join Phillip Jeffries for an exclusive book event with Joanna Saltz, Editorial Director of House Beautiful, and Robert Rufino, Senior Style Director, as we celebrate the upcoming launch of House Beautiful's new book, Live Colorfully. This must-have book showcases a range of vibrant homes by celebrated interior designers in every palette, including never-before-seen projects. Join Joanna and Robert for this sneak peek and opportunity to purchase a signed copy of the book and preview the latest colorful collections from Phillip Jeffries.
HOLLY HUNT:
Trunk Show for CONRAD Shades
Thur. October 13 @ 10am-12pm EST - Suite 503/605
Join us at the Holly Hunt showroom for a Trunk Show with CONRAD Shades featuring Stephen Bowen Roman, National Sales Director for CONRAD Shades.
SCHUMACHER:
Designer Panel
Thur. October 13 @ 1pm-3pm EST - Suite 832
Join Schumacher collaborators Happy Menocal and Hera Ford to celebrate their new collections and discover how they translate their fine art into commercial success.
Light bites and iced tea will be served!
MAYA ROMANOFF:
From Custom Designs to Product Development: What it Takes to Launch a Collaboration
Thur. October 13 @ 3pm EST - Suite 922
Bring your ideas to life! Join Maya Romanoff's CEO Joyce Romanoff and internationally renowned architect Andre Kikoski for a conversation on the advantages of collaborations, the importance of selecting the ideal partner, and be the first to see our newest collaboration. After, the Maya Romanoff team will be available to discuss custom opportunities for you!
GLOSTER:
Managing High-Net-Worth-Clients
Thur. October 13 @ 3pm EST - Suite 1601
Join Gloster for a discussion on "Managing High Net Worth Clients" with Dan Rubinstein of 'The Grand Tourist' podcast and Nicole Fuller, founder of Nicole Fuller Interiors.
GRANDE CENTRAL:
Showroom Grand Opening Celebration
Thur. October 13 @ 4pm-7pm EST - Annex Space A
Wrap up the Fall Market and join us and acclaimed designer Thom Filicia in celebrating the grand opening of our flagship showroom and the launch of Thom's new collection of hardware for Accurate. Experience the latest trends in luxury plumbing & architectural hardware and browse never-before-seen product from manufacturers such as Landmade. Meet our experienced sales team as you enjoy drinks and hor d'oeuvres.
Open Houses
Stop by and get the first looks into new collections, and network with the showrooms and other designers!
ANCIENT & MODERN:
Open House: Suite 1522
Join us in our new showroom to peruse our product offerings; including mantels, baths, cantilevered staircases, marble lighting and furniture. With over 60 collective years in the stone industry, our team will help elevate your design.




ATELIER PREMIERE:
Open House: Suite 1600
You're welcome to visit Atelier Premiere to discover our latest creations. On view all throughout the day at Suite 1600. French wine and Cheese will be served!





CHESNEYS:
Open House: Suite 1119
Discover what's new at Chesneys on your trip to Fall Market at the D&D. Exquisite antiques and contemporary collaborations can be viewed side-by-side in our stone and marble mantel gallery.






CHRISTOPHER HYLAND:
Open House: Suite 1710
During market Christopher Hyland Incorporated will be open for presentations of our extensive new fabric collections by both unscheduled visit, or by pre-arranged appointment. Please visit us at anytime!





CLARENCE HOUSE:
Open House: Suite 205
Get Tropical with Clarence House

Clarence House's Les Tropicaux collection finds inspiration in the world of fashion, art and nature, interpreting tropical design with a modern and unexpected sensibility. Vivid colors and resplendent patterns define this collection, with the feature fabrics capturing attention while complementary textiles further enhance the visual experience of the collection.


COWTAN & TOUT:
Open House: Suite 1022
Please visit Cowtan & Tout to view our latest collections. On view all throughout the day at Suite 1022. Refreshments will be served!








DAVID SUTHERLAND:
Open House: Suite 401
Visit the David Sutherland showroom in suite 401 to view our latest Fall collections, Perennials by Bannenberg & Rowell, and the Hi 'n Dri Collection.








DEDON:
Open House: Suite 720
Discover DEDON "Spirit of Place" on Wednesday October 12th, from 3pm to 5pm.

Join us! Come explore our 2022 collections and discover the DEDON "Spirit of Place" – introducing our three DEDON worlds. Refreshments and light bites will be served on Wednesday October 12th, from 3pm to 5pm. The showroom will also be open to visitors to view the new collections on both days of market.


EDELMAN LEATHER:
Open House: Suite 207
Foundation Leathers

These fourteen essential Edelman leathers are our most sought-after leathers for residential, hospitality and contract specifications. Encompassing a range of techniques and aesthetics, all feature hides of exceptional caliber sourced in Europe and developed with tanneries in Italy.




ELITIS:
Open House: Suite 611
Introducing the Fall 2022 Elitis Wallcovering Collection. 11am – 4 pm, Wed. & Thur.

Join Elitis for a glass of champagne as we present to you the new 2022 Wallcovering Collections. Open House 11:00 am - 4:00 pm






FABRICUT:
Open House: Suite 915
An Open House with Fabricut

Fall into new fabrics, trimmings and more from Fabricut and our family of brands! We'd love to see you and chat about your upcoming projects while we show you the latest to arrive in our showroom. Experience Fabricut's new Lemieux Et Cie Material Archive collection and get a first-hand look at the textures and patterns in this uniquely beautiful collection.


FARROW & BALL:
Open House: Suite 1519
Open house for guests to experience and see the current Fall campaign. There will be food and drinks along with goodie bags for guests to receive on a first come first serve bases.





FORBES & LOMAX:
Open House: Suite 1502
Forbes & Lomax specializes in high-end light switches which add function and beauty to your space. In addition to conventional light switches, we also offer Momentary Push Buttons which are designed to control home automation systems such as Lutron Homeworks, Crestron, Savant, Vantage, or Control 4. Momentary Push Buttons are available in a range of sophisticated finishes, and provide a stylish alternative to standard keypads. These momentary switches can be programmed to control dimming, cycle through lighting scenes, operate window shades, and more.

GARRETT LEATHER:
Open House: Suite 1107
Join us for Fall Market! You're invited to Suite 1107 in the D&D Building to browse our latest collections, explore our extensive inventory of premium leathers, and discover ways to impress your clients with unique custom finishing techniques.








INNOVATIONS:
Open House: Suite 1717
Stop by for a sneak peek of our FA22 Wallcovering Collection – Botanic.

Wine and desserts will be served.







JEAN DE MERRY:
Open House: Suite 815
De La Vega Designs turns 10 this year, and to celebrate the Brooklyn-based modern furniture studio is introducing several new designs. The first introduction features the signature clean lines and tactile finishes that have made the studio's chairs, case goods, furnishings and limited-edition pieces so beloved by top-tier designers and architects worldwide. The Eggshell Abuelo Bureau is a stunning, large-scale chest featuring Coquille D'Oeuf, a traditional Vietnamese lacquer technique that uses hand-applied, crushed eggshell fragments in resin and lacquer to create a crackled surface effect. The striking finish of this clean-lined chest is balanced by 12 perfectly proportioned drawers accented with daring hardware.


KNOLL:
Open House: Suite 1523
Knoll uses modern design to connect people to their lives, their work and their world. Since 1938, we've championed the ideas of modernism, creating a timeless collection of pieces designed to endure and inspire for generations to come.

Come explore designs by Eero Saarinen, Florence Knoll, Richard Schultz, Warren Platner and more in our showroom in the D&D building.






KNOLL LUXE:
Open House: Suite 1702
Preview the Nick Cave Collection for KnollTextiles

This fall, KnollTextiles introduces a collection of ten textiles created in collaboration with groundbreaking American artist and educator Nick Cave.

Perhaps best known for his Soundsuits, Cave creates dimension in textiles by layering, rearranging, and transforming everyday objects such as beads, doilies, sequins, and synthetic hair into material and sociopolitical representations.

The Nick Cave Collection celebrates Cave's creative process with four upholsteries, three draperies, and three wallcoverings that establish a new point of view on the textile experience—one in which the products represent not the end of the design process but the beginning. It is the audience who completes the creative journey by imagining what is next.
KOROSEAL:
Open House: Suite 842
Arte's newest wallcovering collection, Tangram, takes its name from the traditional puzzle consisting of a square cut into seven pieces that can be arranged to make various other shapes. Visually striking, richly textured and deeply pigmented, these non-woven wallcoverings make a fresh, bright statement in any design scheme.

Visit Koroseal to see this new collection and enter to win one of two copies of Wonderful Wallcoverings, an elegant, just-released hardcover of some of the world's most inspired design projects.


LLADRO:
Open House: Suite 1805
Visit Lladro for an open house to view the most contemporary and ground-breaking designs in porcelain. Bold, unexpected sculptures, lamps that filter warm light through porcelain and scents in unique containers. In these creations, design is coupled with traditional artisan processes to give voice to emotion and diversity.






MAHARAM:
Open House: Suite 1701
Join us for an open house to learn about Maharam's wool initiative, a series of twelve textiles in over 400 colors that highlights the environmental, aesthetic, and performance benefits of wool. Oxbow—the newest addition—explores dimensionality within a specialized, multicolor construction. Guests will be included in a raffle for a Maharam Pillow.




MARC PHILLIPS DECORATIVE RUGS:
Open House: Suite 211
Join us at Marc Phillips to view our latest rug collections such as the Distressed Moroccan Collection and the Capra Collection introducing mohair sweater-like weaves in neutral hues.






MARTIN PATRICK EVAN:
Open House: Suite 507
Martin Patrick Evan, Ltd. is pleased to welcome Fall Market guests to an open house in Suite 507 to review our latest creations.







OCHRE:
Open House: Suite 1109
Please stop by OCHRE'S Showroom on the 11th Floor/ Suite #1109 to see the Cosmos and more. Lite refreshments will be served.
OSBORNE & LITTLE:
Open House: Suite 520
Please join Osborne & Little for an Open House on Wednesday, October 12th and Thursday, October 13th. For over 50 years, the company has cherished its reputation for innovation and quality and is as inspired and energetic today as ever, creating a constant stream of new collections that push forward boundaries. Osborne & Little is pleased to announce that they are now the North American distributor of Ralph Lauren fabrics & wallpapers, which are beautifully displayed in the showroom. Along with Ralph Lauren, the autumn 2022 launch includes new ranges by Osborne & Little, Nina Campbell, Designers Guild, and new brand English Heritage.
PID FLOORS:
Open House: Suite 323
Please join us for an open house in suite 323 to view our latest wood flooring products and enjoy some refreshments and treats!
SAINT-LOUIS:
Open House: Suite 816
Please join us in the Saint-Louis showroom to preview our new Cadence Collection by Pierre Charpin; A definitely modern vision of crystal: a collection of accessible objects that rings true, in tune with today.
SAVEL:
Open House: Suite 1819
The Savel showroom invites you to meet "Confetti," a beautiful collection of fabrics that celebrate sophisticated color combinations of spicy earth tones and gem inspired hues. Even the softest of these wovens are durable enough for the most popular rooms of a home or hotel. Savel's passion for subtle, elegant textures continues to shape the offerings of our boutique showroom on the 18th floor; we look forward to showing you what's new!
SCOTT GROUP STUDIO:
Open House: Suite 411
Join us at the Scott Group Studio showroom for an open house! Explore our latest handmade collections and meet our team while you enjoy some refreshments.
STUDIO ZEN WALLCOVERINGS:
Open House: Suite 1818
Visit Studio Zen Wallcoverings for an open house to view the latest new products such as our Metal Leaf Wallpaper, currently on display in Japan Railway's Bullet Train Hiroshima Station.
VONDOM:
Open House: Suite 1532
Visit Vondom in suite 1532 to view their latest outdoor furniture and lighting products! Vondom is outdoor furniture for unique spaces! A leader company in design, manufacturing and commmercialization of vanguard In & Out furniture, pots, lamps and outdoor rugs made with passion.
WOLF-GORDON:
Open House: Suite 413
Visit Wolf-Gordon in suite 413 to view their latest wallcovering & textile collections: Redondo (RAMPART® Resolve™) and Phantom (Chromalis by Bradley L Bowers for Wolf-Gordon).
ZIMMER-ROHDE:
Open House: Suite 813
Luxurious Light Sculptures at Zimmer-Rohde Showroom The Calathea Collection by Serip pays tribute to artisans who have created a sophisticated piece of art by use of sand-casted bronze and stamped glass. There are many more collections to be viewed at the Zimmer-Rohde Showroom which represents all Collective Form furniture and lighting brands exclusively in the Tri-State area.