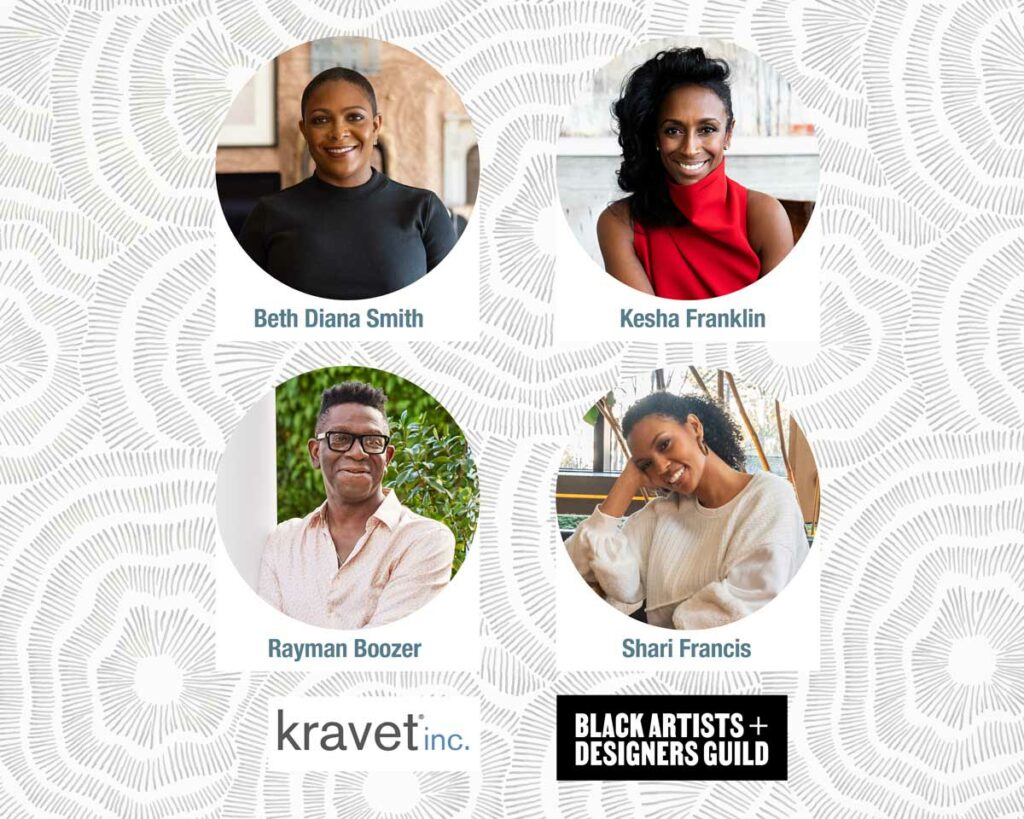 Suite 1202 – Wednesday Oct. 12 @ 4-6 pm
Black Artists + Designers Guild (BADG) Meet and Greet
Join Kravet Inc and the Black Artists + Designers Guild (BADG) for a meet and greet and conversation with BADG hosts Beth Diana Smith, Kesha Franklin, Rayman Boozer, and Shari Francis. BADG is building a more equitable and inclusive creative culture by advancing a community of independent Black makers in creative industries. The BADG makers will share how being a part of BADG has impacted their lives, businesses, and the industry. Learn more about BADG's commitment to honoring their ancestral legacies in art and design and taking ownership of their narrative through initiatives that create spaces to celebrate Black creativity and culture.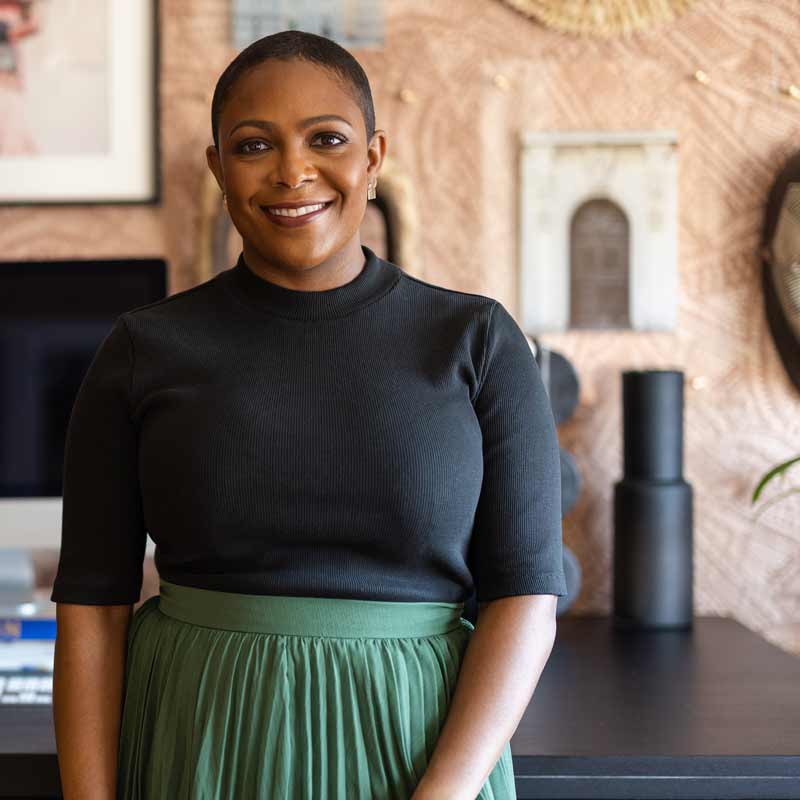 Beth Diana Smith
After more than a decade in accounting and finance at companies like Viacom and Johnson & Johnson, Beth Diana Smith left the corporate world to launch her own interior design firm. Her eye for aesthetics paired with her project management experience culminates in a truly unique approach to design. Her signature style is modern and eclectic with luxurious finishes and custom furnishings. Each vignette is a functioning art installation in its own right. Above all, her work is client-centric as she helps each homeowner hone in on their own style and create a space that inspires them and enhances their lifestyle. Beth's goal for each project is to elevate the lives of her clients by first elevating their daily environment.
Beth holds a Master of Science degree from Seton Hall University and a degree from the New York School of Interior Design. She is a founding member of the Black Artists + Designers Guild, a member of the 2020 House Beautiful Advisory Council, and an Associate member of the American Society of Interior Designers. To read what others have to say about Beth and her work, and directly from Beth, please visit the press page.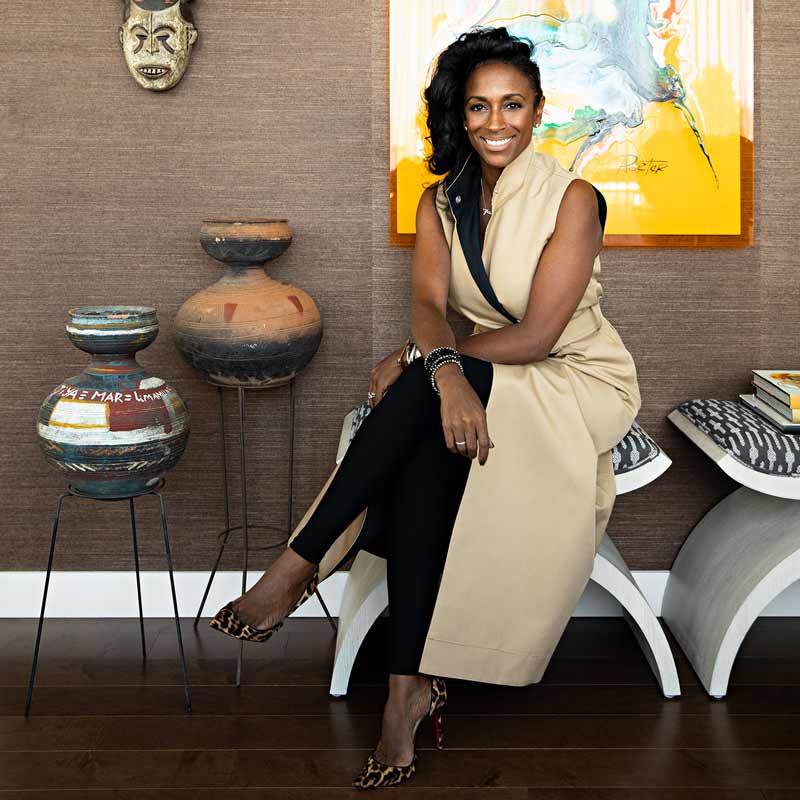 Kesha Franklin
Kesha Franklin – destined, determined, artistic, passionate, and the principal designer and owner of Halden Interiors. Her hard work can be found in the homes of some very lucky individuals and she comfortably resides on the list of "Black Interior Designers You Should Follow."And if you're not already, start now!
Franklin has changed the direction of an industry that has not resembled her reflection. There is a plethora of sought-after Black interior designers who have established their rightful place in the design space, and Halden Interiors is respectfully among those ranks. Beyond business, family and a solid foundation in the home are also very important to Franklin. She is a proud mother of two adult children and loving wife to one of hip hop's legendary super producers, DJ Clark Kent, who shares his business advice and acumen and is her biggest fan! Every family member in the Halden household possesses a natural creative talent which trickled down from her father's love of art and design. It made an impression that has influenced generations.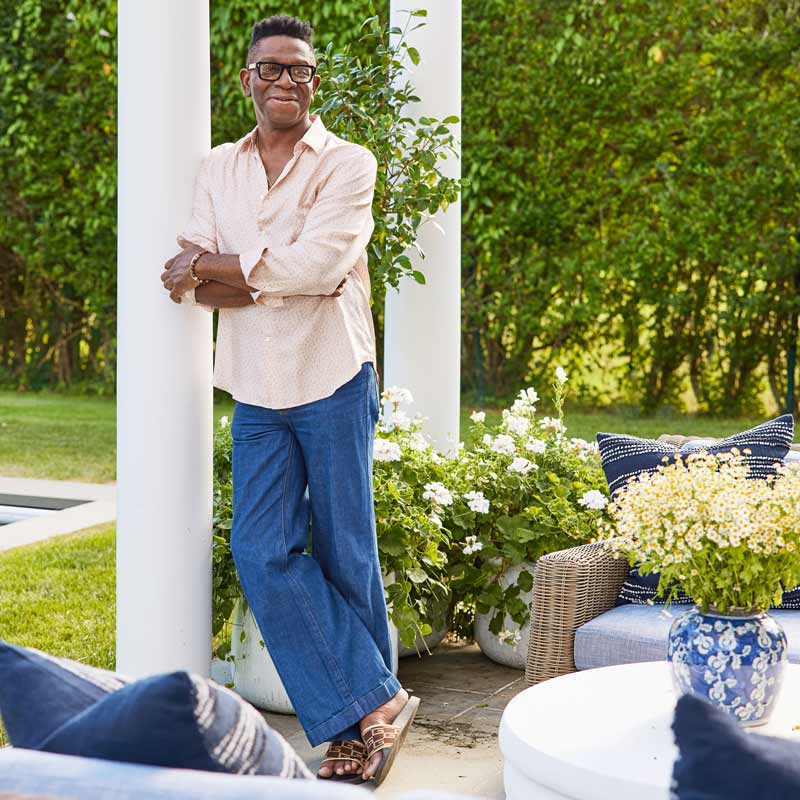 Rayman Boozer
Our principal designer, Rayman Boozer, is a graduate of Indiana University. After moving to New York City, "Time Out" magazine had dubbed him the "go to designer for color consulting." Over the years Apartment 48 has embraced that distinction – specializing in combining vibrant colors, exotic materials, and contemporary furnishings to create spaces that feel optimistic, relaxed and effortless. Our company focus is on our clients and utilizing our craft to tell their story.
Apartment 48 has been featured in Architectural Digest, House Beautiful, and New York Magazine, and is a member of the AD100 and Elle Décor A-List recognizing the top designers in the world.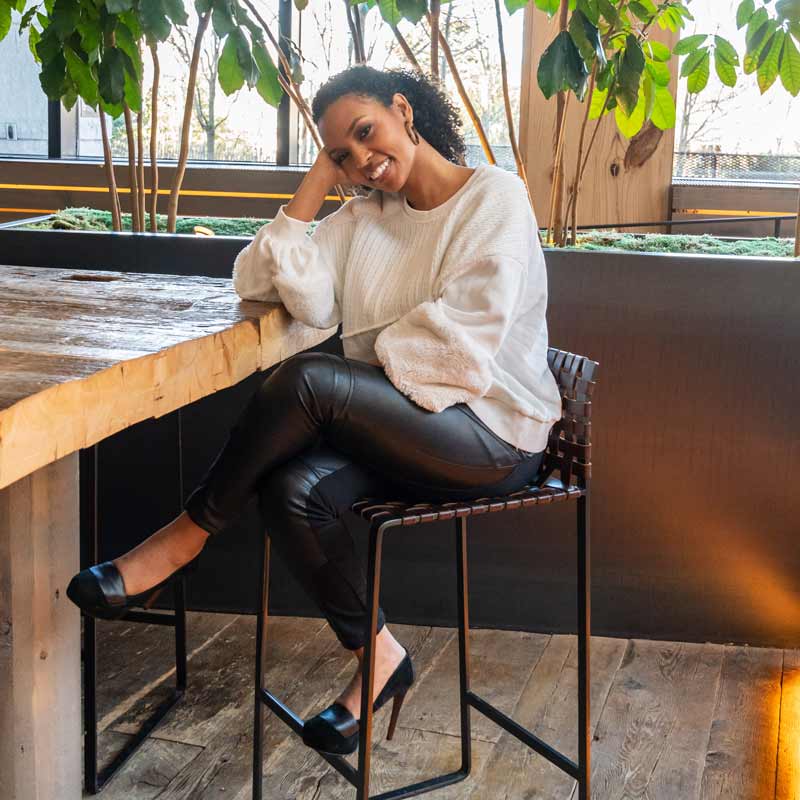 Shari Francis
Shari Francis is the owner and Principal Interior Designer at Dadapt. Over the last ten years, she has fortified her business through providing a balanced execution of business administration, design and construction management. Her portfolio includes captivating interior narratives for development, residential, commercial, and hospitality projects.
Shari holds a Master of Science in Interior Design from Pratt Institute. She also teaches Interior Design Course at Pratt's School of Professional Studies.
She is a certified minority woman-owned business in the city of New York and a member of the Black Artist and Designers Guild.