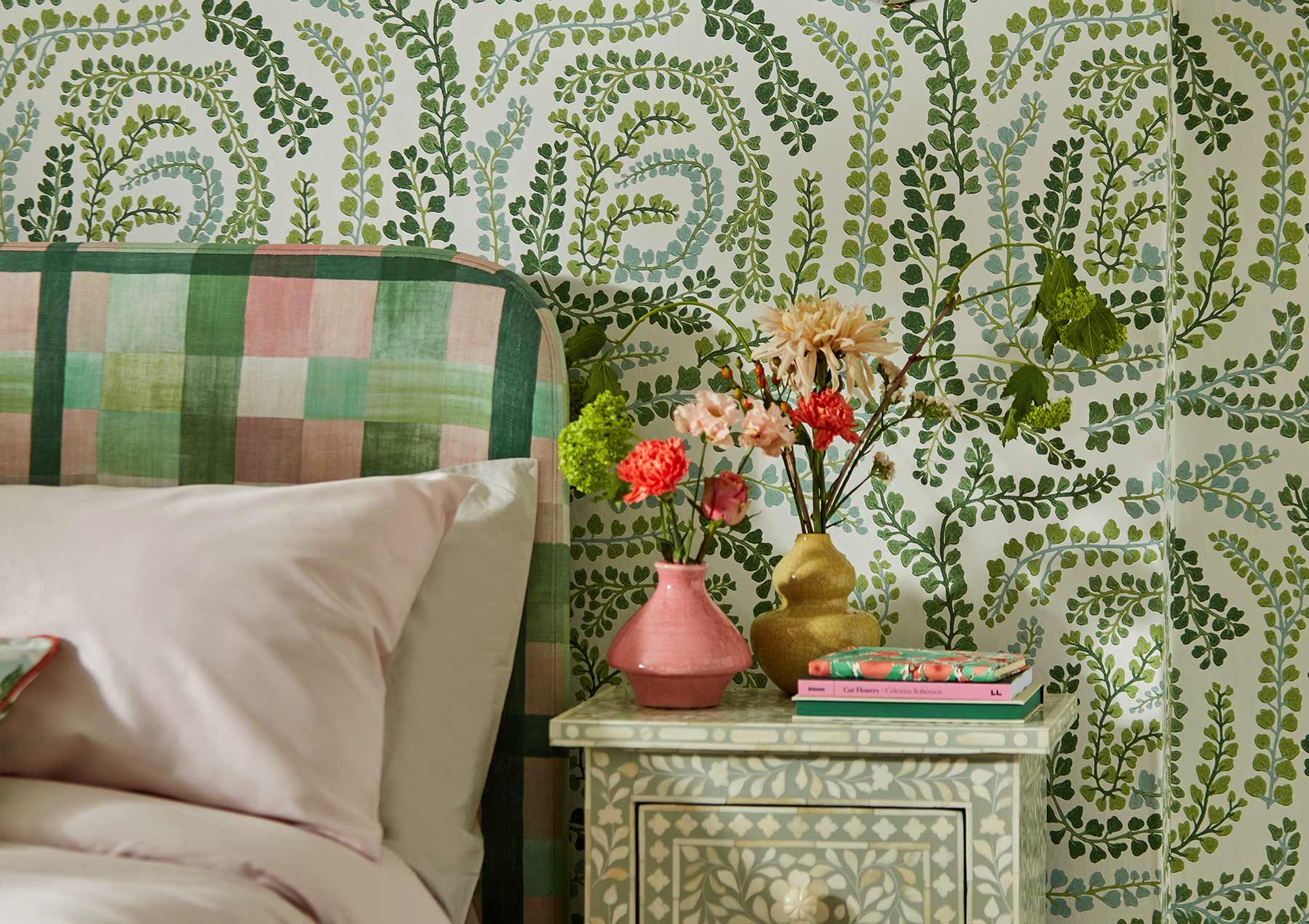 Slide

Harlequin Colour 4 Collection for Sanderson Design Group
D&D Spring Market 2023:
nyc
The D&D Building's Spring Market NYC is where leading interior designers join leading brands in the luxury home furnishings industry for a day of fun and networking to explore the latest collections!
Subscribe Now to receive all of the updates. We can't wait to see you!
Event Panels
Listen, learn, discuss, and ask questions!
STARK:
Breaking Into Design
Wed. May 10 @ 10am EST - Suite 1102
ELLE DECOR Executive Editor, Ingrid Abramovitch, will host a panel with top design talents Jean Lin and Estelle Bailey-Babenzien, and STARK Creative Director, Ashley Stark, to share their individual journeys and unique career paths that led them to breaking into the industry. Join us for a conversation providing fresh perspectives with the designers and creatives deemed as "ones to watch" who have never before been published in ELLE DECOR, until now.
HOLLY HUNT:
Trunk Shows
Wed. May 10 @ 10am-12pm EST - Suite 503/605
Join HOLLY HUNT on Wednesday, May 10th, to celebrate the D&D Spring Market with an all-day open house and the following events:
HOLLY HUNT Textiles With Andrew Curcio, National Sales Director of Textiles, Leather and Rugs
HOLLY HUNT Wallcovering With Geyer Morford, National Sales Director of Wallcovering
CONRAD Shades With Stephen Bowen Roman, National Sales Director, CONRAD Shades
SCHUMACHER:
Coffee & Conversation with Betsy Wentz & Tori Mellott
Wed. May 10 @ 11am EST - Suite 832
Please join us for coffee and a conversation with Betsy Wentz and her new book, Design Happy, a colorful guide to designing your home with Tori Mellott, Style Director of FREDERIC. Betsy will be signing her new book after.
RUG ART:
Cara Woodhouse "Sneak Peek New Collection" Preview and Meet & Greet
Wed. May 10 @ 11am EST - Suite 1518
RUG ART International is excited to set in motion a new Designer Series of rug collections for 2023. Our Spring 2023 presentation will provide a sneak peek of the new rug creations and a casual conversation with designer Cara Woodhouse. Space is limited. RSVP recommended. Inspiration guaranteed.
JOHN ROSSELLI:
Gallery of Legends: A Celebration of Iconic Design
Wed. May 10 @ 11am - 3pm EST - Suite 1800
John Rosselli & Associates invites you to Gallery of Legends – an exhibition of iconic designs unparalleled in their creativity and innovation.
MAYA ROMANOFF:
Live Hand-Painting Demonstration
Wed. May 10 @ 11am, 1pm & 3pm EST - Suite 922
For over 50 years, Maya Romanoff has blazed a trail in design interiors as the largest manufacturer of handcrafted wallcoverings in the U.S.
Join us for an exclusive, live hand-painting demonstration. Watch one of our master artisans skillfully create beautiful wallcovering in front of your eyes!
THIBAUT:
Meet the Designers
Wed. May 10 @ 12pm EST - Suite 909
Join Thibaut's Textile Innovation Team, Patricia Hoffman and Jessica Newman, for a sneak peek into their design process, from inspiration and color boards to completion. Guests will also get an exclusive product preview of the stunning new fabric collections debuting soon including sustainable sheers, performance velvets, and outdoor solutions. Lunch will be provided. Must RSVP by Friday, May 5th.
GRANDE CENTRAL:
ASK THE EXPERTS: Tips on Having a Successful Design Project
Wed. May 10 @ 12:30pm EST - Annex A
Speakers: Barbara Kessler, Design Development Manager at Fisher Paykel, John Tudisco, Senior Architectural Design rep at Tilebar, Oscar Bayon, Door Hardware Specialist and Showroom manager at Grande Central, Brian Gallop, Brand Ambassador for Simon's Hardware and Grande Central, Michelle Jacobson, Designer and Sustainability Code Specialist.
FARROW & BALL:
Paint Perfected with Kathleen Brennan
Wed. May 10 @ 1pm - 3pm EST - Suite 1519
Introducing all-new Dead Flat — the revolutionary new paint finish from Farrow & Ball. Join Farrow & Ball Colour Consultant, Kathleen Brennan, as she presents all-new Dead Flat: multi-surface, ultra matte and impressively durable.
OCHRE:
Meet the designer Harriet Maxwell Macdonald
Wed. May 10 @ 1pm EST - Suite 1109
A conversation about the OCHRE Wild rug collection.
Each Ochre Wild rug is unique, sustainably created and ultimately, intimately connected to our shared earth. The unpredictable process is intensely collaborative, with weavers working with dyers and spinners to achieve excellence. All Ochre Wild rugs are made entirely by hand, from the yarn making and dying, to the intricate weaving, and through to the finishing.
GLOSTER:
Art Today: Consulting, Collaborating, Collecting
Wed. May 10 @ 2pm EST - Suite 1601
As every designer knows, finding the right art to fit the taste and budget of an increasingly sophisticated clientele can become daunting. Guided by noted arts journalist and editor Anthony Barzilay Freund from 1st Dibs Introspective Magazine, designers Neal Beckstedt, and Joshua Smith share experiences and solutions that they have encountered searching for the right art for client projects. Art consultant Cynthia Byrnes of Cynthia Byrnes Contemporary Art describes the unique digital approach to art selection that she has developed for design professionals.
KRAVET:
Designer Discussion & Book Signing
Wed. May 10 @ 3pm EST - Suite 1202
Join Kravet for a discussion and group book signing with designer-authors Betsy Wentz, Leslie Banker, Danielle Rollins, and Janie Molster.
SANDERSON DESIGN GROUP:
Book Signing and Reception by Interiors New York
Wed. May 10 @ 3-5pm EST - Suite 905
Come celebrate the new book WORKSHOP APD HOMES and Sanderson Design Group's new Manhattan showroom with cocktails and a book signing.
Andrew Kotchen, Founding Principal and Author, WORKSHOP APD HOMES will be on hand to sign his book with a special welcome from Chandler Presson, Digital Editor, Interiors New York.
DAVID SUTHERLAND:
Unseen Design
Wed. May 10 @ 4pm EST - Suite 401
Great Interiors reflect the combined work of stellar talents who provide leading designers with the support that makes their visions a reality. Our panelists are among New York's most sought after by leading interior designers and architects. Moderated by Paul Hagen from aspire design & home.
CASTEL:
Cocktail Party!
Wed. May 10 @ 4pm EST - Suite 715
Castel invites you for cocktails at 4pm on May 10th to celebrate their new Aegea Collection inspired by the Greek Islands.
Open Houses
Stop by and get the first looks into new collections, and network with the showrooms and other designers!
ATELIER PREMIERE:
Open House: Suite 1600
At ATELIER PREMIERE we master in the art of Decorative Plaster & Painting.

From traditional to contemporary, thanks to our French know-how, we can create any finish desired.

OUR PHILOSOPHY We consider building long-lasting relationships with our partners as important as the final decorative finishes.

Let's connect! Showroom 1600 - 16th floor


CARINI CARPET:
Open House: Suite 1001
Carini Carpet is the latest addition to the D&D! Stop by their new showroom for an open house to view their latest rug collections that are hand-made with authentic Tibetan knotting techniques as well as dyes made from scratch!







CHESNEYS:
Open House: Suite 1119
Stop by the Chesneys showroom to browse new arrivals from our antique and contemporary collections displayed with American and European wall art. Incorporate the magic of the Italian Renaissance or attitude of Art Deco into your next project with one of our exquisite mantelpieces. The natural beauty of our materials and the virtuosity displayed in the carving details of these pieces can best be appreciated in person.




CHRISTOPHER HYLAND:
Open House: Suite 1710
Visit the Christopher Hyland open house to view our extensive new fabric collections, and the Hyland Tape Collection, which are suitable for window treatments, furniture, wall trimming, shades, and pillows.








COWTAN & TOUT:
Open House: Suite 1022
Open House to View Our Latest Collections Please join Cowtan & Tout for an Open House to view the newly introduced collection from Larsen. This collection offers a gorgeous range of delicate sheers, sophisticated textures, sumptuous satins, small patterns and distinctive designs. On view all throughout the day at Suite 1022. Refreshments will be served.
DAKOTA JACKSON:
Open House: Suite 501
Join us at Dakota Jackson's New York flagship showroom, to see the latest selection of light-toned finishes and the newest pieces debuting for Spring 2023.
DAVID SUTHERLAND:
Open House: Suite 401
Perennials by Far West (S23)

Perennials by Far West features the Baja-by-way-of-Texas style of hospitality designer Liz Lambert. Taking notes from her homes in Todos Santos and Marfa, Liz filled Perennials by Far West with colorful sarape stripes and soft texture. The collection also features one new flatwoven rug, Playa Stripe, featuring a vivid border design.




DE LE CUONA:
Open House: Suite 914
Linen is a storied cloth woven from flax, with a history that extends to antiquity. It is the oldest fibre known to man and the most sustainable. Fabled Fibre is a new collection of five beautifully crafted linens each with a tale to tell and created to be treasured over time.
EDELMAN LEATHER:
Open House: Suite 207
Visit Edelman's open house to view the latest collections of European leathers.
ÉLITIS:
Open House: Suite 611
Join Elitis for a glass of champagne as we present to you the new 2023 Textile & Wallcovering Collections. Open House 11:00 am - 4:00 pm Wallcovering Collection Overview Welcome to a poetic world, where surfaces of all kinds rhyme freely. Colors become their own textures, with pigmented patinas and coated raffia. Hues swell in the pillowy volumes of columns and stripes in a 3D wallcovering. Echoing a melody of hands that layered, cut, assembled, or sculpted, materials make up new lives for themselves through paper collages, wood compositions or exuberant embroideries.
FABRICUT:
Open House: Suite 915
Join the Fabricut Showroom in Suite 915 for an open house event featuring Caroline Price's new collection of fabrics, trimmings and wallcoverings for Vervain. Enjoy treats and mingling with your friends at Fabricut while getting a closer look at the Montespan Collection. The Montespan Collection is imbued with both history and modern flair, telling the captivating story of Caroline's vivacious muse, Madame de Montespan, long term mistress of King Louis XIV of France and mother of seven of his children. Passion, wit — and above all — style, exude from this curated collection of sensuous textures and remarkably unique patterns interpreted through prints, embroideries, wovens and appliques. The textiles burst with color, elegance and fun, bringing together an unmistakably contemporary look with design concepts that are centuries old. You won't want to miss it – this is truly a collection for the ages!
FARROW & BALL:
Open House: Suite 1519
This spring, paint and wallpaper maker Farrow & Ball is unveiling its most revolutionary finish to date: all-new Dead Flat.

The latest, industry-leading innovation from the heritage brand is its most matte finish ever and multi-surface too, suitable for walls, woodwork and metal. The ultimate choice for colour drenching, the completely flat look surrounds spaces in richer, uninterrupted colour from ceiling to skirting board and even over radiators.



FORBES & LOMAX:
Open House: Suite 1502
Forbes & Lomax specializes in decorative light switches for both conventional use and Home Automation systems. Our Momentary Switches are designed to control panel-based systems such as Lutron Homeworks, Crestron, Savant, Vantage, and Control 4. They provide a stylish alternative to standard keypads and the plates can be engraved in an attractive way to denote the functionality. Visit our showroom #1507 to learn more!




GARRETT LEATHER:
Open House: Suite 1107
Join us for Spring Market! You're invited to Suite 1107 in the D&D Building to browse our latest collections, explore our extensive inventory of premium leathers, and discover ways to impress your clients with unique custom finishing techniques.

Garrett Leather is pleased introduce Mira; a collection of olive tanned, natural grain, premium leather. This exclusive collection is a unique pull-up leather with self-healing resiliency. Mira, meaning "to look" or "behold", encourages designers to experience the restorative capabilities, rich colors, exceptionally soft hand, and pleasant fragrance that this leather offers.


HOULÈS:
Open House: Suite 919
ZELDA Trimmings

Splendid Art Deco style trimming collection; synonymous with geometric shapes, curves, rich and vibrant hues, and luxurious materials. Zelda epitomizes the roaring 20's and revives this beautiful period, bringing it into today's interiors.






INNOVATIONS IN WALLCOVERINGS:
Open House: Suite 1717
Stop by Innovations to explore our new Spring 2023 collection, Layered Forms. The collection draws inspiration from the art of sculpture, with material touched and carefully constructed by hand incorporated throughout. The wallcoverings add depth and dimension to the surface of any room, like a work of art carefully sculpted for the wall. This collection is an exploration of applications crafted by hand and the beauty of raw materials – including wood, metal and stone – coming together to create visual interest in the form of layers with color and texture.
JIM THOMPSON:
Open House: Suite 1640
Please join us during Spring Market, we'd love to show you our newly renovated showroom and introduce you to our new showroom partners. Spring collections will be on full display. Refreshments will be served.
JOHN ROSSELLI:
Open House: Suite 1800
John Rosselli & Associates invites you to Gallery of Legends – an exhibition of iconic designs unparalleled in their creativity and innovation. The exhibition will showcase exceptional textiles with vibrant colors and bold prints, reflecting the extraordinary refinement and artistry that makes them legendary. Immerse yourself in the grandeur of our gallery, curated by leading interior designers. Adding to the experience, JR is introducing Allan Knight to the New York Showroom with a collection of fashion-forward furniture dressed in opulent James Malone textiles. Enjoy a glass of champagne and light bites while admiring the legends on May 10 from 11 am - 3 pm in Suite 1800.
KNOLL LUXE:
Open House: Suite 1702
The Knoll Luxe showroom will showcase the Nick Cave Collection for Knoll Textiles during an open house for the Spring Market. Groundbreaking artist, messenger and educator Nick Cave works across both the visual and performing arts. Perhaps best known for his Soundsuits, Cave creates dimension in textiles by layering, rearranging, and transforming everyday objects such as beads, doilies, sequins, and synthetic hair into material and sociopolitical representations. Taking inspiration from specific sculptures and installations, Knoll Textiles translates the visceral nature of Cave's artworks into upholstery, drapery and wallcovering. By layering pattern and multiple craft techniques, the textiles assume their own identity while remaining connected to original references. Light bites and refreshments will be served.
KOROSEAL and ARTE WALLS:
Open House: Suite 842
For Spring 2023, Arte drew inspiration from the Far East to the Sahara and from French Islands to the Himalayas, infusing new wallcovering collections with worldly inspiration celebrating the joy of exploration and the particular textures and colors of each destination. Visit Koroseal, Suite 842, to see Arte's new collections, comprising dozens of patterns and hundreds of colorways.
M. ALEXANDER LIGHTING:
Open House: Suite 313
The M. Alexander showroom, in which Town and Country magazine memorably dubbed "the crystal cave" is recognized by distinguished designers, decorators, architects and their clients as the renowned source for quality antique and reproduction lighting, ranging from the Renaissance through to the Mid-century Modern period. One of the unique processes that sets Marvin Alexander apart in the D&D Building, is their team of artisans that create lamp shades by hand. Designers can come in-person to the showroom, see the products being made, and provide direction to the artisans to customize the product specifically to their clients' needs.
MAHARAM:
Open House: Suite 1701
This spring Maharam presents a recently expanded offering of indoor/outdoor textiles, including a preview of new designs by Paul Smith.
MARC PHILLIPS DECORATIVE RUGS:
Open House: Suite 211
NOVA Marc Phillips - KES Collaboration Designer Kara Smith looked to artist who play with light reflection and refraction and the idea of energy created by light and color. She creatively infused these abstract elements into the collection, drawing inspiration from the 70s, the movement of that era and the entire vibe from that period to create a modern story.
MAYA ROMANOFF:
Open House: Suite 922
Introducing Porto Lino™, Designed by architect David Rockwell for Maya Romanoff Inspired by a series of variegated yet rhythmic lines, and designed by David Rockwell for Maya Romanoff, Porto Lino™ is sustainably harvested, colored cork that is hand-inlaid on metallic foil. It is a true example of Maya Romanoff's commitment to making every wall beautiful. Available in 9 rich colorways!
McKINNON AND HARRIS:
Open House: Annex 111
Stop by McKinnon and Harris between 10am - 4pm to explore our latest products, including the Yves Table, and our collaboration with New Ravenna, featuring the Mundy Dining Table with 45" Square Mosaic Top in Marabel.
OCHRE:
Open House: Suite 1109
All Ochre Wild rugs are made entirely by hand, from the yarn making and dying, to the intricate weaving, and through to the finishing. We use the same rich variety of fibers and natural dyes for both our Indo-Tibetan and flat weave Dhurrie rugs. The unpredictable process is intensely collaborative, with weavers working with dyers and spinners to achieve excellence. The Ochre founders immersed themselves in the multi-layered process, learning how these masters marry happenstance with classical techniques and allow creativity to be the ultimate guide. Each Ochre Wild rug is unique, sustainably created and ultimately, intimately connected to our shared earth.
OSBORNE & LITTLE:
Open House: Suite 520
Osborne & Little launches RHAPSODY FABRICS & WALLPAPERS Lakeside views, water birds, aquatic plants and flowers, and magical woodlands all provide inspiration for this enchanting collection of prints, embroideries, and wallpapers. Celebrating textile crafts, the designs imaginatively use a variety of traditional and contemporary techniques.
PHILLIP JEFFRIES:
Open House: Suite 1115
Phillip Jeffries is excited to welcome you to our open house to gain access to a sneak peak of our Summer 2023 collection, launching May 16th.
PIERRE FREY:
Open House: Suite 1611
Join us in the Pierre Frey showroom for a journey of inspiring design through our latest collections. Iles Enchantees transports you to the shores of the Pacific, whose islands fill our imagination with the color . The Braquenie Anniversaire Collection celebrates the best of 18th century French design. The complete offerings of fabrics, wallcoverings, rugs and furniture on display for you on the 16th floor.
RESSOURCE HOUSE OF PAINTS:
Open House: Suite 1507
ANANBÔ X RESSOURCE

Ressource and Ananbô worked together to create a collection of 14 new shades, traveling between soft and committed nuances, to echo the boldness of the panoramic. The two companies have worked to offer each decor the right and balanced shade that will enhance the panoramic while being discreet to leave room for a neat decoration, without any taste mistakes.




RONIT ANDERSON:
Open House: Suite 800
SABINA FAY BRAXTON - Textile artist par excellance! 25 years of supplying sublime textiles to the best of the best designers in the world. Sabina is celebrated for her innovative adaptations of ancient hand-printed textile techniques. Her fabrics range from the exuberant to the subtle across a myriad of techniques and materials - embossing, relief, acid burn, screen printed, all the way to her utterly hand painted textiles and fabulously loomed rugs. Her distinguished clientele features AD100 designers, celebrities, Star Wars and Harry Potter franchises, etc., and has been published around the globe.


RUG ART:
Open House: Suite 1518
Cara Woodhouse Collection

Having called Los Angeles, London and now New York home, Cara imparts a distinct global sensibility throughout her New York-based, full-service design firm where she casts her clients as her greatest collaborators. Whether she's designing a townhouse in London or the West Village, a Central Park West apartment, a Nantucket getaway, a home in Miami, the Playboy offices in Beverly Hills, or a midcentury-modern home in West Hollywood, you can always count on a stroke of unexpected artistry balanced by chic earth elements.


SAINT-LOUIS:
Open House: Suite 816
Introduction of CADENCE Born from the combination of generations of craft expertise and contemporary design, the Cadence collection makes a statement with its modernity and simplicity. French designer Pierre Charpin composed a new contemporary lifestyle collection: from tableware to lighting, through barware and decoration, the objects are designed for everyday use. Based on the interplay of horizontal and vertical lines, Pierre Charpin's designs give rhythm to material, enhancing its brilliance and clarity. A definitely modern vision of crystal: a collection of accessible objects that rings true, in tune with today.
SAVEL:
Open House: Suite 1819
New to the Savel showroom this spring is Sette, a collection of linen drapery fabrics that feature sophisticated textures, colorful solids, and botanically inspired embroidered designs. Visit the Savel showroom on the 18th floor to see the luxurious drape and hand of these beautiful, wide width fabrics.






SCALAMANDRÉ:
Open House: Suite 1002
WOODLAND ESTATE FABRIC & WALLCOVERING COLLECTION

The newest fabric and wallcovering assortment from Old World Weavers, was inspired by the signature, understated charm of a David Easton-designed cottage in Connecticut. The collection shimmers with whimsical embroideries, unfussy textures and color-saturated prints that layer effortlessly to (as the late Easton liked to say) 'make a room dance.'




SCOTT GROUP STUDIO:
Open House: Suite 411
Stop by the Scott Group Studio showroom for some refreshments and check out their newest arrivals.










STARK:
Open House: Suite 1102
New in Performance from STARK:
Koa Ivory Rug

Stain Resistant. Easy to Clean. High-end Performance.

Lush textures abound in the Koa performance rug. Braided Soumak weaving combines with high pile shag for coziness and character alike. Made of 100% STARK Performance Acrylic, this beautiful rug combines quintessential elegance with a powerhouse fiber built for everyday living. Discover new performance styles at your local showroom or on starkcarpet.com.


STUDIO ZEN:
Open House: Suite 1818
Snow Dance is a stunning wallpaper design inspired by the image of snow landing on a stone pavement. It is foil stamped in four colors - brass, aluminum, tin, and copper - to make the most of the white background, creating a beautiful combination.








THIBAUT:
Open House: Suite 909
New Outdoor Performance Fabrics

Discover over 100 solution dyed acrylic fabrics that pair supreme cleanability and fade resistance with exceptional comfort. This two-volume set, developed by Thibaut and woven in Italy, is perfect for use indoors and out.






VAUGHAN:
Open House: Suite 1511
The Vaughan showroom invites you to our Spring Open House and new product introductions for Spring/Summer 2023. Combining a wealth of colour, texture, and original design, the collection welcomes both new designs and additional finishes. Comprised of both indoor and outdoor lighting, a new mirror, and returning to the Vaughan range, the anticipated kilim rug collection.

Meet and greet the showroom team and have a tour of what's new. We look forward to welcoming you!


ZIMMER-ROHDE:
Open House: Suite 813
SOUL SPACES, the new ZIMMER + ROHDE spring collection is a veritable cornucopia for the senses: Rough meets smooth. Matte meets shimmering. Soft meets hard. Rugged textures contrast with sumptuous, high-quality surface finishes.

Largely inspired by nature, the colors awaken emotional reactions: from radiant gold and bronze tones to soft ochres all the way to uplifting rosé and red nuances. This soothingly warm palette is rounded off by midnight blues and cool metallic variations such as silver and platinum.