Spring 2022 Collections
Visit the A. Rudin showroom to view our two new collections for Spring: The Evan Spencer Collection (a spirited collection of lounge furniture), and the Aura Collection from Brentano Fabrics (inspired by soft edges and natural organic surfaces).
The Evan Spencer Collection
Legacy. Soulful. California. Brothers Evan and Spencer Rudin have used as their muse the heritage-brand ethos that raised them, the SoCal artists who inspire them, and the surfing lifestyle that has shaped who they are today to put forth a spirited collection of lounge furniture—Evan Spencer—that is as richly textured as the California coastline. In tune with cultural cues and artistic persuasions, the duo assembled a collective of tastemakers to unearth the magic of repose threaded through every piece. Just the way our experiences weave together the tapestry of our lives, each design from Evan Spencer tells a narrative of mindful artistry that places comfort and craftsmanship above all else.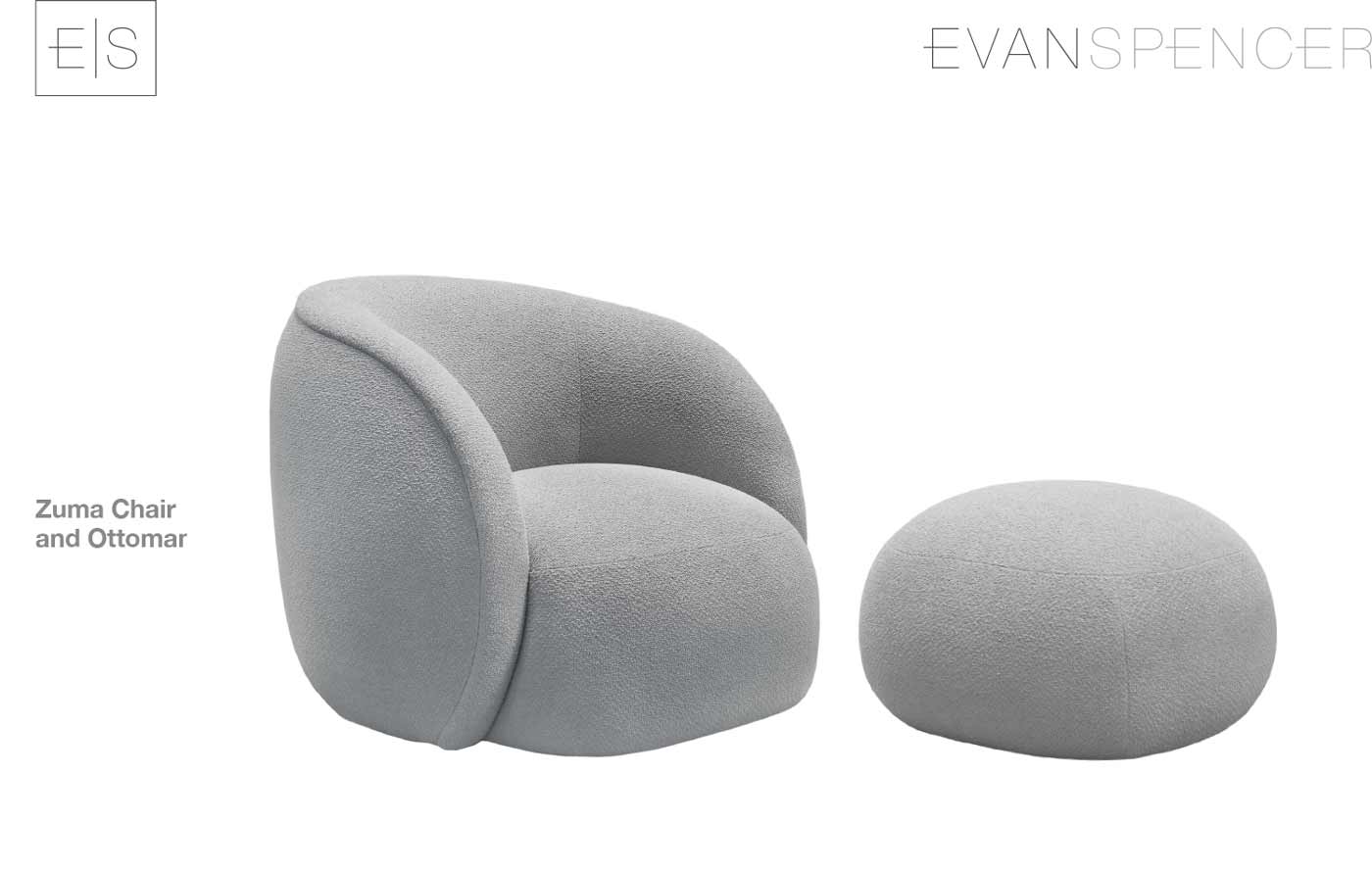 The Aura Collection from Brentano Fabrics
Affectionately named Aura, Brentano's Spring 2022 Collection launch is inspired by soft edges and natural organic surfaces. The 12 versatile textiles and 3 wallcoverings are a dynamic grouping of soft, pliable, and luxurious selections that are an ode to texture lovers everywhere. Featuring a faux-suede, vegan leather and heavily textured indoor/outdoor boucle, the Collection is a profound grouping of sumptuous fabrics with adaptable performance features to enhance any interior space. It creates dimension and depth with various layers of elevated textiles to construct movement and grace. Seeking to create a Collection that tapped into one's emotions, Founder and Artistic Director Iris Wang concentrated on the heavy tactile relationship of the fabric to one's inner thoughts and feelings. "I wanted to stress the importance of texture as it relates to one's recollections of a time and place," says Wang. "There is comfort in the physical nature of the patterns but also an emotional connection with how the colors and yarns work together to create a harmonious space." Showcasing multiple, heavy textures with luxurious physical properties, the Aura Collection exudes comfort with sophisticated patterning and a refined palette. This bespoke collection of fabrics and wallcoverings offers a detailed look into tactile surfaces, revealing how they significantly affect our cognitive emotions as we move throughout our day.