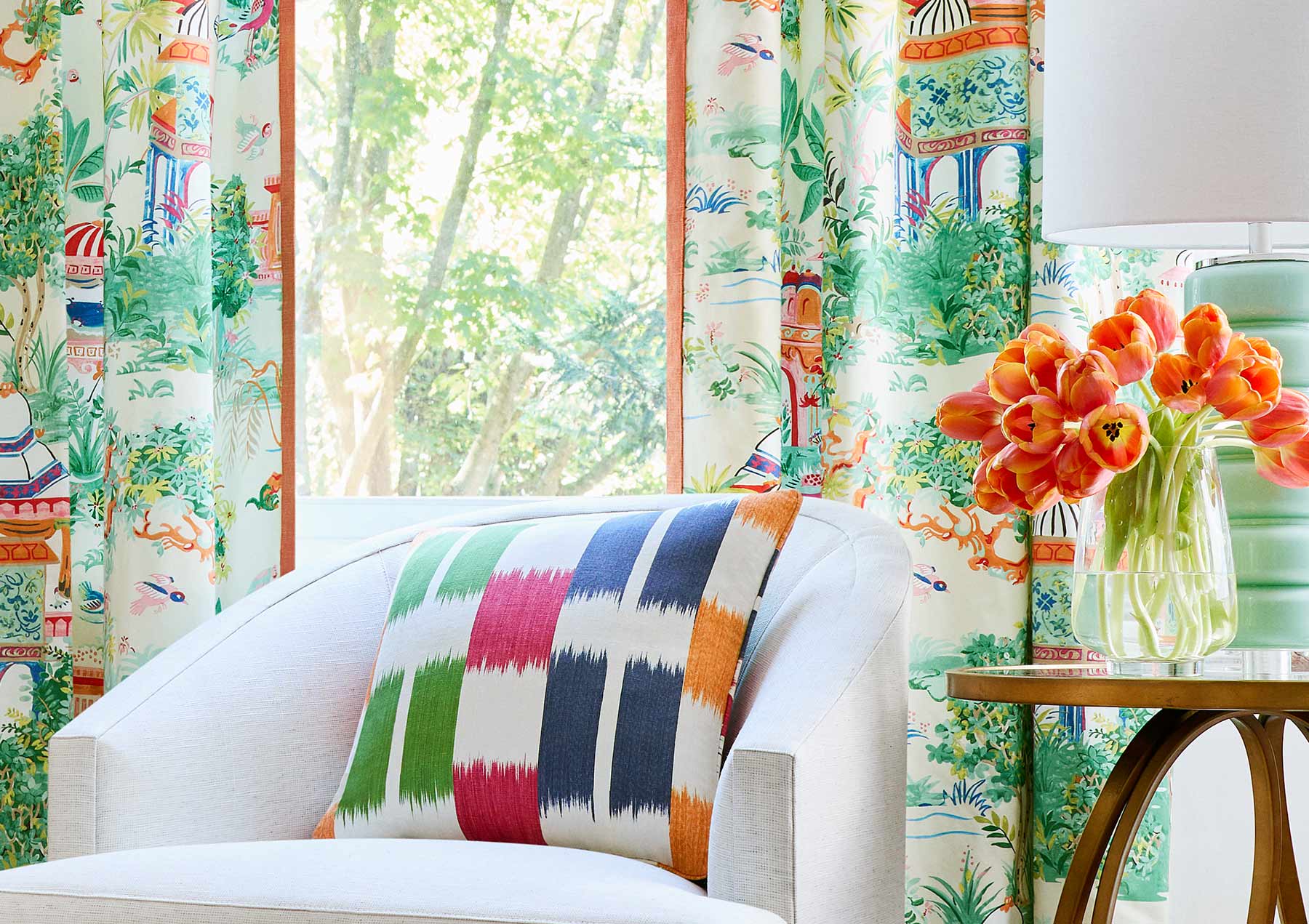 Slide

Image: Thibaut, Suite 909
D&D Spring Market 2022:
nyc
The D&D Building's Spring Market NYC is where leading interior designers join leading brands in the luxury home furnishings industry for a day of fun and networking to explore the latest collections!
Subscribe Now to receive all of the updates. We can't wait to see you!
Event Panels
Listen, learn, discuss, and ask questions!
GLOSTER:
The Art of Outdoor Entertaining
Wed. June 8 @ 10am EST - Suite 1601
From setting an exquisite table to conjuring a festive atmosphere, entertaining outdoors is one of summer's most enticing activities. This lively discussion, moderated by Galerie editor Jill Sieracki, will bring together designers and venerable hosts Bronson van Wyck, Jamie Drake, and Lewis Miller with an interactive event to follow.
Light bites and a book signing to follow in the showroom.
GARRETT LEATHER:
An In-Depth Look at Product & Color Innovation
Wed. June 8 @ 10am EST - Suite 1107
Leather is such a versatile material with so many color and texture options. Learn how different finishing techniques can help you achieve the special look that your clients want. You'll also gain insight on how new leather collections are developed and brought to market.
HOLLAND & SHERRY:
The Ease of Custom Wallcovering with Cory Barber
Wed. June 8 @ 11am EST - Suite 1402
Join us for brunch and a conversation with Cory Barber on the ease of bringing your wildest wallcovering dreams to life.
STARK CARPET:
Introducing Ashley Stark Home
Wed. June 8 @ 12pm-2pm EST - Suite 1102
Celebrate the launch of ASHLEY STARK HOME and enjoy an exclusive giveaway from Ashley's debut collection. Join us for an interview with Ashley moderated by interior designer Cara Woodhouse.
VONDOM:
Celebrate Spanish Culture, Music, Traditions and Furniture with Vondom!
Wed. June 8 @ 12pm-3pm EST - Suite 1532
Enjoy Flamenco guitar music, Jamon Iberico carving art performance, cava and tapas at our showroom during the NY Design Week. Give away of 5 glossy headed Adan planters/fun boxes by business card lottery. Raffle with original prizes!
CASTEL & DFA:
Shared Visions: Bringing Design Collaborations To Life
Wed. June 8 @ 2pm-3pm EST - Suite 715
As residential projects become more complex, top design talents have increasingly developed working relationships with other professionals who have a shared vision. Interior designer Jennifer Cohler Mason speaks with interior designer Kathryn Scott & builder/contractor Michael Daddio, plus architect Alexander Gorlin & interior designer Judy Dunne to explore how each pair has collaborated on projects.
PHILLIP JEFFRIES:
Summer 2022 Japonaise
Wed. June 8 @ 10am-4pm EST - Suite 1115
Join Phillip Jeffries to celebrate SUMMER 2022 JAPONAISE - More than 10 collections inspired by comfort and beauty with clean lines, sustainable spaces, and modern Japanese form and function.
Preview the new collection and experience the art of calligraphy with personal inscriptions by a Master Shuka Japanese Calligrapher.
DAVID SUTHERLAND:
Live Painting by Wallmuralist Liane Ricci
Wed. June 8 @ 11am-4pm EST - Suite 401
Watch Liane Ricci from RICCI STUDIO create wallmurals right in the showroom and browse our latest collections!
JOHN ROSSELLI:
Rosselli Market Square
Wed. June 8 @ 11am-3pm EST - Suite 1800
Take a stroll through Rosselli Market Square to be transported and inspired. Explore an experiential open house showcasing our distinct partner brands' vast range of design offerings and capabilities. Dogs have always been synonymous with the John Rosselli brand, which is why we will be featuring playful vignettes inspired by our four legged friends. Step Inside John Rosselli & Associates, Suite 1800, to delight all the senses on Wednesday, June 8, from 11:00 am to 3:00 pm.
CHRISTOPHER PEACOCK:
The Secrets Behind the Marketing Success of Luxury Brands
Wed. June 8 @ 3pm-4pm EST - Annex 5th FL
Please join Christopher Peacock, Melissa Galt (business coach and marketing consultant), Robert Passal (NYC interior designer), and Laura Bindloss (Founder of Nylon Consulting, a PR and social media agency focused on design), for an insider's talk on marketing luxury brands. The panel discussion will be moderated by Brittany Chevalier McIntyre, Executive Editor at Luxe Interiors + Design. They will pull back the curtain on marketing to high-end consumers and discuss what it takes to reach the rich and famous - and keep them hooked.
SCHUMACHER:
Let's Celebrate The New Victor Glemaud x Schumacher Collection
Wed. June 8 @ 5pm-7pm EST - Suite 832
To celebrate the launch of our new fabric & wallcovering collection with fashion designer Victor Glemaud we invite the design community to join us in the showroom to toast the collaboration.
Open Houses
Stop by and get the first looks into new collections, and network with the showrooms and other designers!
A. RUDIN:
Open House: Suite 1201
Visit the A. Rudin showroom to view our two new collections for Spring: The Evan Spencer Collection (a spirited collection of lounge furniture), and the Aura Collection from Brentano Fabrics (inspired by soft edges and natural organic surfaces).




ANCIENT & MODERN:
Open House: Suite 1522
Join us in our new showroom to peruse our product offerings; including mantels, baths, cantilevered staircases, marble lighting and furniture. With over 60 collective years in the stone industry, our team will help elevate your design.




CARINI CARPET:
Open House: Suite 1001
Carini Carpet is the latest addition to the D&D! Stop by their new showroom for an open house to view their latest rug collections that are hand-made with authentic Tibetan knotting techniques as well as dyes made from scratch!







CHESNEYS:
Open House: Suite 1119
Stop by the Chesneys showroom to check out our latest collaboration with AD100 newcomers, Richard Bories & James Shearron. Classical architects by training and practice, Bories & Shearron drew inspiration for this collection from what is often considered the United States' first national architecture, American Greek Revival. These sculptural pieces bring classical proportion and gravitas to any design scheme while managing to be both fresh and familiar.
CLARENCE HOUSE:
Open House: Suite 205
Please join us in the Clarence House showroom for an open house featuring the new 20th Century Collection of fabrics. This collection pays homage to this time of change and the unshakeable spirit of artists and designers of the period. We can't wait to explore the collection with you and share some scrumptious treats – you won't want to miss it!


COWTAN & TOUT:
Open House: Suite 1022
Please visit Cowtan & Tout to view our latest collections. On view all throughout the day at Suite 1022. Refreshments will be served!
DAKOTA JACKSON:
Open House: Suite 501
Dakota Jackson invites you to experience the newly expanded flagship showroom, which features an extensive range of new pieces added to the collection this year. Light snacks and beverages will be served.
DE LE CUONA:
Open House: Suite 914
The Golden Age is a time for reflection. A collection to greet a new dawn of modern glamour that whispers but never shouts. It's a seductive synergy of opposites, an understated opulence envisioned by Bernie de Le Cuona.
DEDON:
Open House: Suite 720
For more than 30 years we have traveled the world, discovering people, places and stories that inspire us. We collect moments and memories under open skies. It is the energy that makes a place unique. The feeling of having arrived. The Spirit of Place.
EDELMAN LEATHER:
Open House: Suite 207
An Edelman Icon, All Grain's subtle beauty belies its ability to meet high traffic applications. Our most sought-after leather for residential, hospitality and contract specifications, is now offered in 40 colors to inspire.
ÉLITIS:
Open House: Suite 611
Join Olivier Thienpont, CEO of Elitis for a glass of champagne as we present the new 2022 Collections of wall coverings and textiles for Elitis and CMO Paris. Open House, Elitis Showroom, Suite 611 11:00 am - 4:00 pm
FABRICUT + FARROW & BALL:
Open House: Suite 915 & 1519
Please join the Fabricut and Farrow & Ball showrooms for a joint open house event showcasing the iconic and inimitable brand, Liberty. Giveaway alert: visit both Fabricut and Farrow & Ball showrooms on June 8th for an opportunity to win one of three spectacular prizes!
HOULÈS:
Open House: Suite 919
Stop by to sip and style - your trimmings!
INNOVATIONS IN WALLCOVERINGS:
Open House: Suite 1717
Stop by our open house for some wine and nature-inspired desserts to celebrate our new SU22 collection Natura. Guests can check out the stunning new products that we're premiering from Natura as well as our gorgeous SP22 collection Focal Point.
KOROSEAL and ARTE WALLS:
Open House: Suite 842
Koroseal welcomes you to an Open House celebrating Arte's new Spring 2022 wallcoverings collections featuring bold designs and innovative materials in overscale prints, imaginative murals, three-dimensional panels and more designs that infuse classic motifs with a modern spirit. Join us for a first look at these new wallcoverings and experience a voyage of discovery with Arte.
KRAVET:
Open House: Suite 1202
New Outdoor Lifestyle Collection: KravetSoleil Kravet Inc. is bringing high-quality home furnishings to the outdoors featuring fully upholstered furniture with your choice of Kravet outdoor fabrics, rugs and decor. All products in this offering boast performance qualities, so you can design without worry.
LLADRÓ:
Open House: Suite 1805
Exclusive fall Introductions preview. Discover the new introductions for the Fall season with a cocktail at the Lladró showroom. Surprising porcelain creations including new lighting collections, original design proposals and exquisite pieces inspired by art history icons. Join us and be inspired by the exciting new decor proposals for the upcoming season.
M. ALEXANDER LIGHTING:
Open House: Suite 313
The M. Alexander showroom, in which Town and Country magazine memorably dubbed "the crystal cave" is recognized by distinguished designers, decorators, architects and their clients as the renowned source for quality antique and reproduction lighting, ranging from the Renaissance through to the Mid-century Modern period. One of the unique processes that sets Marvin Alexander apart in the D&D Building, is their team of artisans that create lamp shades by hand. Designers can come in-person to the showroom, see the products being made, and provide direction to the artisans to customize the product specifically to their clients' needs.
MARC PHILLIPS DECORATIVE RUGS:
Open House: Suite 211
Raku Collection Inspired by classic, primitive textiles, these handwoven wool rugs inform patchwork techniques and subtle, textural stripes. This durable flatweave collection houses a range of neutral designs in an earthy, livable palette, with modern interpretations throughout.
MAYA ROMANOFF:
Open House: Suite 922
The Dazzle's in the Details Join Maya Romanoff for a Beadazzled Mural-Making Experience Maya Romanoff blazed a trail in the design world with Beadazzled Flexible Glass Bead Wallcovering™—the first of its kind, handcrafted in our Chicago studio! Now MAYA's artisans have arranged a hands-on demo in our New York showroom—an exclusive event for our industry friends to experience mural-making first-hand, and take home a special keepsake.
McKINNON & HARRIS:
Open House: Suite Annex 111
McKinnon and Harris' Accessories make outdoor spaces as comfortable, stylish, and inviting as the inside of the home… Inspired by the 1958 Ole Wanscher dining chairs found in co-founder Will Massie's dining room, the Chesapeake Dining Chair features a synthetic woven rush seat made entirely with the outdoors in mind… The deCamp Sectional Ensemble is a striking successor to McKinnon & Harris' groundbreaking first-to-market outdoor sectional and an extension to the modern deCamp collection…
OCHRE:
Open House: Suite 1109
Visit the Ochre showroom in Suite 1109 for an open house to view our latest products!
OSBORNE & LITTLE:
Open House: Suite 520
Please join Osborne & Little for an Open House on Wednesday, June 8th, from 9AM to 5PM. For over 50 years, the company has cherished its reputation for innovation and quality and is as inspired and energetic today as ever, creating a constant stream of new collections that push forward boundaries. With 2022's Spring/Summer launch of over 20 new fabric and wallpaper collections from Osborne & Little, Nina Campbell, Designers Guild, William Yeoward, Christian Lacroix and BRAND-NEW ADDITION, Ralph Lauren, there are endless new options!
PAUL FERRANTE:
Open House: Suite 717
Visit the Paul Ferrante showroom in Suite 717 to view new chandeliers in our Spring 2022 collection such as our Armand Chandelier, fabricated out of old iron, grey oak, and clear glass.
PIERRE FREY:
Open House: Suite 1611
Pierre Frey Introduces LITHO by Guillaume Delvigne Litho, designed by Guillaume Delvigne, means "stone" in ancient Greek. Each piece in the collection is an assembly of volumes, either nested or simply place atop one another, reinforcing this monolithic presence. Large, massive and sculpted forms emerge with a polished, almost mineral appearance. The collection includes a sofa, chair and bench with three carpets designed in tandem.
SAINT-LOUIS:
Open House: Suite 816
Introduction of CADENCE Open house in our showroom to showcase our new line designed by Pierre Charpin. Cadence is a transversal collection offering a large range of pieces, from tableware to lighting.
SAVEL:
Open House: Suite 1819
Introducing Belen, the new addition to Savel's classic Adana collection Named after the historic city in Turkey, Belen compliments Savel's classic Adana, Adana Stripe, and Kas woven designs. Belen is available in eight fresh, spring inspired colors, and passes 20,000 double rubs. Its luxurious, silky hand gives this solidly contructed fabric a sleek, sophisticated look. A new color, Spring Green, also makes its introduction to the Adana collection this season, and is available in all four patterns. Please stop by the Savel showroom's open house on the 18th floor to see these new additions to Savel's fabrics.
SCALAMANDRÉ:
Open House: Suite 1002
Scalamandré presents their latest collections, Sahara and Coast to Coast, in an open house on June 8th during the D&D 2022 Spring Market. Stop by the open house to view the new collections, shop, and enjoy light refreshments! Visit www.scalamandre.com for more information.



SCOTT GROUP STUDIO:
Open House: Suite 411
Stop by the Scott Group Studio showroom to see the latest rug collections and meet with one of our team members. Looking forward to seeing you soon!




THIBAUT:
Open House: Suite 909
Thibaut celebrates New York Spring Market and invites you into their showroom to explore the latest fabric, wallcovering, trim, and furniture collections from Thibaut and Anna French, including Eden, Modern Resource 3, Anna French Willow Tree, Palisades: Wide Width Linens, Passage, and more. Refreshments and light bites will be provided during the Open House hours of 1-5pm on Wednesday, June 8th.


VAUGHAN:
Open House: Suite 1511
The Vaughan showroom invites you to their Spring Open House and new product introductions for Spring/Summer 2022. The edited selection of nine pieces is comprised of both new and re-imagined lighting and expands on the Vaughan furniture range with three practical and beautiful new designs. Meet and greet the showroom team and have a tour of what's new. We look forward to welcoming you! Light refreshments will be served.


ZIMMER AND ROHDE:
Open House: Suite 813
Please come and visit our brand new showroom on the 8th floor.

Frederic Arbaud, CEO of Marvic Textiles will be introducing The Spring 2022 Antibes Collection.

Wine and nibbles will be served between 2-5pm on Wednesday, June 8th.